Patricia Isis, Ph.D., LMHC, ATR-BC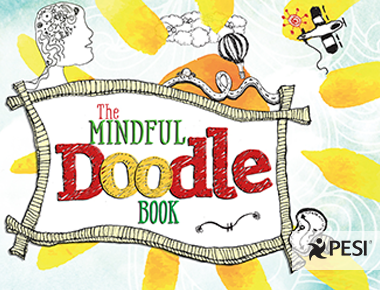 Are you embarrassed by your notepad filled with doodles as you leave a meeting or get off the phone? Don't be! You have the secret to finding focus and staying present.
Doodling is usually viewed as a time-wasting activity or as a response to daydreaming. But it's time to give doodling the respect it deserves! Research has proven that doodling can enhance focusing skills, increase retention of information, ease feelings of impatience, and even inspire bursts of novel ideas. Combined with the therapeutic benefits of mindfulness, doodling can be especially calming and can help one engage in the present moment.
Dr. Patricia Isis brings mindfulness and doodling together in her new book,
The Mindful Doodle Book: 75 Creative Exercises to Help You Live in the Moment
. Filled with doodle prompts and mindfulness activities, you can ease anxiety, envision your dreams and aspirations, and express your feelings in a fun, flexible and creative way.
Go ahead, color outside the lines. Experience mindful doodling now with these
five free exercises from The Mindful Doodle Book
!
---
Patricia Isis
holds a Ph.D. in the expressive therapies with an emphasis in art therapy. Dr. Isis is a licensed mental health counselor in Florida and a registered board certified art therapist, credentialed supervisor and a trained Mindful Self-Compassion teacher. Patricia provides art psychotherapy in the public schools, maintains a private practice, and conducts Mindful Self-Compassion and mindfulness trainings.
---
Topic: Mindfulness
Tags: Adult Coloring