PESIinc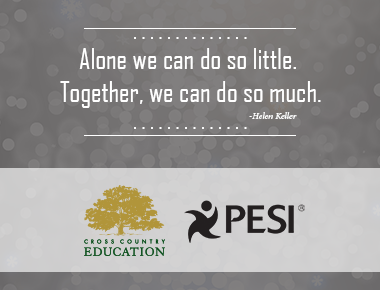 As of July 27, 2015, Eau Claire based PESI, Inc., has entered into an agreement with Cross Country Healthcare, Inc., to purchase Cross Country Education. The sale of Cross Country Education will be completed in September 2015 and will combine over 50 years of serving a wide variety of professionals.
Cross Country Education employs 52 dedicated staff in Brentwood, Tenn. PESI is excited to welcome all Cross Country Education employees to the PESI family to continue developing and producing high-quality educational products and services.
Mike Conner, PESI's Executive Director, looks forward to better serving the customers of both entities. "The addition of Cross Country Education to the PESI organization will allow us to continue to grow and provide new educational offerings and experiences to the professions we serve," said Conner. "We pride ourselves on providing cutting-edge content that connects the knowledge of our nationally—and internationally—renowned experts with the educational needs of the 250,000-plus professionals we serve each year."
"As president of Cross Country Education, I could not be more excited about this upcoming transition," said Greg Greene. "Cross Country Education will continue to operate under the Cross Country Education brand as we currently do without any significant changes. However, the economies of scale gained through this transaction will go far to advance both companies' presence in the continuing education world. Cross Country Education and PESI will continue to focus on providing quality service in everything we do."
Visit
www.pesi.com
and
www.crosscountryeducation.com
for more information on all the products and programs offered by PESI and Cross Country Education.
---
Topic: Press Releases