In a special joint presentation, PESI authors Christina Furnival of the
Capable Kiddos
series and Andrea Dorn of the
Mindful Steps
series came together to discuss bullying awareness and prevention.
Whether parents and caregivers are working with a child who's being bullied or engaging in bullying, these useful tips can help minimize and prevent the impacts of bullying.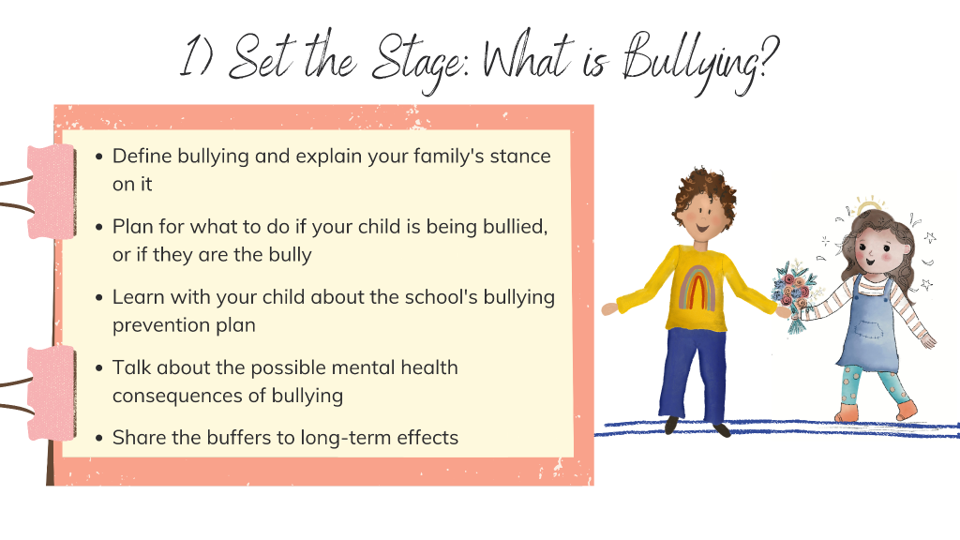 1. Set the Stage: What is Bullying?
Christina:
The definition of bullying is something that's important to share with kids. How adults define it is "a repetitive pattern of ill-intentioned actions between two people where there is a perceived or a real power dynamic." For the sake of our kids, that's a little clinical, so instead we can say it's something like, "Time and time again, someone is choosing to be mean to you on purpose, and that is bullying."
If our child is being bullied or if they're engaging in bullying behaviors, one of the most important things to do is to figure out their school's protocol and procedures regarding bullying prevention. Most often, there's a program of restorative justice, so that way the child who's being bullied can feel supported and helped, and the child who is bullying can understand why what they're doing is not okay.
There are some big long-term consequences of bullying, and if our child is the one doing the bullying, they need to understand that. So often kids get caught up in bullying behaviors without considering what it's doing to the person who is being bullied. If we can inform our youth about the long-term consequences, we're going to see a lot less bullying, because they'll realize just how big of a deal that it really is.
It's also good to know what the buffers are to those long-term consequences. If our children are being bullied, they need to know that they're not alone. A parent's, teacher's, or friend's support are huge in buffering the long-term mental health consequences of bullying.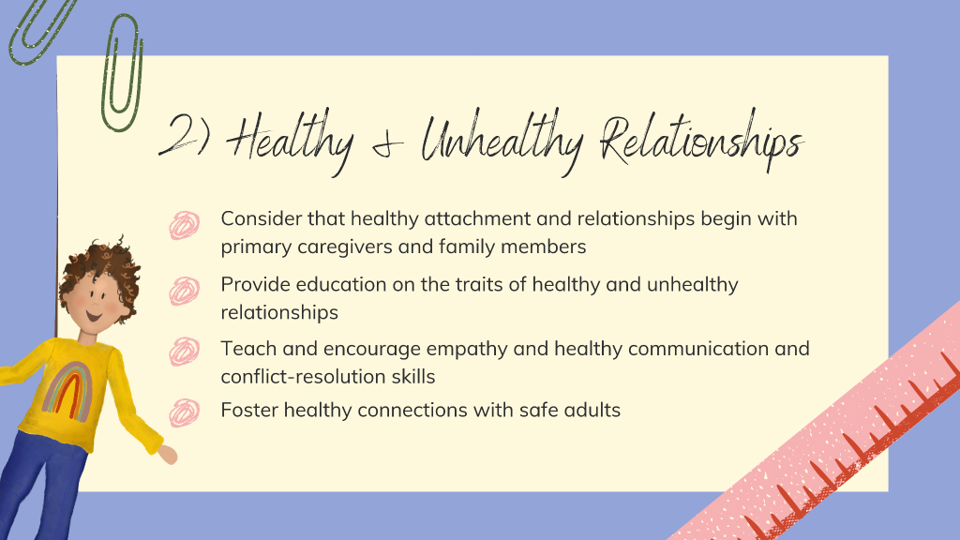 2. Discuss Healthy & Unhealthy Relationships
Andrea:
Ideally, this conversation is starting at an early age. We're instilling what kids can expect in healthy relationships by modeling and creating safe spaces where kids can be themselves. This is setting up a foundation for them to understand what they can expect in a relationship that they would have outside of the home.
Setting up these healthy attachments is not always easy for parents to do. It can be hard to really attune to our children, so I like to encourage parents and professionals to take it one step at a time. Start with fostering a relationship with your child. Maybe try to spend five or ten minutes building your relationship by spending undivided time with them, making sure that you don't have any devices or screens around. Focus on making your relationship with your child what you hope that they will have in other relationships.
It's also important to make sure our kids know what healthy and unhealthy relationships are. I like to create lists. As a therapist or a parent, work together with children to create lists of traits of good friends or not-so-good friends. A good friend might be caring, kind, reliable, or fair. Maybe a not-so-good friend takes your belongings or doesn't respect your physical space. We're starting to get kids thinking about what these relationships look like and how they relate to the relationships in their own life.
Then, match up the friends your child has with these different traits. When you start to relate real people to both of these lists, kids may be more open about those who are fitting into the not-so-friendly friend list, and this can be helpful for parents, caregivers, and professionals to know what to do next.
The last thing is fostering healthy connections with safe adults. The most recent data shows that about 20% of kids report being bullied, but only half of those kids talk about it with someone. Even though we hope our kids feel comfortable coming to us to talk about these issues, sometimes that's not the case. When we're on the lookout for safe adults or mentors that we trust and that our kids feel connected to, we're sending the message to our kids that it's okay to create a safe community around themselves.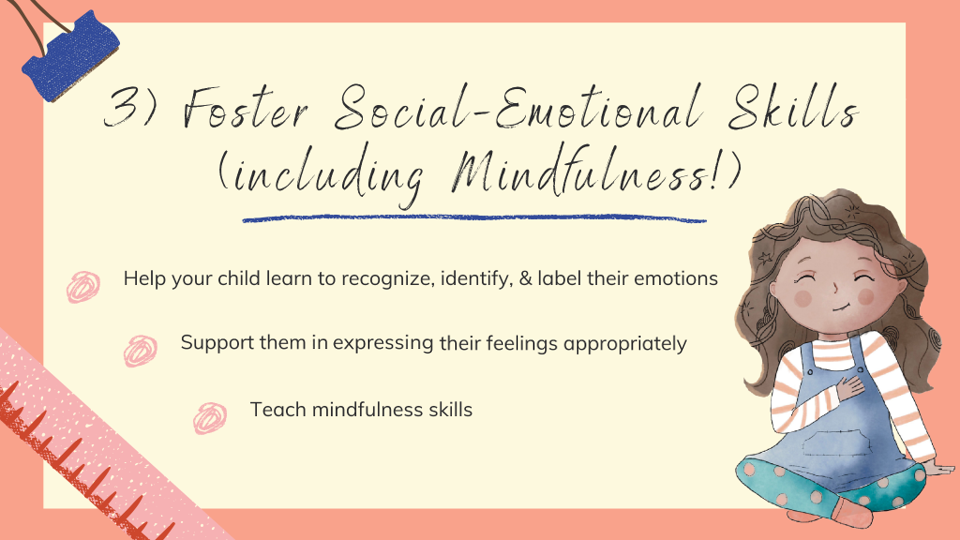 3. Foster Social-Emotional Skills (Including Mindfulness!)
Christina:
Social-emotional skills enable you to recognize, identify, and label how you're feeling, what you're thinking, and what might be going on for other people. They're critical for you to be able to solve problems, engage in conflict resolution, have empathy, form healthy relationships, and have behavioral and emotional self-regulation.
Mindfulness is one of the biggest social-emotional skills. The idea with mindfulness is that you can pause and take a moment to look both inward and outward. When you look at your thoughts, feelings, bodily sensations, and surroundings, it gives you the power to make sense of your experience and then make intentional decisions about what you do.
It also gives children the freedom to realize that feelings come and go, and they can tolerate them. For children, that's huge. If they know the awful feelings of bullying are temporary, we're empowering them to be able to handle the moment and providing a buffer against long-term negative effects.
Social-emotional skills and mindfulness also help our children express themselves. If you have a child who is bullying, these social-emotional skills and mindfulness skills are really important for a conversation towards helping that child figure out what is preempting that behavior and why they're engaging in it. Put another way, what do they find satisfying about bullying, and how can they achieve that through another means that's not at the expense of another person?
Related Resource:
Discover Andrea Dorn's eight tips adults can use to support children in developing mindfulness across their lives, plus get a free mindfulness coloring sheet. Access this free resource
here!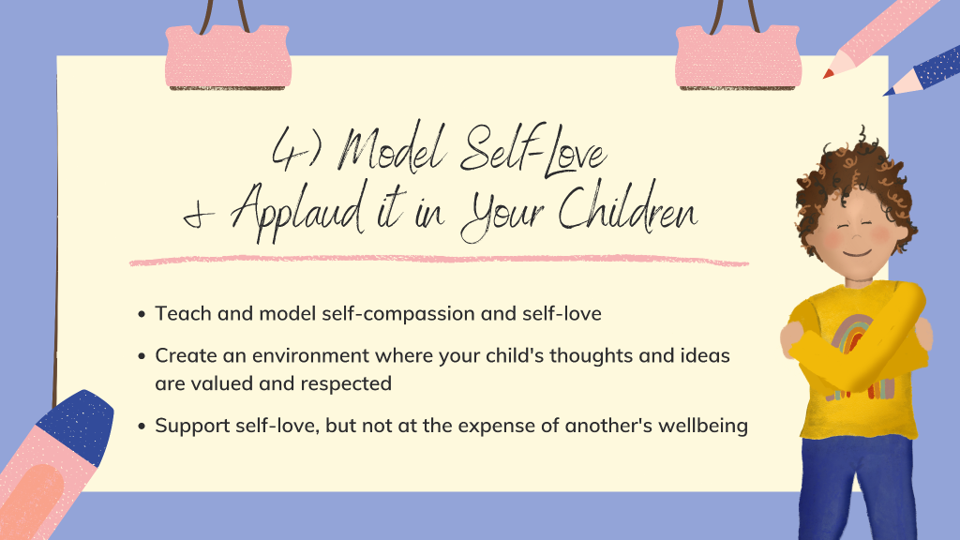 4. Model Self-Love & Applaud it in Your Children
Andrea:
Self-compassion or self-love is being kind to yourself. Think back to our lists of good (and not-so-good traits). How do
we
fit into those lists in the way we treat ourselves? By going back to those definitions of what it means to be kind and what it means to be a good friend, we can begin good conversations about self-love and self-compassion.
Create an environment where your child's thoughts and ideas are valued and respected. The more we help our kids understand that they have worth, the more they believe that and the more they're able to act that way even when they're not being treated well.
And while it's important to validate our kids, we need to make sure that we send the message that validation cannot be at the expense of someone else's well-being. Empathy and self-compassion are important, but so is respecting others, and it's really finding a balance between the two.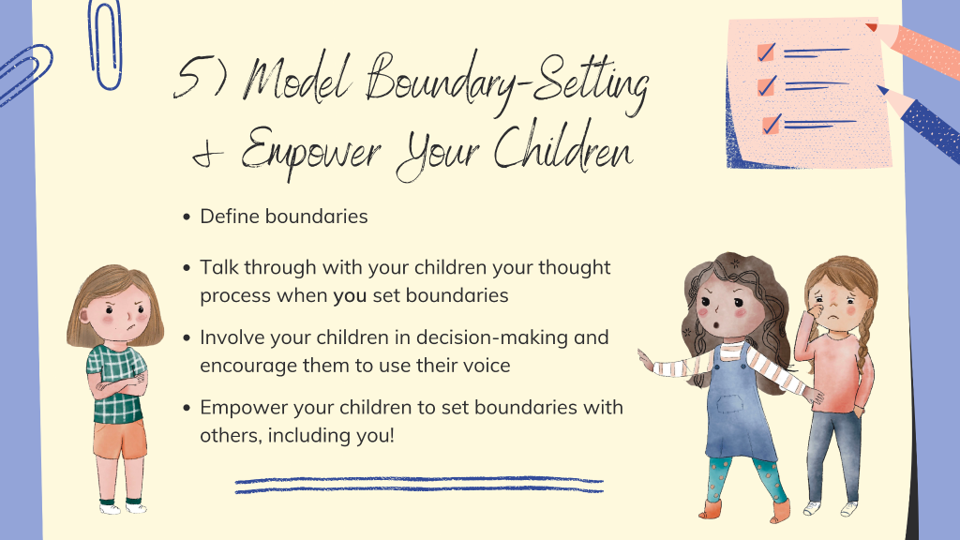 5. Model Boundary-Setting & Empower Your Children
Christina:
Let's define boundaries in a way kids can understand. We can imagine a physical barrier around a property, but when it comes to interpersonal boundaries, it's a spoken expectation. A boundary is when you say out loud to someone what you like or what you don't like. From this framework, you have the freedom to interact peacefully and kindly and with love towards one another.
We also want to involve our children in decision making to let them know that what they want matters. Maybe it's choosing a weekend activity or problem solving a classroom situation together. Ask them what they think would be the best solution and really solicit their collaboration and input. Let them know that what they think is valuable.
With boundary setting, we need to take it a bit further and encourage and empower our kids to set their own boundaries. This can be a little tough, especially for parents, because we want our kids to respect our authority, but we also want them to have a voice. With an authoritative parenting approach, you can absolutely hear what they have to say, consider it, and weigh it in your decision making, but let kids know that you have the ultimate say.
If we can empower kids to have this robust sense of self and a belief in who they are, they will know they're important and can voice their opinions. If they do become a target of a bully, we can be confident that they are now more capable of standing up for themselves and stopping it sooner, as well as gathering the support of the adults they can ask for help.
Related Resource:
Christina Furnival shares age-appropriate worksheets to help children understand friendship and boundaries. Access this free resource
here!