June is LGBTQ+ Pride month and commemorates the Stonewall Riots in 1969. The riots erupted after police raided the Stonewall Inn, in an attempt to arrest LGBTQ+ people and they resisted as a protest to anti-gay legislation. These events are remembered and celebrated as a catalyst for the modern gay rights movement. As a marginalized group, LGBTQ+ people face different challenges and adversities that can impact their mental health. Perhaps some of the most vulnerable people in this community are LGBTQ+ youth, who typically have less access to resources and support than their adult counterparts do.
This is why clinical resources to support LGBTQ+ youth are so essential. However, knowing what specific strategies to use to best support this community can leave you feeling like you need more guidance. Thankfully, psychologist, educator, and author Dr. Lee-Anne Gray has developed
LGBTQ+ Youth: A Guided Workbook to Support Sexual Orientation and Gender Identity
, a user-friendly workbook for clinicians and parents alike to help LGBTQ+ youth explore their identity and achieve the support they need. You can also watch Dr. Gray explain the benefits and need of this resource here:
To assist you even more, we are offering
FREE sample worksheets
to give you the essentials you need to start helping your clients
today!
If you are interested in purchasing the book to gain access to all the over 75 valuable resources Dr. Gray has developed to support and empower LGBTQ+ youth, you can purchase the full book here: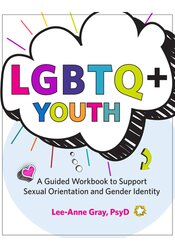 To participate in our June Book Club, consider the following questions as you read Dr. Gray's book. Then leave a comment below with your answer to one (or more!) of these questions.
Which strategies or worksheets can I implement to better serve the LGBTQ+ clients I have?
What can I learn from my LGBTQ+ youth clients?
How can I ensure that my office and practice are welcoming to ALL LGBTQ+ people, considering age, ability, race, nationality, socioeconomic status, religion, etc.?
What was the most important thing that I learned from this resource that I want to share with other professionals?