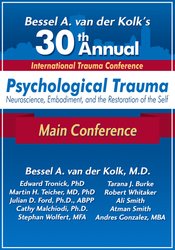 $199.99 USD
Now Available For Preorder
This item is currently on pre-order status and will be shipped when available.
Product Details
Format:

DVD Video - 8+ hours Instructions

Length:

8 hr 44 min

Details:

Multi-disc DVD recording with electronic manual and instructions.

Authors:

BESSEL A VAN DER KOLK, M.D.
TARANA BURKE
ROBERT WHITAKER
ED TRONICK, PHD
MARTIN TEICHER, M.D., PH.D.
JULIAN FORD, PH.D.
STEPHAN WOLFERT
CATHY MALCHIODI, PH.D.
ALI SMITH
ATMAN SMITH
ANDRES GONZALEZ, MBA

Publisher:

PESI Inc.

Copyright:

5/31/2019 - Available Now for Pre-Order

CE Available:

Yes, See CE credit tab for complete continuing education details

Product Code:

RNV052631
Objectives
Present an overview of the impact of trauma on the various parts of the brain, body and nervous system.
Identify culturally aware and effective therapeutic interventions with post-trauma student populations
Utilize the individual and social interventions developed by the Me Too movement to reduce the prevalence of sexual violence
Assess current research findings in regard to long-term antidepressant treatment and possible negative outcomes
Explain the relationship between maternal responsiveness and infant development of ability to manage arousal
Describe how traumatic experiences impact brain development and affect regulation as it relates to clinical practice.
Recognize the five symptom clusters used in the DSM-5® to define Developmental Trauma Disorder (DTD) in relation to assessment and treatment planning.
Identify why sensory-based, arts interventions are essential to reducing the body's response to stress and put to practical use in-session.
Critique current research into the efficacy of expressive arts approached to trauma treatment
Utilize DE-CRUIT techniques to transform military camaraderie into camaraderie among treatment group members to communalize the process of healing from the trauma of war.
Implement mindful and stress reducing techniques in school settings to reduce disciplinary actions and the academic impact of trauma
Outline
Three Decades of Explorations in Trauma: Welcome & Introduction (Bessel A. van der Kolk, MD)
Viewing trauma through the perspective of neuroscience and military experience

Political implications of the role of childhood trauma history
Prevalence and impact of violence and poverty

Limitations of research and current diagnostic framework for trauma

Omission of social context and importance of interpersonal connections
Me Too: At the Intersection of Sexual Violence and Racial Justice— A Fireside Chat with Tarana Burke (Tarana Burke)
Developmental history of the 21st Century program for survivors of poverty and abuse

Transition into the Me Too movement

Cultural influences on trauma processing and identification of trauma survivors

Structuring intervention with vulnerable student populations

Evolution of Me Too platform – maintaining focus on survivors, training organizers

Central importance of facilitating a culture shift
Psychiatry Under the Influence: Institutional Corruption, Social Injury and Prescriptions for Reform (Robert Whitaker)
International research into treatment response and change over time

Adjusting the psychiatric narrative to reflect current research and effective treatment models

Impact of DSM-III – disease model and theories of chemical imbalance

Dramatic expansion of medication interventions

Iatrogenic responses to psychiatric medications – Star*D research trial

Tardive Dysphoria and Oppositional Tolerance – increased vulnerability to relapse
Trust and Meaning Making in Parent-Child Interactions (Edward Tronick, PhD)
Humans as makers of meaning

Infant development in a volatile, uncertain, complex and ambiguous world

Developmental stages in the meaning making process – involved psychobiological systems
Infant self-regulation processes and arousal responses

Persistent and generalized cardiac reactivity

Maternal influences on the development of stress response
Developmental consequences of early chronic adverse effects

Hemispheric adaptations in the amygdala
The Enduring Neurobiological Effects of Abuse and Neglect (Martin Teicher MD, PhD)
Risk factors related to childhood abuse and neglect

Cascade of physiological and neurohumoral responses disrupting brain development
Sensitive exposure periods

Neurological expression of early adverse experiences

Disrupted hemispheric integration – Borderline and Dissociative symptom manifestation
Heightened response to threat – functional adaptation to malevolent environment

Fear circuit regions and pathways - amygdala and hippocampus

Gender and developmental differential response to abuse and neglect

Reactive Attachment Disorder
Structural connectivity networks – emotional regulation and self-centered imagery
Architectural differences in traumatized individuals who do not develop pathology
The Evolution of Developmental Trauma Disorder (Julian Ford, PhD, ABPP)
Origins of Developmental Trauma Disorder – differentials from other trauma diagnoses

Central issues in production and expression

DSM-5 PTSD criteria changes from DSM-IV

Adaptations to threat environments

Case example – therapeutic engagement with DTD adolescent
Effects of developmental trauma on infants and children – relationship disruptions
Core elements of the DTD diagnosis - attentional, physiological and relational self-regulation

Contrasts between DTD and PTSD symptom presentations – field trial results
Future directions of research

Case example – family intervention
Panel Discussion (Bessel A. van der Kolk, MD; Edward Tronick, PhD; Martin Teicher MD, PhD; Julian Ford, PhD, ABPP)
Creating a new narrative – functional adaptation to the tribe
Adapting therapeutic approach to varied settings and individuals

Understanding cultural and socio-economic influences on trauma experience

Developing resources and research base for treating childhood trauma

Social reluctance to acknowledge the impact of developmental trauma
Expressive Arts as Healing Engagement (Cathy Malchiodi, PhD)
Integration of expressive arts into expressive art therapy

The "silos" of expressive art

Current expressive arts programs in health and community settings
Continuum of expressive arts therapies

Asset driven approach as opposed to pathology driven interventions

Limitations of evidence base underlying expressive arts therapy for trauma treatment

Directions for future research

Effective implementation of community-based interventions
Four part model for expressive arts and trauma – movement, sound, storytelling, and silence

Examples of effective implementation
DE-CRUIT: Treating Trauma in Military Veterans through Shakespeare & Science (Stephan Wolfert, MFA)
Racial and colonization history related to social trauma
Origins of DE-CRUIT program

Impact of Shakespearian themes on personal trauma and symptom expression

Projective measures for expression and identifying trauma symptomatology
Parallels between Shakespearian content and PTSD symptoms

Applying specific passages to dreams and experience
Pacing, rhythm and grounding

Research into the efficacy of the DE-CRUIT program
Dealing with Trauma in the Heart of the Community: Implementing a Comprehensive Yoga Program in a Large Public School System (Ali Smith, Atman Smith, and Andres Gonzalez)
Demonstration of Silent Reflection technique
History and development of the Holistic Life Foundation
Top down approach – establishing mindfulness in caretaking adults first

Centrality of presence and consistency

Setting boundaries and self-care to create sustainable programs
Mindful Moment Program – turning detention into meditation

Outcome measures of reduced suspensions

Relationship development with gatekeepers
Reciprocal teaching process
Mindful Ambassadors Program

Leveraging the impact of limited resources

Demonstration of Stress Breath technique
Managing poorly engaged or motivated students effectively

Using trauma informed language
Cultural avenues for facilitating engagement

Adapting programs to diverse or changing environments
Author
BESSEL A VAN DER KOLK, M.D.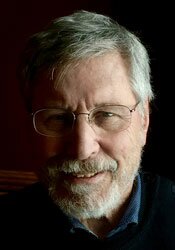 Bessel A. Van der Kolk, M.D.,
is a clinician, researcher and teacher in the area of post-traumatic stress. His work integrates developmental, neurobiological, psychodynamic and interpersonal aspects of the impact of trauma and its treatment.
Dr. van der Kolk and his various collaborators have published extensively on the impact of trauma on development, such as dissociative problems, borderline personality and self-mutilation, cognitive development, memory, and the psychobiology of trauma. He has published over 150 peer reviewed scientific articles on such diverse topics as neuroimaging, self-injury, memory, neurofeedback, Developmental Trauma, yoga, theater and EMDR.
He is founder and medical director of the Trauma Center in Brookline, Massachusetts. The Trauma Center consists of a well-trained clinical team specializing in the treatment of children and adults with histories of child maltreatment, that applies treatment models that are widely taught and implemented nationwide. He also created the Trauma Research Foundation, the non-profit arm of the Trauma Center, that is organized to promote clinical, scientific and educational projects.
His most recent 2014
New York Times
best seller,
The Body Keeps the Score: Brain, Mind, and Body in the Treatment of Trauma
, transforms our understanding of traumatic stress, revealing how it literally rearranges the brain's wiring – specifically areas dedicated to pleasure, engagement, control, and trust. He shows how these areas can be reactivated through innovative treatments including neurofeedback, somatically based therapies, EMDR, psychodrama, play, yoga, and other therapies.
Dr. van der Kolk is the past president of the International Society for Traumatic Stress Studies, and professor of psychiatry at Boston University Medical School. He regularly teaches at conferences, universities, and hospitals around the world.
Speaker Disclosures:
Financial: Bessel van der Kolk is a professor of psychiatry at the Boston University School of Medicine. He receives a speaking honorarium from PESI, Inc.
Nonfinancial: Bessel van der Kolk has no relevant nonfinancial relationship to disclose.
TARANA BURKE
Tarana J. Burke, Founder, "Me Too" movement. Activist and advocate at the intersection of sexual violence and racial justice. Fueled by commitments to interrupt sexual violence and other systemic inequalities disproportionately impacting marginalized people, particularly black women and girls. She is the recipient of the 2018 MIT Media Lab Disobedience Award.
ROBERT WHITAKER
Robert Whitaker, author, Anatomy of an Epidemic and publisher of the web magazine, Mad in America.
ED TRONICK, PHD
Ed Tronick, Ph.D., University distinguished professor, University of Massachusetts Boston; Infant-Parent Mental Health Program; Department of Newborn Medicine, Harvard Medical School, author, The Neurobehavioral and Social Emotional Development of Infants and Children.
MARTIN TEICHER, M.D., PH.D.
Martin H. Teicher, MD, Ph.D., Associate professor of psychiatry at Harvard Medical School; director of the Developmental Biopsychiatry Research Program and Laboratory of Developmental Psychopharmacology at McLean Hospital. His research studies range from inquiries into the molecular mechanisms of brain development to brain-imaging studies of the effects of childhood maltreatment on brain development.
JULIAN FORD, PH.D.
Julian D. Ford, Ph.D., ABPP, Professor, department of psychiatry and law, University of Connecticut; President International Society for Traumatic Stress Studies (ISTSS); director, Center for the Treatment of Developmental Trauma Disorders and Center for Trauma Recovery and Juvenile Justice; co-author, Treatment of Complex Trauma & Hijacked by Your Brain: How to Free Yourself when Stress Takes Over; author, Post-traumatic Stress Disorder: Scientific and Professional Dimensions; co-editor, Treating Complex Traumatic Stress Disorders & Treating Complex Traumatic Stress Disorders in Children and Adolescents.
STEPHAN WOLFERT
Stephan Wolfert, MFT, Playwright, performer; executive director, De-Recruit. Founding artistic director of Shakespeare & Veterans and the Veterans Center for the Performing Arts. Company member, Bedlam Theater, NYC. Combining his own personal story of leaving the army with Shakespeare's writings on war, he created Cry Havoc! which he has performed around the world to critical acclaim.
CATHY MALCHIODI, PH.D.
Cathy Malchiodi, Ph.D.,
REAT psychologist and expressive arts therapist, founder and director of the Trauma-Informed Practices and Expressive Arts Therapy Institute. She writes the Arts and Health column for Psychology Today Online, with a following of 4.8 million readers. Author of Handbook of Art Therapy, Expressive Therapies, and Art Therapy Sourcebook.
ALI SMITH
Ali Smith, Executive director, the Holistic Life Foundation. He has helped develop and pilot yoga and mindfulness programs at public and private schools, drug treatment centers, juvenile detention centers, mental crisis facilities, and retreat centers, mental crisis facilities, and retreat centers, nationally and internationally. Ali has authored a series of children's books and co-authored several yoga and mindfulness-based curriculum's as well as developed numerous workshops and trainings.
ATMAN SMITH
Atman Smith, Co-founder of the Holistic Life Foundation, and director of development. Since 2001, he has been teaching yoga and mindfulness to a diverse population including underserved and high-risk youth in Baltimore City Public Schools, drug treatment centers, wellness centers, and colleges.
ANDRES GONZALEZ, MBA
Andres Gonzalez, MBA,
Co-founder and marketing director for the Holistic Life Foundation, Inc. in Baltimore, MD since 2001. He has partnered with John Hopkins Bloomberg School of Health and the Penn State's Prevention Research Center on a Stress and Relaxation Study and is a published author in the Journal of Children's Services
Continuing Education Credits
---
CE Information Coming Soon
Continuing education credit information is coming soon for this non-interactive self-study package.

CEs may be available for select professions, as listed in the target audience. Hours will be dependent on the actual recording time. Please check with your state licensing board or organization for specific requirements.

There may be an additional fee for CE certificates. Please contact our Customer Service at 1-800-844-8260 for more details.

**Materials that are included in this course may include interventions and modalities that are beyond the authorized practice of mental health professionals. As a licensed professional, you are responsible for reviewing the scope of practice, including activities that are defined in law as beyond the boundaries of practice in accordance with and in compliance with your professions standards.


Audience
Social Workers
Counselors
Psychologists
Physicians
Psychiatrists
Addiction Counselors
Marriage & Family Therapists
Occupational Therapists
Occupational Therapy Assistants
Nurses
Other Mental Health Professionals
Satisfaction Guarantee
Your satisfaction is our goal and our guarantee. Concerns should be addressed to PESI, P.O. Box 1000, Eau Claire, WI 54702-1000 or call (800) 844-8260.

ADA Needs
We would be happy to accommodate your ADA needs; please call our Customer Service Department for more information at (800) 844-8260.