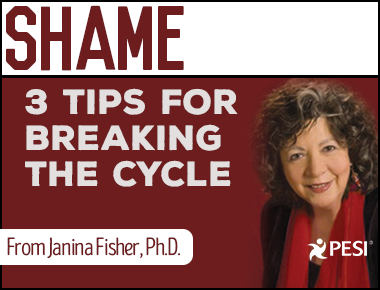 Your shame-prone clients are stuck in a vicious cycle...
Around and around they go. Beliefs about themselves trigger the physical response, which reinforces the cognitive schema, which then evokes the physical response...and so on.
So how do we help our clients escape this cycle?
In this short video, Dr. Janina Fisher shares with you 3 interventions drawn from neurobiologically-oriented therapies. (She'll also show you when it's ok to break the 11th commandment.)
---
If you work with cases involving trauma, you've likely experienced the frustration of having a powerful session with your client one week... only to have them come back the next week with no memory of the previous session's breakthrough work.

This happens not because of anything you did wrong, but because of the way trauma impacts the way our brains function.

So what can you do?

Get the traumatized brain working correctly again with the help of my simple but effective trauma treatment worksheets!

These take-home handouts give your clients a structured tool that leverages the latest neuroscience insight to help your clients finally experience lasting therapeutic improvement.

Plus these worksheets address overwhelming emotions like anxiety and shame.
---
Are you ready to become a Certified Complex Trauma Treatment Professional?

Don't miss our online certification training course that will help you master neurobiologically informed treatments to heal trauma, save marriages and families, and help clients take back their lives. Learn more about how you can become a true expert in the field of trauma treatment.
Topic: Clinical Psychology and Psychiatry
Tags: Shame | Trauma | Trauma Treatment | Somatic Interventions