Martha Teater, MA, LMFT, LCAS, LPC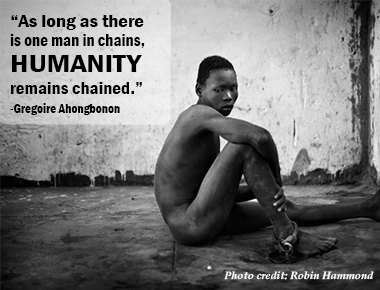 A recent
New York Times article
and
video
shed light on the gruesome plight of Africans with mental illness. Graphic images of mentally ill people chained to trees or cinderblocks for years on end seem unbelievable. Surely these barbaric conditions can't really be happening.
But they are.
And in the time it takes for you to order and receive your pumpkin spice latte, you can see it with your own eyes by
viewing the video
or
reading the article
from the New York Times.
Having traveled to Zambia recently, I witnessed the abysmal state of mental health care there. I can tell you first-hand how mental health services in Africa lag decades behind care in developed countries.
In many African countries there is wrenching poverty coupled with a lack of resources. In Zambia, there are 6 psychiatrists for a country of 15 million people. There is one psychiatric hospital.
I was stunned by what I saw in the psychiatric hospital. The severity of people's needs and the lack of appropriate care were tragic. People there were severely mentally ill with conditions like schizophrenia, alcoholic psychosis, unstable mania, and AIDS-related psychosis.
The only medication used was Haldol, an older antipsychotic that is rarely prescribed in the U.S. due to its side effect profile. Some of those side effects include a mask-like expression, muscle spasms, twisting body movements, a shuffling walk, and drooling. This medication costs about $4 per month in the U.S., but even at that low price few Zambians can afford it.
People seeking treatment in the mental hospital appeared to be either clearly psychotic and agitated, or over medicated to the point of drooling and appearing almost catatonic. There was no structured therapy, activities, or rehab services. People wandered around glassy-eyed and confused, or slumped and dazed on the dirt floors.
The glaring lack of resources was evident as I worked with medical students to guide them in dealing with mental health issues. 
In Zambia, medical school lasts for about 6 years beyond high school, and those attending will be trained to be general physicians since there aren't residency programs around. They receive very little training in mental health issues even though that is a large part of what people present with. Most students are trained in Zambia and remain there to practice medicine.
The lack of options available to those suffering is staggering.
Therapy? Nope…there are no therapists to be found.
Maybe the person could try a 12-step program? Sorry…none exist.
How about a psychiatric referral? Not an option…no psychiatrists are around.
Could we refer to an addictions treatment center? We could…if such a thing existed.
There are many reasons for the complete lack of mental health care in Africa: abject poverty; stigma; belief in witch doctors; lack of therapists, psychiatrists, medications; conflict and war; and the devastation of AIDS.
It would be easy to feel defeated and discouraged by this tragic situation. But frustration isn't productive unless it moves us to action. Here are two solid ways to help:
• Photographer Robin Hammond has documented this situation in his book, Condemned, and has issued a
call to action
.
• Gregoire Ahongbonon founded the advocacy group Saint Camille-de-Lellis and is a champion in this work.
Read more about his work.
As Ahongbonon says, "…as long as there is one man in chains it is humanity that is chained."
---
Martha Teater, MA, LMFT, LCAS, LPC
, trains across the U.S. and internationally on such topics as compassion fatigue, DSM-5, and the treatment of trauma. A prolific writer, she has published over 175 articles in newspapers and magazines, and is the coauthor of
Overcoming Compassion Fatigue: A Practical Resilience Workbook
.
---
Join Martha to
sharpen and enhance your ability to treat trauma
with the most effective, evidence-based treatment approach. Bonus: You'll earn up to 6 CE hours all from the comfort of your own home.
---
Read more from Martha!
Topic: Clinical Psychology and Psychiatry