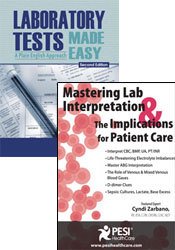 Product Details
Format:

Package - Video & Book Instructions

Details:

Multi-disc DVD recording (6 hours) with electronic manual and instructions | (softcover) Book: 294 Pages

Authors:

CYNDI ZARBANO, MSN, BSN, CCRN, CEN, PCCN, CLNC
MIKEL A. ROTHENBERG, M.D.
SEAN G. SMITH, FP-C, CEN, CFRN, CPEN, CCRN-CMC (ADULT), CCRN-K (NEONATAL), CCRN-K (PEDIATRIC)

Publisher:

PESI HealthCare

Copyright:

3/30/2016

CE Available:

Yes, See CE credit tab for complete continuing education details

Product Code:

RVKIT075470
Objectives
[+]
[-]
073075 - Mastering Lab Interpretation & The Implications for Patient Care
Evaluate the results of Coagulation Studies (PT/INT and PTT).
Analyze a Complete Blood Count with Differential and discuss clinical applications (Anemias, Left Shifts, Infections, etc.).
Recognize the clinical implications of metabolic panels.
Distinguish between life-threatening electrolyte imbalances, as well as potential causes and remedies.
Predict renal function based on BUN, Creatinine, BUN/CR ratio, and GFR.
Interpret cardiac panel results in a suspected acute myocardial infarction.
Analyze blood gases and pertinent clinical implications.
Differentiate between bacterial meningitis and viral meningitis based on lumbar puncture findings.
Recognize the key clinical indicators and implications for infection on a urinalysis.
Outline
[+]
[-]
073075 - Mastering Lab Interpretation & The Implications for Patient Care
Basic Metabolic Profile (BMP)
Glucose
Acid Base
Renal Function
Electrolytes
Life-threatening Electrolytes
Potassium
Magnesium
Sodium
Calcium
Comprehensive Metabolic Panel:
Indications and Implications
LFTs: Exploring the Liver
AST/ALT/ALP/Total Bilirubin/Proteins
Health Issues in Liver Failure
Jaundice
Ascites
Hepatic
Encephelopathy
CBC with Differential: Interpreting the Components
What Can Impact WBC and Neutrophil
Findings
Anemias/Polycythemias
Understanding the Differential
The Left Shift Explained
Guidelines on Transfusing have Changed
Acute Renal Failure: Identify the Cause
Creatinine
BUN
BUN/CR ratios
Glomerular Filtration Rate
Urine Osmolality
FENA
Cardiac Labs: Ischemia vs. Myocardial
Infarction
Cardiac Panels
EKG Clues Supporting the Findings
Distinguishing STEMI vs. NSTEMI
BNP
Pro-BNP
Coagulation/Thrombotic Risk Panels: Clues to Clotting
The Clotting Cascade
The Right Lab Test for the Medication
aPTT
PT
INR
D-dimer
Disseminated Intravascular Coagulopathy
Urinalysis: Does Your Patient Have a UTI?
Latest Guidelines
Culture
Blood Gases: Identifying the Underlying
Abnormality
Three Types of Gases
Interpreting Arterial Blood Gases: It's Easier Than You Think!
Venous Blood Gases
Mixed Venous Blood Gases
Labs and Sepsis: Taking a Team Approach
Cultures, Gram Stains and Sensitivities
Systematic Inflammation
Labs of Sepsis
Lactate Levels
Procalcitonin Levels
WBCs
Neutrophils
Lumbar Punctures / Cerebral Spinal Fluid
Bacterial Meningitis
Viral Meningitis
Viral Encephalitis
Understanding Thyroid Dysfunction
TSH
T4 Levels
T3 Uptake
Differentiating Hyperglycemic States
DKA
HHS (HHNK)
Treatment for Each
Author
CYNDI ZARBANO, MSN, BSN, CCRN, CEN, PCCN, CLNC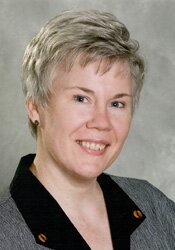 Cyndi Zarbano, MSN, BSN, CCRN, CEN, PCCN, CLNC,
has been a nurse for more than 25 years and a legal nurse consultant (LNC) for 12. Many of her cases in the last decade have been consulting and educating nurses who have gotten into trouble with the board of nursing and helping hem complete their corrective action stipulations. Medication errors and patient injury are a common cause of corrective action, license suspension and loss of license.
Cyndi's clinical area of expertise has been in various intensive care/critical care roles, currently working for Mayo in Minnesota. She has been a national seminar speaker for over ten years speaking to diverse healthcare audiences throughout the country. During her presentations, she has earned the reputation of keeping attendees engaged with the use of current clinical knowledge, fascinating legal stories, and the interjection of nursing humor to keep it fun.
Speaker Disclosures:
Financial: Cyndi Zarbano is the owner of Clinical Review Consultants. She receives a speaking honorarium from PESI, Inc.
Non-financial: Cyndi Zarbano has no relevant non-financial relationship to disclose.
MIKEL A. ROTHENBERG, M.D.
Mikel A. Rothenberg, MD (deceased) was a board-certified internal medicine specialist with a special interest in critical care and emergency medicine. Dr. Rothenberg wrote several medical and legal books, numerous journal articles, and an ACLS computer software program. He served as the executive editor of ACLS Alert, and wrote an advanced cardiac life support online column. A strong advocate of personal growth and self-esteem building, Dr. Rothenberg spoke internationally, presenting courses on "plain English" medical topics.
SEAN G. SMITH, FP-C, CEN, CFRN, CPEN, CCRN-CMC (ADULT), CCRN-K (NEONATAL), CCRN-K (PEDIATRIC)
Sean G. Smith FP-C, CEN, CFRN, CPEN, CCRN-CMC (Adult), CCRN-K (Neonatal), CCRN-K (Pediatric) is a flight nurse-paramedic who has practiced and taught Trauma Care, Tactical Medicine, Emergency/Critical Care and Prehospital Emergency Medical Services, both in the military and the civilian world. He holds degrees in nursing and molecular biology, is a graduate of Duke University's Legal Nurse Consulting program and is currently pursuing a master's degree through the University of Florida College of Pharmacy. He holds multiple advanced specialty certifications as well as extensive instructor qualifications in critical care and emergency medicine.

Career highlights include numerous author/co-author credits, including: a best-selling Laboratory Medicine textbook, a chapter on Shock in Trauma Nursing Core Curriculum, and a section in the newly released Resuscitation Crisis Manual. Sean consults on clinical, legal and certification prep for numerous high-profile hospital systems (Yale, Mayo…). He routinely lectures at national/international conferences, has completed 50 + medical missions (Dominican Republic, Honduras, Morocco, Liberia, and Haiti), and medical support to the NASA Space Shuttle Program.

Speaker Disclosures:

Financial: Sean G. Smith receives a speaking honorarium from PESI, Inc.

Non-financial: Sean G. Smith has no relevant non-financial relationships to disclose.
Continuing Education Credits Awarded for Completion of Entire Package
[+]
[-]
Combined Continuing Education Credit From All Components
Breakdown of Continuing Education Credits by Components
[+]
[-]
073075 - Mastering Lab Interpretation & The Implications for Patient Care
[+]
[-]
082860 - Laboratory Tests Made Easy
Audience
Nurses, Nurse Practitioners, Clinical Nurse Specialists
Satisfaction Guarantee
Your satisfaction is our goal and our guarantee. Concerns should be addressed to PESI, P.O. Box 1000, Eau Claire, WI 54702-1000 or call (800) 844-8260.

ADA Needs
We would be happy to accommodate your ADA needs; please call our Customer Service Department for more information at (800) 844-8260.