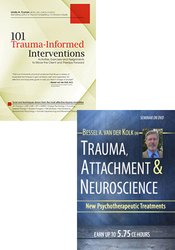 Product Details
Format:

Package - Video & Book

Authors:

LINDA CURRAN, BCPC, LPC, CACD, CCDPD
BESSEL A VAN DER KOLK, M.D.

Publisher:

PESI Inc.

Copyright:

10/30/2017

CE Available:

Yes, See CE credit tab for complete continuing education details

Product Code:

RVKIT052474
Objectives
[+]
[-]
043550 - Trauma, Attachment & Neuroscience: Brain, Mind & Body in the Healing of Trauma
Communicate recent developments in neuroscience in relation to assessment and the treatment of PTSD.
Appraisethe efficacy of trauma treatment techniques, including physical mastery, affect regulation, attention and memory processing in trauma.
Critique the results of Developmental Trauma Disorder field trials and ascertain how this may inform clinical treatment considerations.
Articulate specific techniques clients can engage in to regulate their own physiological functioning in response to trauma.
Explain how traumatized people clients process information and articulate the impact of this on clinical assessment and treatment planning.
Determine how to integrate neurologically-based, body-oriented trauma treatment therapies into clinical practice.
Outline
[+]
[-]
043550 - Trauma, Attachment & Neuroscience: Brain, Mind & Body in the Healing of Trauma
Neuroscience & Brain Development
Neuroscience research and the course of brain development
How children learn to regulate their arousal systems
Fundamental capacity of the brain to self-regulate
Trauma, abuse and neglect: The derailment of developmental processes & brain development
Traumatic Imprints
Storing of traumatic imprints in the sub-cortical brain areas
Somatic re-experiencing of trauma-related sensations and affects
Understand why and how trauma symptoms make sense (adaptations, memory equivalents, etc.)
Understand why and how traumatic imprints perpetuate maladaptive coping behaviors
The Latest Clinical Research on Trauma-specific Treatment Interventions
Neurologically-based, body-oriented therapies to resolve traumatic material
EMDR
Movement Therapies
Neurofeedback
Integrating various approaches during different stages of treatment
The DSM-5® diagnoses and need to incorporate data from DESNOS/Complex PTSD and Developmental Trauma Disorder field trials

Behavioral and neurobiological implications of developmental trauma (child abuse/neglect)
Behavioral and neurobiological implications of complex trauma
Recognize and address the myriad of co-morbidities in the traumatized client
Author
LINDA CURRAN, BCPC, LPC, CACD, CCDPD
Linda Curran, BCPC, LPC, CACD, CCDPD, is president of Integrative Trauma Treatment, LLC, in Havertown, PA. She provides clients an integrative approach to trauma, and treats PTSD in adolescent and adult populations, including clients with eating disorders, sexual trauma, and self-injury. An international speaker on the treatment of trauma, Linda has developed, produced, and presents multi-media workshops on all aspects of psychological trauma.

Linda is the author of the best-selling Trauma Competency: A Clinician's Guide (PESI, 2010) and 101 Trauma-Informed Interventions: Activities, Exercises and Assignments to Move the Client and Therapy Forward (PESI, 2013). She is the producer of the best-selling Interview Trauma DVD series in which she collaborated with the world's leaders in Trauma: Bessel van der Kolk, M.D.; Peter Levine, Ph.D.; Babette Rothschild, MSW, LCS; Stephen Porges, Ph.D.; Janina Fisher, Ph.D.; and many more.


Speaker Disclosures:

Financial: Linda Curran maintains a private practice. She receives a speaking honorarium from PESI, Inc.

Nonfinancial: Linda Curran has no relevant nonfinancial relationship to disclose.
BESSEL A VAN DER KOLK, M.D.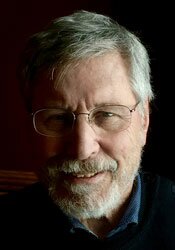 Bessel A. Van der Kolk, M.D.,
is a clinician, researcher and teacher in the area of post-traumatic stress. His work integrates developmental, neurobiological, psychodynamic and interpersonal aspects of the impact of trauma and its treatment.
Dr. van der Kolk and his various collaborators have published extensively on the impact of trauma on development, such as dissociative problems, borderline personality and self-mutilation, cognitive development, memory, and the psychobiology of trauma. He has published over 150 peer reviewed scientific articles on such diverse topics as neuroimaging, self-injury, memory, neurofeedback, Developmental Trauma, yoga, theater and EMDR.
He is founder of the Trauma Center in Brookline, Massachusetts and president of the Trauma Research Foundation, which promotes clinical, scientific and educational projects.
His 2014 #1
New York Times
best seller,
The Body Keeps the Score: Brain, Mind, and Body in the Treatment of Trauma
, transforms our understanding of traumatic stress, revealing how it literally rearranges the brain's wiring – specifically areas dedicated to pleasure, engagement, control, and trust. He shows how these areas can be reactivated through innovative treatments including neurofeedback, somatically based therapies, EMDR, psychodrama, play, yoga, and other therapies.
Dr. van der Kolk is the past president of the International Society for Traumatic Stress Studies, and professor of psychiatry at Boston University Medical School. He regularly teaches at conferences, universities, and hospitals around the world.
Speaker Disclosures:
Financial: Bessel van der Kolk is a professor of psychiatry at the Boston University School of Medicine. He receives a speaking honorarium from PESI, Inc.
Nonfinancial: Bessel van der Kolk has no relevant nonfinancial relationship to disclose.
Continuing Education Credits Awarded for Completion of Entire Package
[+]
[-]
Combined Continuing Education Credit From All Components
Breakdown of Continuing Education Credits by Components
[+]
[-]
043550 - Trauma, Attachment & Neuroscience: Brain, Mind & Body in the Healing of Trauma
[+]
[-]
045620 - 101 Trauma-Informed Interventions
Audience
Counselors, Social Workers, Psychologists, Psychotherapists, Therapists, Marriage & Family Therapists, Addiction Counselors, Occupational Therapists, Case Managers, Nurses, Other Helping Professionals
Reviews
[+]
[-]
045620 - 101 Trauma-Informed Interventions: Activities, Exercises and Assignments to Move the Client and Therapy Forward
"Linda Curran's unflagging energy and dedication to the healing of traumatized individuals has led to a voluminous, exciting, and comprehensive, 101 Trauma Informed Interventions. This workbook provides a plethora of effective tools -- traditional as well as innovative -- that can be used in whole or as a part of a course of therapy and also as self-help. The variety of options offered goes a long way towards dispelling the (unfortunately) popular misconception that there are only a limited number of interventions that help people to recover from trauma. Survivors as well as therapists who have been frustrated by the rigidity of strict adherence to evidence based practice will be greatly relieved to find a wealth of useful strategies to experiment, evaluate, and sort into a personally tailored trauma recovery program. This workbook is a god-send for the trauma field, expanding the possibilities for recovery in a most generous way."
~ Babette Rothschild, MSW author of The Body Remembers and 8 Keys to Safe Trauma Recovery

"Linda Curran has carefully and knowledgeably curated a practical, effective collection of interventions that actually work for trauma survivors. Any clinician committed to helping those suffering from posttraumatic stress needs to have these tools and resources to draw upon, because standard talk therapy, nine times out of ten, is simply not going to cut it. These exercises will."
~ Belleruth Naparstek, LISW, author of Invisible Heroes: Survivors of Trauma and How They Heal

"Drawing from the whole spectrum of trauma-based therapies, Linda Curran has compiled a sampling of practical exercises designed to help therapists and their clients better navigate the mine field that trauma work can be and find the path to healing."
~ Richard Schwartz, Ph.D. author of Internal Family Systems Therapy

"101 Trauma-Informed Interventions provides an accessible functional "playbook" for therapists committed to the rehabilitation of the client with a trauma history. In a readable volume Curran integrates diverse approaches of treatment and emphasizes the unique role that trauma plays in mental health. Underlying this eclectic strategy is the common theme emphasizing that healing will only begin when the trauma related feelings embedded in the body are appreciated."
~ Stephen W. Porges, Ph.D., author of The Polyvagal Theory

"An interesting compendium of potential interventions that can be interwoven into any therapist's existing conceptual framework"
~ Louis Cozolino, Ph.D., Pepperdine University, and author of 5 books including the best-seller The Neuroscience of Psychotherapy, Healing the Social Brain (2nd edition)


Satisfaction Guarantee
Your satisfaction is our goal and our guarantee. Concerns should be addressed to PESI, P.O. Box 1000, Eau Claire, WI 54702-1000 or call (800) 844-8260.

ADA Needs
We would be happy to accommodate your ADA needs; please call our Customer Service Department for more information at (800) 844-8260.