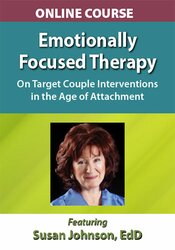 Product Details
Format:

Package - Video & Book

Authors:

KATHLEEN MATES-YOUNGMAN, M.A., LMFT
SUSAN JOHNSON, ED.D.

Publisher:

PESI Inc.

Copyright:

8/15/2016

CE Available:

Yes, See CE credit tab for complete continuing education details

Product Code:

RVKIT001074
Objectives
[+]
[-]
046900 - Sex and the Bonds of Love: What We Know - What We Can Do
Describe the links between attachment and sexuality outlined in attachment research
Outline the principles of an attachment oriented, EFCT approach to sex in couple therapy
Describe specific interventions the EFCT therapist uses to address sexual problems
[+]
[-]
046905 - Healing Toxic Injuries in Love Relationships: Emotionally Focused Couples Therapy (EFT) with Dr. Sue Johnson
Describe and define attachment injuries and their impact
Outline the 8 steps in the forgiveness process and the key features of an effective apology
Describe the interventions used by the therapist
[+]
[-]
046910 - Changing Attachment Bonds: Necessary and Sufficient Moves and Moments with Dr. Sue Johnson
Describe the key conversations that shape bonding experiences
Explain how and why these conversations are transformative
List the interventions used to create these changes in EFT
[+]
[-]
046940 - Attachment Theory and Science: A Clear Map for Effective Couple Intervention
Define the characteristics of an attachment relationship and universal attachment strategies
Describe the significance of each aspect of attachment for the couple therapist
Outline pivotal moments of change and key interventions that foster a secure bond
[+]
[-]
047620 - Emotionally Focused Therapy with Sue Johnson, Ed.D.
Give examples of the laws of human bonding, how they operate in adult love relationships, and how these laws inform the clinician's choices of treatment interventions.
Identify the stages, steps and interventions of EFT and how they relate to case conceptualization.
Account for the stuck places that perpetuate negative cycles and emotional disconnection in a client's love relationships.
Describe how to set up new bonding interactions among clients that redefine connection and change working models of attachment.
Demonstrate how to adapt the model to different individuals to improve client engagement, including escalated, traumatized, and depressed partners.
Review how the therapist's style fits with the model or creates blocks in working with emotion and shaping new dances in the clinical setting.
[+]
[-]
049300 - Shaping Secure Connection with EFT: Stage I Live Session - De-escalation
Explain how to constantly create safety during Stage I in EFT
Explain how the EFT therapist conducts a Stage I session and uses EFT interventions
Explain how to pinpoint and work to neutralize negative cycles in distressed couples
Outline
Why EFT?

Emotionally Focused Therapy (EFT) harnesses the new science of love and relationships into a structured, on-target, effective roadmap we can follow to take couples from disaster to safety and emotional connection.

We are able to not only heal relationships, but to create relationships that heal.

For the first time in human history, we know why relationships matter so much, what goes wrong with them, and what's necessary for people to create secure, lasting bonds.

But you might be saying, "Sure, you can show me the studies proving that EFT works. But can you show me how to do it?"

The answer is a resounding YES!

I can show you how you AND your clients can leave each session exhilarated and energized.

In EFT we have shown that we can help 70-75% of couples move into more satisfying and secure bonds. And in this DVD course, I will show you how you can get these kinds of results in your office.

Hope to see you in this DVD course,
Dr. Sue Johnson

"There's nothing more fascinating than relationships, and as you go into them, they just get more and more and more fascinating. Every couple I see teaches me something. I'm still as fascinated now as I was all those years ago."
- Dr. Sue Johnson
Here's everything covered in this in-depth training: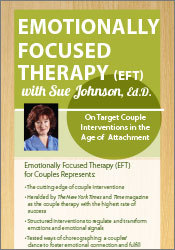 Emotionally Focused Therapy


On Target Couple Interventions in the Age of Attachment


with Susan Johnson, Ed.D.

Dr. Johnson will walk you step-by-step through the EFT model stages and steps. This structured approach will ensure you know that you are using the right intervention at the right time!


The State of Couple Therapy and the New Science of Attachment
Emotionally Focused Therapy (EFT) - the Structure, Moves and Interventions
Experiential and Systemic Interventions
The Tasks of EFT - Outline, Video Viewing, and Exercises
Dealing with Difficult and Attachment Injured Clients - Discussion and Exercises
Discussion of the New Era of Couple Therapy
Shaping Secure Connection with EFT


Stage I Live Session - De-escalation


with Susan Johnson, Ed.D. & Marlene Best, Ph.D.

Dr. Sue Johnson discusses a Stage I case with her colleague, Dr. Marlene Best, pointing out the couple's challenges, as well as, strengths.

In a live session, Dr. Johnson will demonstrate Steps 2 & 3 (Step 1, assessment, has already been completed by Mark, their usual therapist):

Step 2: Outline the negative cycle/dance that both partners shape and which keeps them both off balance and disconnected.
Step 3: Access and reprocess underlying emotions, especially attachment fears, which prime each partner's steps in their negative dance.

In EFT, this process continues up until Step 4, when the couple will de-escalate these negative cycles, and begin to create a secure base so they can go on to Stage II of EFT — Restructuring of Bonding Interactions.

Following the live session, Drs. Johnson and Best will discuss and analyze the session.

Bonus! Buy today and you'll also get...

Sex and the Bonds of Love: What We Know - What We Can Do
Outline the core principles of attachment theory

Attachment interactions and emotions shape sexual responses
Intervention in an attachment oriented couple therapy addresses sexual problems
The creation of a safe haven fosters open responsiveness in sexuality

Healing Toxic Injuries in Love Relationships
Outline the core principles of attachment theory

Identify and understand attachment injuries and their impact
Learn how the EFT forgiveness model fits into the overall structure of therapy
Outline the specific steps in this model and the interventions used by the therapist

Changing Attachment Bonds: Necessary and Sufficient Moves and Moments



This workshop will focus on how the EFT therapist creates:

Outline the core principles of attachment theory
Safe haven sessions that foster exploration of emotion and interaction
Shifts that de-escalate negative patterns and regulate attachment emotions
The coherent integration of new, more primary emotions
Interactions characterized by new ways of reaching for the partner

Attachment Theory and Science: A Clear Map for Effective Couple Intervention
Outline the core principles of attachment theory
Clarify the revolutionary significance of attachment theory and research for relationship repair

Illustrate how EFT uses this perspective to change a move a couple from despair to satisfaction
Couples Therapy Workbook: 30 Guided Conversations to Re-Connect Relationships



Couples Therapy Workbook is a series of guided questions to promote meaningful couple conversations and build ongoing, connected communication. The core of this unique guide is 30 guided conversations of the most critical relationship struggles. For each of the 30 topics, there is an introduction, goal-setting strategies and 10 scripted questions to ask each other - all presented in an easy-to-use mindful style.

Set in a weekly format over 30 days but can be tailored to any timeframe. Designed to be used to couples, and also by therapists working with couples (bonus clinician prep included with each conversation).
100% Satisfaction Guarantee
Purchase this intensive DVD course without risk. If you're not completely satisfied, give us a call at 800-844-8260. We're that confident that you'll find this learning experience to be all that's promised and more than you expected.
Author
KATHLEEN MATES-YOUNGMAN, M.A., LMFT
Kathleen Mates-Youngman, M.A., LMFT is an author and speaker. She has a private practice in Southern California specializing in couples therapy as well as treating individuals with anxiety, depression, grief, chronic illness and life transition issues. She is the author of Couples Therapy Workbook: 30 Guided Conversations to Re-Connect Relationships, (PESI, 2014) and the card deck, Love & Connection Cards (PESI, 2015).

She is completing a second book for couples therapists based on this seminar and is also a regular contributor to a local lifestyle magazine in Orange County, California. Along with her work as a national speaker for PESI, Kathleen does workshops for couples and individuals, as well as graduate students.

SUSAN JOHNSON, ED.D.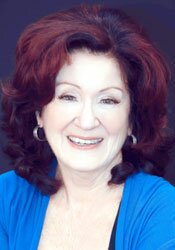 Dr. Sue Johnson
is an author, clinical psychologist, researcher, professor, popular presenter and speaker and a leading innovator in the field of couple therapy and adult attachment. Sue is the primary developer of Emotionally Focused Couples and Family Therapy (EFT), which has demonstrated its effectiveness in over 30 years of peer-reviewed clinical research.
Sue Johnson is founding Director of the International Centre for Excellence in Emotionally Focused Therapy (ICEEFT) and Distinguished Research Professor at Alliant University in San Diego, California, and Professor, Clinical Psychiatry at the University of British Columbia, Canada, as well as Professor Emeritus, Clinical Psychology, at the University of Ottawa, Canada.
Dr. Johnson has received a variety of awards acknowledging her development of EFT and her significant contribution to the field of couple and family therapy and adult attachment. Sue was appointed in 2017 as a Member of the Order of Canada, the country's highest civilian honor recognizing outstanding achievement, dedication to the community and service to Canada. In 2016, she was named Psychologist of the Year by APA, and has been honored by AAMFT for her Outstanding Contribution to the Field of Couple and Family Therapy.
As author of the best-selling book:
Hold Me Tight, Seven Conversations for a Lifetime of Love
, Sue Johnson created for the general public, a self-help version of her ground-breaking research on relationships – how to enhance them, how to repair them and how to keep them. This best seller has been adapted and developed into a relationship education and enhancement program. This Hold Me Tight® program has been translated into numerous languages with workshops taking place around the world. The program has been adapted for specific groups such as for couples facing heart disease, for families with teens, and for Christian couples, and is also offered in an online format. Her book,
Love Sense, The Revolutionary New Science of Romantic Relationships
outlines the new logical understanding of why and how we love – based on new scientific evidence and cutting-edge research. Explaining that romantic love is based on an attachment bond, Dr. Johnson shows how to develop our "love sense" – our ability to develop long-lasting relationships.
Sue's newest book,
Attachment Theory in Practice: EFT with Individuals, Couples and Families
, shows the promise of attachment science in terms of making sense of and repairing our most precious relationships and thriving as strong resilient individuals. Attachment science offers us the most potent model for therapeutic change, especially when dealing with anxiety and depression, and that, of all models of intervention, EFT most closely captures the essence of the attachment perspective. It targets the defining feature of survival-oriented human connection, namely strong emotion, and systematically shapes core bonding interactions with others.
Dr. Johnson's best-known professional books include,
The Practice of Emotionally Focused Couple Therapy: Creating Connection
(3rd edition, 2019) and
Emotionally Focused Couple Therapy with Trauma Survivors
(2002).
Sue trains counselors in EFT worldwide and consults to the over 75 international institutes and affiliated centers who practice EFT. She also consults to Veterans Affairs and the U.S. and Canadian militaries.
Speaker Disclosures:
Financial: Susan Johnson receives compensation as a tenured professor for the University of Ottawa. She receives royalties as an author for Little Brown, ICEEFT, Brunner Routledge, and Guilford Press. Dr. Johnson receives a speaking honorarium from PESI, Inc.
Non-financial: Susan Johnson has no relevant non-financial relationship to disclose.
Continuing Education Credits Awarded for Completion of Entire Package
[+]
[-]
Combined Continuing Education Credit From All Components
Breakdown of Continuing Education Credits by Components
[+]
[-]
046900 - Sex and the Bonds of Love: What We Know - What We Can Do
[+]
[-]
046905 - Healing Toxic Injuries in Love Relationships: Emotionally Focused Couples Therapy (EFT) with Dr. Sue Johnson
[+]
[-]
046910 - Changing Attachment Bonds: Necessary and Sufficient Moves and Moments with Dr. Sue Johnson
[+]
[-]
046940 - Attachment Theory and Science: A Clear Map for Effective Couple Intervention
[+]
[-]
047620 - Emotionally Focused Therapy with Sue Johnson, Ed.D.
[+]
[-]
049300 - Shaping Secure Connection with EFT: Stage I Live Session - De-escalation
[+]
[-]
083085 - Couples Therapy Workbook
Audience
Psychologists, Counselors, Social Workers, Case Managers, Addiction Counselors, Marriage & Family Therapists, Nurses, and other Mental Health Professionals, Therapists Addiction Counselors, Marriage and Family Therapists, Other Mental Health Professionals, Occupational Therapists and Occupational Therapy Assistants
Reviews
[+]
[-]
083085 - Couples Therapy Workbook: 30 Guided Conversations to Re-Connect Relationships
"What a unique resource! A treasure-trove of guided conversations to increase intimacy and friendship.
Therapists often ask me for good homework assignments. This book does the thinking for you. Keep it on hand and whether its values, sex, conflict or other challenging issues, you'll have a ready-made way to help your clients make immediate progress."
-- Ellyn Bader, Ph.D, Founder/Director The Couples Institute

"This is a valuable resource for anyone working with couples. Any couple can profit greatly if they are willing to take Kathleen Youngman's challenge to explore these important topics and discuss these wonderful questions."
-- Milan and Kay Yerkovich, Authors of best-selling How We Love series
"Instead of offering analysis, advice or theory, The Couples Therapy Workbook offers just that, a set of questions to stimulate conversations that help couples deepen their engagement with each other and reconnect. All couples will find this an exceptional guide, and all therapists will find it an effective instrument to supplement the therapeutic process. I highly recommend it and complement the author on her creativity and attention to the core details of a connected relationship."
- -Harville Hendrix, Ph. D. and Helen LaKelly Hunt, Ph. D.; Authors of Making Marriage Simple and Getting the Love You Want.
Satisfaction Guarantee
Your satisfaction is our goal and our guarantee. Concerns should be addressed to PESI, P.O. Box 1000, Eau Claire, WI 54702-1000 or call (800) 844-8260.

ADA Needs
We would be happy to accommodate your ADA needs; please call our Customer Service Department for more information at (800) 844-8260.