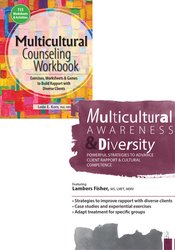 Product Details
Format:

Package - Video & Book

Authors:

LAMBERS FISHER, MS, LMFT, MDIV
LESLIE KORN, PH.D., MPH, LMHC, ACS, RPP, NTP, NCBTMB

Publisher:

PESI Inc.

Copyright:

11/17/2017

CE Available:

Yes, See CE credit tab for complete continuing education details

Product Code:

RVKIT049440
Objectives
[+]
[-]
048760 - Multicultural Awareness & Diversity: Powerful Strategies to Advance Client Rapport & Cultural Competence
Implement the DSM-5® criteria and cultural formulation interview to accurately assess for cultural influences as it relates to diagnosis.
Recognize biases to improve clinical strategies, rapport, and engagement with a variety of clients.
Develop a deep understanding of the impact of varying cultural group experiences to enhance empathy in session.
Establish ethical standards for a culturally competent practice related therapeutic authority and effective self-disclosure.
Utilize clinical strategies to address unintentional cultural offenses towards clients to increase treatment effectiveness.
Apply skills to overcome cultural barriers such as language, religion and different belief systems to improve session outcomes.
Outline
[+]
[-]
048760 - Multicultural Awareness & Diversity: Powerful Strategies to Advance Client Rapport & Cultural Competence
Cultural Competencies in Mental Health
Client-centered approach to cultural competence
Trends in cultural identity development
Acknowledge cultural differences: terms of reference, racism and stereotypes
Improve client rapport

Make cultural connections
Acquire knowledge & skills
View behavior within a cultural context

Exercise: Cultural Self-Assessment
Ethics & the DSM-5®: Guidelines for the Integration of Cultural Competencies
Cross-cultural variations in presentations
Cultural genograms
Assessments and diagnostic protocols
DSM-5® Cultural Formulation
Ethical standards for culturally competent practice

Cultural perspectives on therapeutic authority
Referring without abandoning
Effective self-disclosure
Advocacy and social justice
Exercise: Cultural Formulation Interview
Overcome Dilemmas in Practice
Working with limited English proficiency and bi/multilingual clients
When to use an interpreter
Strategies for working with cultural transference and counter transference
Avoiding and addressing unintentional cultural offenses toward clients
Empathizing with victims as well as accused perpetrators of social injustice
Interventions & Strategies for Specific Populations
Understand client experiences of sexual identity and gender fluidity
Strategies for supporting clients when therapist's and client's religious beliefs conflict
Methods for building rapport with clients with various disabilities
Adapting therapeutic style to client's cultural presentation
Case Examples: Cultural experiences therapists often misunderstand
Overcome Limitations of the Research & Potential Risks
Limited empirical models
Lack of professional awareness & confidence
Changing cultural values, needs & expressions
Incomplete scope: clients, counselors, supervisors, colleagues & community
Author
LAMBERS FISHER, MS, LMFT, MDIV
Lambers Fisher, MS, LMFT, MDIV, is a marriage and family therapist who has counseled individuals, couples, and families from a variety of cultural backgrounds, in private practice, non-profit organization, as well as ministry environments. He has a strong desire to help counseling professionals in various fields feel more comfortable, competent and confident in their ability to meet the needs of whomever they have the opportunity to serve. Lambers' training experience includes facilitating workshops, guest lecturing, as well as being an adjunct instructor at Crown College on various aspects of diversity in counseling. Lambers supervises aspiring therapists as a board-approved supervisor for the Minnesota Board of Marriage & Family Therapists as well as the Minnesota Board of Behavioral Health.

Currently, Lambers is a therapist in private practice where he effectively balances personal and professional experiences to provide unique and practical perspectives on a variety of culturally sensitive topics. He obtained a Master of Science in Marriage & Family Therapy as well as a Master of Divinity from Fuller Theological Seminary in Pasadena, CA.

Speaker Disclosures:

Financial: Lambers Fisher has an employment relationship with Restorations for Life Counseling. He receives a speaking honorarium from PESI, Inc.

Nonfinancial: Lambers Fisher is a member of the American Association of Marriage and Family Therapists.
LESLIE KORN, PH.D., MPH, LMHC, ACS, RPP, NTP, NCBTMB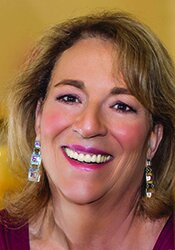 Leslie Korn, PH.D., MPH, LMHC, ACS, RPP, NTP, NCBTMB,
is a renowned integrative medicine clinician and educator specializing in the use of nutritional, herbal and culinary medicine for the treatment of trauma and emotional and chronic physical illness. She is known for her dynamism and humor as a speaker. She has provided over 50,000 hours of treatment in private practice for diverse populations. Her clinical practice focuses on providing clients effective alternatives to psychotropics. She completed her graduate education in the department of psychiatry and public health at Harvard Medical School and her life training in the jungle of Mexico where she lived and worked alongside local healers for over 25 years. She directed a naturopathic medicine and training clinic facilitating health, culinary and fitness retreats. She is licensed and certified in nutritional therapy, mental health counseling, and bodywork (Polarity and Cranial Sacral and medical massage therapies) and is an approved clinical supervisor. She introduced somatic therapies for complex trauma patients in out-patient psychiatry at Harvard Medical school in 1985 and served as a consultant in ethnomedicine to the Trauma Clinic, Boston. She is the former clinical director and faculty of New England School of Acupuncture and faculty at the National College of Naturopathic Medicine.
She is the author of the seminal book on the body and complex trauma:
Rhythms of Recovery: Trauma, Nature and the Body
(Routledge, 2012),
Nutrition Essentials for Mental Health
(W.W. Norton, 2016),
Eat Right Feel Right: Over 80 Recipes and Tips to Improve Mood, Sleep, Attention & Focus
(PESI, 2017),
Multicultural Counseling Workbook: Exercises, Worksheets & Games to Build Rapport with Diverse Clients
(PESI, 2015) and
The Good Mood Kitchen
(W.W. Norton, 2017). She was a founder of the National Certification Board for Therapeutic Massage and Bodywork, a Fullbright scholar in Herbal Medicine and an NIH-funded scientist, in mind/body medicine. She is an approved clinical supervisor and is the research director at the Center for World Indigenous Studies where she designs culinary and herbal medicine programs with tribal communities engaged in developing integrative medicine programs.
Speaker Disclosures:
Financial: Leslie Korn is in clinical practice. She receives a speaking honorarium from PESI, Inc.
Nonfinancial: Leslie Korn has no relevant nonfinancial relationship to disclose.
Continuing Education Credits Awarded for Completion of Entire Package
[+]
[-]
Combined Continuing Education Credit From All Components
Breakdown of Continuing Education Credits by Components
[+]
[-]
048760 - Multicultural Awareness & Diversity
[+]
[-]
084065 - Multicultural Counseling Workbook
Audience
,
Counselors
,
Social Workers
,
Psychologists
,
Case Managers
,
Addiction Counselors
,
Therapists
,
Marriage & Family Therapists
,
Other Mental Health Professionals
,
Nurses
Reviews
[+]
[-]
084065 - Multicultural Counseling Workbook
"A comprehensive, collaborative and insightful workbook, it offers the clinician opportunities to reflect on their personal cultural identity and socialization while encouraging a deeper understanding of the role of power, privilege, and the complexities of culture, ethnicity and race in other cultural communities. This workbook provides practical worksheets to help professionals moreover establish rapport and relationship with their clients. Dr. Korn's book is a gift to the field of mental health and will support culturally responsive professionals."
-Priscilla Sanville, PhD, Professor Emerita, Creative Arts in Learning and Social Justice Facilitator, Lesley University, Cambridge, MA

"A wise traditional birth attendant from Darfur once told that 'knowledge is like a garden: if it is not cultivated, it cannot be harvested.' Leslie's workbook is an effective fertilizer to cultivate multicultural counseling in the garden of clinical knowledge. It's a great resource for clinicians and healers to develop multicultural competencies and mindfulness to diversify their work. It can also be used as a 'refresher' for many kinds of helping professionals."
-Janaka Jayawickrama, PhD Lecturer and Community Care Practitioner, University of York, United Kingdom

"As a university faculty member and clinical practitioner, I think Dr.Korn's book is a wonderful, comprehensive and much needed resource for cultural competency development. The narrative assists the reader in the exploration of one's personal cultural self-awareness and helps the acquisition of new skills. I found this workbook to be the best multicultural counseling field guide I've read in many years. It provides a thorough compilation of information, worksheets and exercises that clinicians will value for a long time to come."
-Dinah Manns, EdD, Research Lead/Faculty, Human Behavior-Couseling Studies, Capella University, Minneapolis, MN

"Dr. Korn's Multicultural Counseling Workbook is challenging, innovative, thought-provoking, educative, and experiential. All the qualities you want in an engaging workbook. When families and nations struggle behind unconscious masks of prejudice and bias, all efforts to heal illusions are welcome. The book is a valuable tool for nurturing change."
-Joseph Randolph Bowers, PhD, Senior Counseling Psychotherapist: Cultural, Indigenous, Disability, and Mental Health Specialist, University of New England, Austrailia

"The importance of multicultural competency in our conflict-ridden world can't be overstated. It is in everyone's best interest. But the work involved in disentangling one's prejudices is intense, and this book is here to help. Designed for clinicians and clients, there is something here for everyone."
-Estelle Disch, PhD, Professor Emerita of Sociology, University of Massachusetts, Boston

"Leslie Korn has produced an impressive, highly accessible workbook on diversity and rapport building that will be of great benefit to counselors and professional help givers. Most importantly, it provides invaluable tools and exercises to facilitate better recognition, understanding and processing of feelings and beliefs regarding diversity in those of us who work in counseling. It is at the same time comprehensive and learned, yet highly readable with many case examples and illustrations. It is a gift to those who wish to be more adept in practicing in a more diversity-sensitive manner."
-John Ludgate, PhD, Author, Psychologist, Fellow of the Academy of Cognitive Therapy

"The Multicultural Counseling Workbook provides and abundance of information about the cultural experiences of a variety or ethnic and other cultural groups, as well as practical exercises that encourage honest reflection, help identify assumptions and subconscious influences, while also challenging them to move beyond them. Some of the workbook's best moments are vignettes that show Dr. Korn's efforts to address sensitive topics, assess cultural influences and build therapeutic rapport with a variety of clients. I would recommend this workbook to mental health professionals seeking to increase their own as well as their client's cultural knowledge and self-awareness."
-Lambers Fisher MS, LMFT, MDIV, Approved Supervisor, Minnesota Board of Behavioral Health
Satisfaction Guarantee
Your satisfaction is our goal and our guarantee. Concerns should be addressed to PESI, P.O. Box 1000, Eau Claire, WI 54702-1000 or call (800) 844-8260.

ADA Needs
We would be happy to accommodate your ADA needs; please call our Customer Service Department for more information at (800) 844-8260.