5-Day Yoga and Meditation Retreat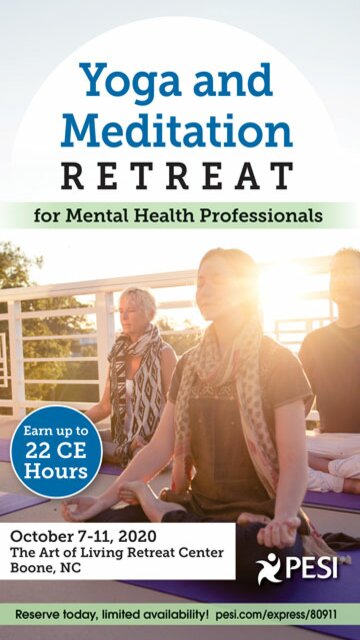 Where:

BOONE, NC
When:

Wednesday, October 7, 2020 - Sunday, October 11, 2020
EARLY BIRD REGISTRATIONS AVAILABLE THROUGH JUNE 8, 2020



Single Occupancy

$1,799.00 By June 8, 2020
$1,999.00 After June 8, 2020

Double Occupancy

$1,599.00 By June 8, 2020
$1,799.00 After June 8, 2020


*** All prices are shown in US Dollars ***
Brochure and CE details available soon!
Location
THE ART OF LIVING RETREAT CENTER
639 WHISPERING HILL ROAD
BOONE, NC 28607
Phone: 800-392-6870
View Map
Course Description:

Rejuvenate yourself and your healing abilities with an educational retreat near the majestic mountains of Sedona, Arizona. Earn 20 CE hours in an incredible environment!

Experience the transformational practices of meditation, yoga, self-inquiry, present moment awareness, self-compassion and noble silence, along with their clinical applications, in an ideal setting – the beautiful Sedona Mago Retreat Center in Sedona, Arizona. This is the perfect setting to deepen your learning of both yoga and meditation! All levels are welcome.

This meditation and yoga retreat is a rich exploration into practices that can cultivate happiness and healing. We will follow a balanced schedule of meditation, clinical teachings and group discussion, gentle yoga movement, experiential mindfulness practices, mindful eating, walking meditation, noble silence and deep rest. We will journal our responses to inquiry questions, practice emotional regulation skills, learn to witness thoughts and calm our nervous systems.

To ensure rejuvenation there is plenty of free time for walking, contemplation and resting. The Sedona Mago Retreat Center offers an exquisite landscape, waterfalls, garden walks, and healthful, pesco-vegetarian cuisine and stylish accommodation. At times during the retreat, we will maintain silence to facilitate deep transformation.
Sleeping Accommodations:

If you would like to be paired up with another potential, unknown attendee to take advantage of the double occupancy rate, please call and let us know. We will aim to pair you up if somebody else registers who also would like to share.

In the meantime, please register at the single occupancy rate. If we are able to pair people, the $200 will be credited.


FOR MORE INFORMATION ABOUT THE ART OF LIVING RETREAT CENTER, PLEASE CLICK HERE
(artoflivingretreatcenter.org)
Retreat Highlights
Shankara Ayurveda Spa
Nature Walks & Hiking
Labyrinth
Pottery Studio
380-acre setting in the peaceful Blue Ridge Mountains
Plant-based dining
Incredible landscapes
Cancellation Policy: Prior to 45 days before the event start date, you will be charged a $100 cancel fee. For cancellations received after that, you will receive a gift certificate for your purchase amount to attend any future live PESI sponsored seminar.

Please contact PESI customer service for information on non-CE seeking to register as a guest for pricing and other details.
Objectives:
Analyze the effects of yoga and meditation on the triune brain as applied to clinical practice.
Distinguish between the default network, salience network and central executive network and utilize this information for client psychoeducation.
Articulate the concept of negativity bias in the brain as it relates to clients who have experienced trauma.
Characterize the social brain, use of interpersonal neurobiology and assessing beneficial ancestor qualities to activate the affiliation system of the brain.
Utilize concentration, distancing, observation and distraction in treating depression producing thoughts.
Apply breathing practices, simple body movement, emotional freedom technique and self-compassion for emotional regulation.
Describe salience network, default network and use of sensory input for emotional regulation.
Analyze the neuroscience of anxiety, trauma and depression as it relates to treatment.
Apply specific mindfulness skills and practices as part of your anger management treatment regime.
Teach components of mindful self – compassion and discuss its clinical applications with clients.
Explain how to teach clients to dis-identify from a narrative of unworthiness.
Explain the relationship between "inner critic", shame, and treatment according to evolutionary psychology.
Assess mindful eating for its usefulness as a therapeutic tool.
Teach mindfulness practices to address negative thoughts regarding chronic pain.
Practice yoga poses and yoga Nidra applicable to the clinical setting for depression, shame and emotional trauma/anxiety.
Construct a life review-eulogy to help focus therapy on client's most important values.
Evaluate a mindful communications process for conflict resolution and emotional bonding.
Incorporate mindfulness and self-compassion techniques to help regulate emotional distress.
Demonstrate breathing interventions/practices that may help reduce anxiety and depression.
Develop processes for reducing rumination and negative thinking with clients.
Practice teaching from script for brief therapeutic chair yoga for anxiety to use with clients.
Practice teaching from script for brief chair yoga for shame to use with clients.
Outline
Brain Perspective
Triune brain and mental healing
Negativity bias of the brain for survival
Default network, salience network, central executive network
Social brain: causes and conditions
Meditation and Yoga
Powerful communication practice "Beginning Anew"
Inquiry into transient nature of life
Primary components of meditation
Impact of yoga on nervous system
Utilize simple yoga in treatment
Emotional self-regulation
Body scan and sensory input
Breath awareness and breathing practices
Approaching, not avoiding emotions
Practice for accessing beneficial ancestor qualities
Cultivate Healthy Thinking
Detach from thoughts that wound
Use of mantras, chants, songs for healing
Store consciousness/mind consciousness and therapeutic implications
Habit tendencies and neuronal pathways
Naming thoughts
Creating inner space and witnessing thoughts
Nourishing wholesome thoughts
Compassion and healing
Healing impact of self-compassion on brain
Primary and secondary cause of pain
Heal shame with understanding, compassion and non-shame physiology
Brain wave activity and cultivating healthy thoughts
Access truest values to guide therapy
MARY NURRIESTEARNS, MSW, LCSW, RYT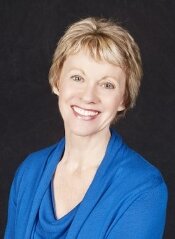 Mary NurrieStearns, MSW, LCSW, C-IAYT
, teaches seminars and retreats to teach clinicians how to take mindfulness skills, brain-based protocols for treating shame and office-based yoga back to their clients. These evidence-based clinical interventions move therapy forward by improving emotional regulation, restoring healthy nervous system functioning and cultivating healthier thought patterns. Both mindfulness and yoga practices have brought healing and calm to Mary's clients and students.
Mary provides participants with the latest research results and pulls together the work of experts in the mental health field who are proponents of both practices (i.e. Bessel van der Kolk, Jon Kabat-Zinn). She draws on 37 years as a mental health professional counselor and 27 years of meditation and yoga practice. She is a certified yoga therapist, seasoned yoga teacher and ordained member of Thich Naht Hahn's Order of Interbeing.
Mary is the author of
Healing Anxiety, Depression and Unworthiness: 78 Brain-Changing Mindfulness & Yoga Practices
(PESI, 2018),
Yoga for Anxiety
with Rick NurrieStearns (New Harbinger, 2010),
Yoga for Emotional Trauma
with Rick NurrieStearns (New Harbinger, 2013),
Yoga Mind – Peaceful Mind,
with Rick NurrieStearns (New Harbinger, 2015), and
Daily Meditations for Healing and Happiness: 52 Card Deck
(PESI, 2016). Mary is the co-editor of
Soulful Living
(Hci, 1999) and former editor of
Personal Transformation
magazine. She has produced DVDs on yoga for emotional trauma and depression. Mary teaches across the United States.
Speaker Disclosures:
Financial: Mary NurrieStearns maintains a private practice. She receives royalties as an author for New Harbinger's Publishing. Ms. NurrieStearns receives a speaking honorarium from PESI, Inc.
Non-financial: Mary NurrieStearns has no relevant non-financial relationship to disclose.
Satisfaction Guarantee
Your satisfaction is our goal and our guarantee. Concerns should be addressed to PESI, P.O. Box 1000, Eau Claire, WI 54702-1000 or call (800) 844-8260.

ADA Needs
We would be happy to accommodate your ADA needs; please call our Customer Service Department for more information at (800) 844-8260.
Credit Card
Required
for online registration |
Contact us
to redeem Gift Certificates