Martha Teater, MA, LMFT, LCAS, LPC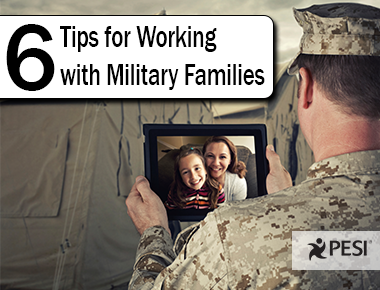 The media hums with dramatic tales of the downside of military relationships. We hear about domestic violence, substance abuse, PTSD, suicide, and infidelity. With the flurry of negative news we may marvel that any military marriages make it.
But they do. Military sociologist Jacey Eckhart studied 1,200 military couples married over 15 years and still in the service. Her findings reveal an upside to military marriages that may help us as we support these couples.


The long-lasting couples see their engagement with the service as a calling, not just as a job. They find this to be a meaningful role that provides financial stability and opportunities for advancement. In successful couples, the non-military spouse understands and supports that view of service.


The strongest couples have a non-military spouse who provides structure and normalcy at home during deployments and time apart. Deployments are expected, and the couple figures out ways to manage time away from each other.


Couples with the strongest relationships figure out how to pull the partner back into family life upon return from deployments. They talk openly about the challenges and how to navigate them.
If we want to help our clients (enlisted, Guard and Reserve, vets) we should arm ourselves with some skills and resources. Here are six tips to utilize when working with these clients:


Learn about military culture. Speak their language. Find out what their lives are like.


Provide resources for couples. A couple of good websites are militaryonesource.mil and www.military.com/spouse. There are many others worth passing on as well.


Normalize their experiences, and be their cheerleader and guide them as they work through struggles. Instill optimism and hope.


Arm yourself with knowledge of evidence-based treatment strategies for depression, relationship problems, nightmare and sleep disorders, PTSD and other clinical concerns of service members. Here's just one example of a training on military family issues by PESI speaker Dr. Patrick Brady.


Suggest that couples, families, and small groups take advantage of Reconnection Workshops, small group modules offered by the American Red Cross Service to the Armed Forces. These 2 hour groups are facilitated by licensed mental health professionals and are offered at no cost and are available anywhere in the country. Topics for adults include communication, anger, stress and trauma, supporting children, and depression.


Read Eckhart's study to better understand military marriages.
By enhancing your skills in working with military couples you will be better able to help them serve our country
and
sustain healthy, long-term marriages.
---
This blog was contributed by PESI speaker 
Martha Teater, MA, LMFT, LCAS, LPC
. She is part of the work group that developed Reconnection Workshops through the American Red Cross Service to the Armed Forces. She is also a lead instructor for Coping with Deployments, another Red Cross military program. A prolific writer, she has published over 175 articles in newspapers and magazines, and is the coauthor of 
Overcoming Compassion Fatigue: A Practical Resilience Workbook
. Visit her website: 
www.marthateater.com
.
---
Join Martha to
sharpen and enhance your ability to treat trauma
with the most effective, evidence-based treatment approach. Bonus: You'll earn up to 6 CE hours all from the comfort of your own home.
---
Read more from Martha!
---
Topic: Families and Couples
Tags: Military Resources