PESIinc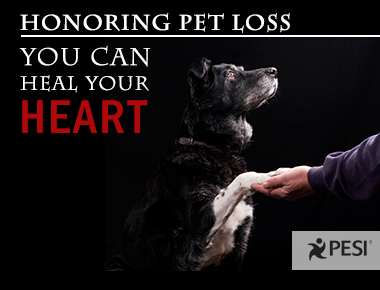 Pet loss is grief that is often not talked about. But the grief is real because the love is real.
Grief is a natural reflection of life and exists in any relationship where we have feelings and attachments. In that context, it seems unlikely to think that we wouldn't grieve for the animals in our life that we are indeed very much attached to. After all, grief is about love, and our animal companions often show us some of the most unconditional love we could ever experience.
There is a unique difficulty with the loss of pets as opposed to that of human loved ones. Like children, we take care of them, keep them safe, feed them, and tend to their well-being. This makes it easy to turn grief into guilt, believing that their death was our fault. The reality is that despite our best efforts to do everything for our pets, they will still die someday.
Grief from pet loss in not as easily fixed as some would have us believe, and it's hard to live in grief that's judged as unworthy. If you or someone you love has recently lost a pet, take a moment to learn how you can heal your heart after a pet loss.
This blog has been brought to life by PESI speaker and renowned grief and loss expert David Kessler. It features passages from his book You Can Heal Your Heart, co-authored by Louise L. Hay.

---