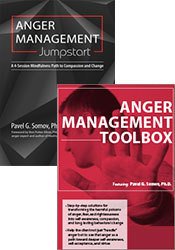 Product Details
Format:

Package - Video & Book Instructions

Details:

Multi-disc DVD recording (6 hours, 4 minutes) with electronic manual and instructions | Softcover Book 122 Pages

Author:

PAVEL SOMOV, PH.D.

Publisher:

PESI Publishing & Media

Copyright:

3/14/2014

CE Available:

Yes, See CE credit tab for complete continuing education details

Product Code:

RVKIT048995
Objectives
[+]
[-]
046610 - Anger Management Toolbox
Define anger problems in a humanistic and compassionate way that assures rapport and treatment compliance.
Apply mindfulness-based impulse control training as part of short-term anger management.
Implement exposure-based interventions for disapproval inoculation and ego strengthening.
Use choice awareness training as a way to assure long-term behavioral changes.
Practice neurobehavioral empathy training to promote relational stability and compassion.
Utilize precedent analysis and trend analysis as part of homework review to assure progress and treatment compliance.
Outline
[+]
[-]
046610 - Anger Management Toolbox
ASSESSMENT & CLINICAL FRAMING
Evolution of Anger
Anger as a Biological Invention
Dualistic Thinking (Skinthink)
Concept of Self & Others
Fundamental Attribution Error
Body-Mind of Anger
Brain View
Body View
Mind View
Heart View
Anger as Fear
Real Fears
Symbolic Fears
Courage of Acceptance
Escape of Action ("To act out is to run")
Anger as a Solution
Self-Defense
Emotional Self-Regulation
Social/Relational Boundary Regulation
12 Types of Anger
Normal
Perfectionistic
Narcissistic
Control
Neurotic
Self-Righteous
Paranoid
Ruminatory
Internalized
Externalized
Passive
Organic
Anger as a Convenient Clinical/Growth Opportunity
Clinical Access Point
Conceptual/Diagnostic Frame
Progress Marker
Framing of Anger Management Objectives
Mood/Affect Stabilization
Relational Stabilization
Impulse Control
Damage Control
SHORT-TERM ANGER MANAGEMENT
Mindfulness-Based Impulse Control Training
Choice Awareness Training & Pattern Interruption
Symbolic Threat Inoculation
Bottom-Up Self-Regulation
Nonperfectionistic Clinical Homework
Trend Focus
Precedent Focus
Experiential Curriculum
Real Life Anger Management Practice
LONG-TERM ANGER MANAGEMENT
Attributional Retraining & Not Taking Things Personally
Effort Acceptance & Not Feeling Shortchanged
Learn from Fear & Rascal Sages
Relativity Training for Righteous Anger
Neurobehavioral Empathy Training & Mirroring
Neuroendocrine Time-Out & Social Fasting
EASTERN ANGER MANAGEMENT
From Anger to Compassion
Eastern Equanimity
Vipassana
Metta
Syadvada
Wu Wei
Beginner's Mind
Author
PAVEL SOMOV, PH.D.
Pavel Somov, Ph.D., is a licensed psychologist with over 20 years of clinical experience and has worked and trained in a variety of clinical settings (community mental health centers, psychiatric hospitals, college counseling centers, correctional setting, behavioral medicine/pain clinic settings, VAs).

Dr. Somov has lectured domestically and internationally on the topics of mindful eating, perfectionism, anger management, and mindfulness applications for addressing worry, dysthymia, insomnia and substance use. His work has been discussed in a variety of interviews and print publications including Martha Stewart's Body + Soul Magazine and Oprah Winfrey's O Magazine.

A member of the Advisory Board of the London Mindfulness Center (UK), he is the author of Anger Management Jumpstart: A 4-Session Mindfulness Path to Compassion and Change (PESI, 2013), Mindful Emotional Eating: Mindfulness Skills To Control Cravings, Eat in Moderation and Optimize Coping (PESI, 2015), Reinventing the Meal (New Harbinger, 2012), Present Perfect: A Mindfulness Approach to Letting Go of Perfectionism and the Need to Control (New Harbinger, 2010), and The Lotus Effect (New Harbinger, 2010). His essays and blogs have appeared on Huffington Post, PsychCentral.com, Intent.com, Psychology Today online and he has appeared on Sirius Radio's "Fully Alive".

Speaker Disclosures:

Financial: Pavel Somov maintains a private practice. He receives royalties as an author for New Harbinger Publishing and PESI Publishing & Media. Dr. Somov receives a speaking honorarium from PESI, Inc.

Non-financial: Pavel Somov is a member of the American Psychological Association and the Greater Pittsburgh Psychological Association.
Continuing Education Credits Awarded for Completion of Entire Package
[+]
[-]
Combined Continuing Education Credit From All Components
Breakdown of Continuing Education Credits by Components
[+]
[-]
046315 - Anger Management Jumpstart
[+]
[-]
046610 - Anger Management Toolbox
Audience
Psychologists, Counselors, Social Workers, Case Managers, Addiction Counselors, Marriage & Family Therapists, Nurses, and other Mental Health Professionals
Reviews
[+]
[-]
046315 - Anger Management Jumpstart: A 4-Session Mindfulness Path to Compassion and Change
"Anger Management Jumpstart offers a much-needed paradigm shift from previous methods for working in the anger minefield. Defusing human improvised explosive devices is never easy, which is why Somov's practical and accelerated behavioral-change model is so appealing. The 4-session anger jumpstart program is deeply rooted in down-to-earth mindfulness training skills, excellent guided scripts for therapists, and a realistic anger recovery roadmap. Anger Management Jumpstart offers step-by-step solutions (and soul-utions) for transforming the harmful poisons of anger, fear, and righteousness into self-awareness, compassion, and long-lasting behavioral change. But beware: This is not your grandfather's boring textbook; it's a fast-paced, stimulating, insightful, neuroscience-nuanced, and spiritually-spritzed journey that is sure to be satisfying, invigorating, and effective for both client and therapist. Pavel Somov is unquestionably at the frontier of bringing potent mindfulness interventions into therapy. This pragmatic new book offers a quick and powerful booster charge of hope and positive traction for those who have been too long stuck in the rut of anger."
~ Donald Altman, MA, LPC, psychotherapist and author, One-Minute Mindfulness, The Mindfulness Toolbox, and The Mindfulness Code

"Anger Management Jumpstart is a great addition to a clinician's toolbox in the many trades of anger management and also to anyone who's reconsidering the way they manage their anger. It's very important to understand the impulses that drive the anger actions made and to guide the clients to different ways to see those impulses and get in control. The author brings effective and simple tasks to get you going in a different direction when faced with and anger impulse. There is much more to learn and practice inside this great mindful book."
~ Thay An Marie Vázquez-Méndez, Ph.D., Licensed Clinical Psychologist in Puerto Rico, Member of the American Psychological Asociation and the APPR, the "Asociación de Psicologos de Puerto Rico", a psychology professor at EDP University, and she maintains a private practice

"In one weekend, this easy to read book has changed my approach to anger management. With simple experiential exercises, and in only a few sessions I can empower my patients to increase their self awareness of their angry feelings and co-exist with those feelings without impulsively responding to those angry feelings in unhealthy and destructive ways. My patients are given tools to find the solutions within themselves, which facilitates a meaningful and lasting change. Pavel has incorporated a complex neurobiological understanding of anger and behaviors into a simple yet elegant mindfulness model."
~ Jenna Saul, M.D., FAACAP
Satisfaction Guarantee
Your satisfaction is our goal and our guarantee. Concerns should be addressed to PESI, P.O. Box 1000, Eau Claire, WI 54702-1000 or call (800) 844-8260.

ADA Needs
We would be happy to accommodate your ADA needs; please call our Customer Service Department for more information at (800) 844-8260.