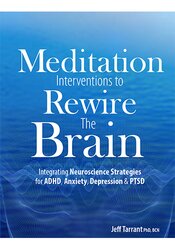 Product Details
Format:

Book - Soft Cover

Length:

175 pages

Dimensions:

8.5" x 11"

Author:

JEFF TARRANT, PH.D., BCIA-EEG, BCN

Publisher:

PESI Publishing & Media

Copyright:

6/27/2017

CE Available:

No, CE credit is not available

Product Code:

PUB085030

ISBN:

9781683730729
Author
JEFF TARRANT, PH.D., BCIA-EEG, BCN
Jeff Tarrant, Ph.D., BCN, is the founder and CEO of the NeuroMeditation Institute (NMI). He is a licensed psychologist, educator, and speaker. He has devoted his career to exploring and teaching about the mind/body connection. His work utilizes several forms of technology-based therapies including neurofeedback, audio visual entrainment, virtual reality, and heart rate variability biofeedback. In addition, Dr. Tarrant has studied and taught Qigong, mindfulness, and energy psychology for the past 15 years and incorporates these practices into his model of treatment.
Continuing Education Credits
CE Credit is not available for this product.
Reviews
"Dr. Jeff Tarrant helped me better understand my brain! Meditation Interventions to Rewire the Brain clearly explained to me many things that i had wondered about and how meditation is an effective non-medication treatment."
Jim Spencer, Founder, Newsy

"Ready to embrace a new, better version of yourself and open to the beautfy and magic that surrounds you in your everyday life? Then this book is for you! Anyone interested in exploring meditation as a tool to combat anxiety, lower stress and find a deeper sense of peace will benefit from this book! Dr. Tarrant, an expert in the field of neuromeditation strategies, will show you how you can combat anxiety, lower stress, find a sharper focus as well as a deeper sense of peace. Dr. Tarrant offers concrete, scientific data which explains how and why this practice works. A fascinating and mind opening read, Dr. Tarrant's writing style is down to earth, clear and welcoming; he explains some advanced scientific ideas in an easy, digestible way! Allow this book to be a guide into embracing a new, more beautiful and powerful way to live!"
Laura Lynna Jackson, NY Times bestselling author of The Light Between Us

"Dr. Tarrant has written a groundbreaking new book that should become essential reading for not only meditators and teachers of meditation, but also neuroscientists. mental health practitioners, and anyone looking for the most up-to-date information on brain and mind. This work compbines current insights and the latest brain monitoring technology, to open new doors to practice, exploration, and research. The potential of meditation as a life-enhancing and healing practice reaches new levels with Dr. Tarrant's innovatitve teachings."
Thomas F. Collura, PhD, QEEG-D, BCN, LPCC, Past President, International Society for Neurofeedback & Research (ISNR), Past Pr esident, Associaltion for Applied Psychophysiology & Biofeedback (AAPB)

"Meditation Interventions to Rewire the Brain is a pathbreaking book that brings meditation and mindfulness firmly into the 21st century. Neuromeditation expert Jeff Tarrant skillfully integrates fascinating real-life stories and cutting-edge brain science to provide a clear roadmap for how different meditative practices engage, rewire and integrate the brain. This is a must-have book for clinicians and anyone working with meditation and mindfulness. Highly recommended!"
Donald Altman, MA, LPC, best-selling author of The Mindfulness Toolbox, 101 Mindful Ways to Build Resilience, and Clearing Emotional Clutter

"Dr. Jeff Tarrant, a reasearcher in human consciousness for over 15 years undertook a surging and cutting-edge work in understanding the latest brain wave patterns and mechanism during meditation. Meditation Interventions to Rewire the Brain is Dr. Tarrant's platform of presenting what is happening in meditation in health and in disease conditions. The book presents the essentials in understanding the neuroscience of meditation to models of brain wave patterns in regular meditation practices and in clinical conditions frequently encountered like PTSD, ADHD and Depression. Jeff Tarrant's emerging knowledge of the brain and its relationship with meditation will guide future scientists and usher this subfield of neurological research called neuromeditation."
Master Glenn J Mendoza, MD, MPH, author of Better Person Mindset

"There is abundant spooky mysticism surrounding the art of meditation. However, there is also plenty of science. Unfortunately, most meditation groups are not aware of this science, and as a result, don't develop or teach the best practices. Meditation Interventions to Rewire the Brain validates meditation on a scientific level spanning from the neuron to brain waves, subjective experiences of meditation and how that ties into the science. Jeff also presents self-assessment tools, the roles of various brain regions and ample examples of the benefits of meditation with regular people. Jeff also describes how to meditate and what to expect as practice effects build over time. This book is the most straight-shooting, scientifically-based, easy-to-read book on meditation written to date. It is a MUST-HAVE for those who want to learn meditation, but need some science and also good practical tools to overcome their skepticism. In our noisy, cluttered, hectic world, Meditation Interventions to Rewire the Brain should be in every clinic and home."
Dave Siever, CEO, Mind Alive Inc.

"Dr. Tarrant's book has the perfect balance of technical precision and creativity, scholarship and personal experience. This is more than a workbook about how to 'rewire the brain.' Integrating information from diverse fields, it presents practical steps to reduce anxiety, increase compassion, improve focus and, improve quality of life. Meditation Interventions to Rewire the Brain is written as much for the clinician as for teh meditator or anyone who wants to recover joy of life in these stress-filled times. I highly recommend it!"
Kenneth Cohen, author of The Way of Qigong

Satisfaction Guarantee
Your satisfaction is our goal and our guarantee. Concerns should be addressed to PESI, P.O. Box 1000, Eau Claire, WI 54702-1000 or call (800) 844-8260.

ADA Needs
We would be happy to accommodate your ADA needs; please call our Customer Service Department for more information at (800) 844-8260.