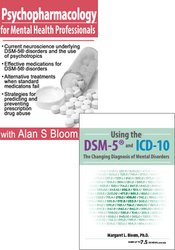 Product Details
Format:

Package - Video Instructions

Details:

Multi-disc DVD recording (11 hours, 40 minutes) with electronic manual and instructions.

Authors:

MARGARET L BLOOM, PH.D.
ALAN S BLOOM, PH.D.

Publisher:

PESI Publishing & Media

Copyright:

2/6/2019

CE Available:

Yes, See CE credit tab for complete continuing education details

Product Code:

RVKIT045903
Objectives
[+]
[-]
045900 - Using the DSM-5® and ICD-10: The Changing Diagnosis of Mental Disorders
Identify the major revisions in DSM-5® to substance, mood, anxiety, and other common categories of mental disorders.
Describe five changes in the organization of mental disorder categories in the DSM-5®.
Discuss the diagnostic criteria for six or more new diagnoses in the DSM-5®.
Describe the ICD and its relationship to the DSM-5® in classifying mental disorders.
Convert a DSM-IV-TR® Axis I diagnosis (name, code, and specifiers) to a DSM-5® diagnosis (name, code, and specifiers) and apply an ICD-10 code.
Utilize the DSM-5® criteria to diagnose clients in case studies during the workshop.
[+]
[-]
045905 - Psychopharmacology for Mental Health Professionals
Communicate the neurotransmitter systems and neuroanatomy underlying the biological basis for mental disorders and pharmacotherapy.
Evaluate the role of mental health professionals who treat clients receiving both psychotherapeutic medications and psychotherapy.
Analyze the major classes of drugs used to treat mental disorders and which mental disorders are appropriately treated with each class of drugs.
Compare the effects and side effects of various psychotropic medications, including antipsychotics, antidepressants, benzodiazepines and anticonvulsants.
Determine the abuse liability of drugs used in the treatment of anxiety, insomnia, pain and ADHD.
Implement methods for prevention and early identification of prescription drug abuse among clients.
Outline
[+]
[-]
045900 - Using the DSM-5® and ICD-10: The Changing Diagnosis of Mental Disorders
Organization & Structure
Development of the DSM-5®
Rationale for a new version
Work group goals for improving the DSM®
Summary of the areas of controversy
Changes in the Organization of the DSM-5®
New Definition of Mental Disorder
Eliminating the axis
Life-Span approach in all mental disorders
Mental disorders as dimensional and categorical
Don't forget the Appendix!
Alignment with the ICD-10
ICD-10 Codes for Mental Disorders
How clinicians use the ICD-10
Changes in Major Mental Disorders
Neurocognitive Disorders
Major Neurocognitive Disorder
What happened to Dementia?
Alzheimer's Disorder
Mild Neurocognitive Disorder
Mild Traumatic Brain Injury
Neurodevelopmental Disorders
Autism Spectrum Disorder
Only disorder with tightened criteria
What happened to Asperger's?
Social Communication Disorder
The ever-changing ADHD
Intellectual Development Disorder
The Schizophrenia Spectrum and Other Psychotic Disorders
Schizophrenia
What happened to the subtypes?
Delinking catatonia
Revised Schizoaffective Disorder
Schizophrenia video case and discussion
Two Mood Disorders Categories
Depressive Disorders
Removal of the bereavement criteria
Changes to criteria
Bipolar and related disorders
Disruptive Mood Deregulation Disorder
Clarifying Bipolar I and II
Video clips of mood symptoms and discussion
Three Anxiety Related Categories
Anxiety Disorders: What is left?
Obsessive-Compulsive and related disorders
Hoarding Disorder
Trauma and Stress related disorders
Posttraumatic Stress Disorder changes
Adjustment disorders
Client Case Activity: GAD and PTSD
Substance Use and Addictive Disorders
Dropping abuse and dependence
Changes for various substance use disorders
Gambling addiction
Prescription drugs and addiction
Reformulated Disorders of Behavior
Feeding and Eating Disorders
New Binge Eating Disorder
New Avoidant/Restrictive Food Intake Disorder
Changes to Anorexia and Bulimia Nervosa
Feeding disorders across the life-span
Disruptive, Impulse Control, and Conduct Disorders
Oppositional Defiant Disorder
Conduct Disorder
Intermittent Explosive Disorder
DSM-5® and the ICD-10
Coding Protocol from the DSM-IV® to DSM-5®
Using the ICD-10 Classification
Case Study of conversion from a DSM-IV® diagnosis
[+]
[-]
045905 - Psychopharmacology for Mental Health Professionals
PSYCHOPHARMACOLOGICAL FOUNDATIONS
Core Pharmacological Principles
Brain structures & circuits involved in:

Emotional regulation
Executive function & inhibitory control
Reward & pleasure
Learning & memory

Receptors and neurotransmitters important in the actions of psychopharmacological agents

Biogenic amines
Excitatory & inhibitory neurotransmitters
Endorphins & endocannabinoids
Your Role in Combined Psychological & Pharmacological Treatments
Collaboration & communication with prescribing professionals
Managing the combined treatments

Referrals for medication
Client psycho-education
Monitoring drug effects & side effects
Promoting adherence to combined treatments
DRUGS USED IN THE TREATMENT OF DSM-5® MENTAL DISORDERS
Depressive Disorders
Neurobiology of depression
Drugs used to treat depressive disorders

Selective Serotonin Reuptake inhibitors (SSRIs)

Effects, side effects and cautions
Suicide risk & discontinuation syndrome
Serotonin syndrome

Serotonin-Norepinephrine Reuptake Inhibitors (SNRIs)

Effects, side effects, and cautions

Atypical antidepressant agents

Effects, side effects, and cautions

Tricyclic antidepressants (TCAs)

Effects, side effects, and cautions
Why were newer drugs needed?

MAO inhibitors

Effects, side effects, and cautions

Choosing an antidepressant
What if first-line antidepressants do not work?

Augmentation with antipsychotics

What about herbs like St. John's Wort?
Schizophrenia Spectrum Disorders
Biological theories of schizophrenia
"Typical" & "atypical" antipsychotic drugs

Effects, side effects & cautions – similarities & differences

Latest evidence-based comparisons
Drugs for treatment-resistant schizophrenia
Other uses of antipsychotic drugs
Bipolar Disorders
Biological theories for bipolar disorders
Drugs used to treat bipolar disorders

A prototype agent-lithium

Effects, side effects & cautions

Anticonvulsants

Effects, side effects & cautions

Antipsychotics – approved agents
Combination drug therapy
Anxiety, Obsessive-Compulsive & Sleep-Wake Disorders
The neurobiology of anxiety-related disorders
The structure of sleep
Drugs used in the treatment of anxiety & insomnia

Benzodiazepines & Benzodiazepine-like drugs
Misuse of these drugs in treatment
SSRI's & other drugs used to treat anxiety
Attention-Deficit/Hyperactivity Disorder & Neurocognitive Disorders (Dementia)
ADHD

Psycho-stimulants

Effects, side effects & cautions

Alpha-Adrenergic Agonists

Major neurocognitive disorders

Drugs used in the treatment of cognitive impairment
Future treatments
Prescription Drug Abuse
Mental disorders & risk of comorbid prescription drug abuse
Classes of drugs that are frequently abused

Stimulants
Sedative-hypnotics
Opiates

Strategies for the prevention & early identification of prescription drug abuse
LIMITATIONS OF RESEARCH AND POTENTIAL RISKS
Author
MARGARET L BLOOM, PH.D.
Biography is not currently avaiable.
ALAN S BLOOM, PH.D.
Alan Bloom, Ph.D., is a professor of pharmacology and toxicology at the Medical College of Wisconsin. He earned a joint Ph.D. in psychology and pharmacology and consults regularly with psychiatrists and attorneys in drug abuse and other pharmacology related cases. Dr. Bloom has conducted extensive research on the impact of drugs of abuse (marijuana, cocaine, etc.) on the brain through use of functional magnetic resonance imaging (fMRI). His studies have been funded by the NIH and other national organizations and reported in an extensive number of publications and presentations. Dr. Bloom has served on the NIDA center grant review panel and is an appointed member of the Controlled Substance Board of the State of Wisconsin. He is a strong and experienced presenter providing lively, information-packed seminars.

Speaker Disclosures:

Speaker Disclosures: Speaker Disclosure: Financial: Alan Bloom is a Professor of Pharmacology and Toxicology at the Medical College of Wisconsin. He receives a speaking honorarium from PESI, Inc.

Non-financial: Alan Bloom is the vice-chair for the State of Wisconsin Controlled Substances Board.
Continuing Education Credits Awarded for Completion of Entire Package
[+]
[-]
Combined Continuing Education Credit From All Components
Breakdown of Continuing Education Credits by Components
[+]
[-]
045900 - Using the DSM-5® and ICD-10: The Changing Diagnosis of Mental Disorders
[+]
[-]
045905 - Psychopharmacology for Mental Health Professionals
Audience
Psychologists, Counselors, Social Workers, Case Managers, Addiction Counselors, Marriage & Family Therapists, Nurses and other Mental Health Professionals,
,
Counselors
,
Psychotherapists
,
Psychologists
,
Social Workers
,
Nurse Practitioners
,
Case Managers
,
Marriage & Family Therapists
,
Addiction Counselors
,
Nurses
,
Clinical Nurse Specialists
,
Pharmacists
,
School Psychologists
,
Occupational Therapists
,
Occupational Therapy Assistants
,
Other Mental Health Professionals
,
Satisfaction Guarantee
Your satisfaction is our goal and our guarantee. Concerns should be addressed to PESI, P.O. Box 1000, Eau Claire, WI 54702-1000 or call (800) 844-8260.

ADA Needs
We would be happy to accommodate your ADA needs; please call our Customer Service Department for more information at (800) 844-8260.