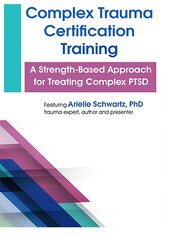 Product Details
Format:

Digital Seminar

Details:

Downloadable/Streaming MP4 Video and MP3 Audio with electronic manual and instructions.

Author:

ARIELLE SCHWARTZ, PHD

Publisher:

PESI Inc.

Copyright:

11/30/2020

CE Available:

No, CE credit is not available

Product Code:

POS057140
Objectives
Distinguish key contributing factors to the development of Complex PTSD as it relates to client case conceptualization.
Explore how Complex PTSD impacts the cognitive, emotional, and physical health of the client.
Determine how to assess clients for Complex PTSD symptoms within other diagnoses, including personality disorders, mood disorders, anxiety disorders, and dissociative disorders.
Incorporate into clinical treatment practical mind-body therapy tools to help clients feel resourced and prepared for trauma processing.
Articulate the six stages of trauma responses within the neurobiology of Complex PTSD as it relates to clinical treatment.
Utilize assessment tools to properly assess for Complex PTSD to better inform treatment planning.
Identify implicit memory foundations of preverbal and nonverbal memories
Breakdown how mutual regulation within the therapeutic relationship teaches clients self-regulation strategies that help them develop new interpersonal strengths that help with the treatment process.
Discuss parts work from Structural Dissociation, Internal Family Systems, and Gestalt perspectives
Describe the basic principles of a unified approach to somatic psychology
Implement mindfulness-based techniques into trauma treatment
Integrate interventions for the treatment of Complex PTSD drawn from CBT, DBT, EMDR Therapy, Parts Work Therapy, Somatic Psychology, and mind-body therapies.
Understand how the neuroscience of interpersonal neurobiology provides insight into the psychobiological changes possible within trauma treatment.
Recognize how working within the "Window of Tolerance" can help reduce the likelihood of re-traumatization.
Describe how "top-down" and "bottom-up" interventions can speed up or slow down the pacing of trauma treatment.
Differentiate past experience from present moment experience as it relates to the treatment of trauma.
Employ resilience as a strength-based approach that fosters growth and integration of a positive sense of self-identity in clients.
Identify self-care practices for therapists to help with self-care before, during, and after sessions when dealing with trauma to improve therapeutic alliance and prevent burnout.
Describe the role of neuroplasticity in healing trauma.
Identify resilience and protective factors against the development of PTSD.
Learn effective strategies to help you work with client's preverbal memories
Explore relational Interventions for shame.
Discuss EFT, Havening Technique, and other "neuromodulation" strategies for trauma recovery.
Reclaim identity with the "Tree of life" exercise.
Outline
Post-Traumatic Stress Disorder vs. Complex PTSD: Understand the Difference
Acute traumatic stress, PTSD, Complex PTSD
Diagnostic clarification, differential diagnosis and co-morbidities
Key contributing factors of Complex PTSD
The common symptoms of Complex PTSD
The Neurobiology of PTSD: Beyond Fight and Flight
Polyvagal Theory
Stages of trauma response
Trauma specific psychopharmacology
Heart Rate Variability and the Social Nervous System
Interpersonal Neurobiology
Psychobiological regulation
Rupture and repair
Implications of childhood neglect or abuse
Neuroplasticity and Complex PTSD
Psychological and Physiological Repercussions of Complex PTSD: A Deeper Understanding for Accurate Assessment
Intrusive symptoms and anxiety
Emotional dysregulation: Outbursts of anger and debilitating shame
Avoidance symptoms and phobic reactions to traumatic material
Interpersonal problems and difficulty being close to others
Dissociation and dysregulation
Cognitive distortions and compromised meaning making
Physical health problems, ACE factors and painful somatization
Preverbal and nonverbal memories
Disturbing somatic sensations
Depressive symptoms
Learned helplessness and shame
Therapeutic Interventions for Complex PTSD: Summary of Effective Therapies
Psychodynamic and Relational Therapy
Psychobiological perspectives: Polyvagal Theory
Cognitive Behavioral Therapy (CBT)
Dialectical Behavioral Therapy (DBT)
EMDR Therapy
Somatic Psychology
Parts Work Therapy: Work with Ego States
Complementary and Alternative Medicine (CAM):
mindfulness, yoga, and integrative healthcare
Integrative Treatment for Complex PTSD: Putting it All Together for an Effective Treatment Plan
A Biopsychosocial Approach: Partner with clients to build a health care team
Goal of treatment: Memory retrieval vs. trauma recovery
History taking: Identify chronic, repeated, and/or developmental trauma events
Cultural factors and Complex PTSD
Recognize attachment injuries
Identify parts, ego states and defenses
Assess for dissociation ("fragmentation")
Clinical Vignette #1
Mutual regulation and relational repair in therapy
Prepare for trauma processing: Develop resources and stability
Working with parts of self
Work through traumatic memories: EMDR and Somatic Psychology
Clinical Vignette #2
Grief work in Complex PTSD
Integrate and Instill positive change
Experiential Interventions: Mind-Body Practices for Clients with Complex PTSD
Conscious breathing for self-regulation
Grounding and sensory awareness
Containment: Reclaim choice and control
Build imaginal allies
Cultivate mindfulness, acceptance, and self-compassion
Somatic interventions: Titration, sequencing, and somatic re-patterning
Bilateral stimulation and dual attention in EMDR Therapy
Potential risks and limitations of mind-body therapies
Special Considerations in Complex Trauma Treatment
Working with Preverbal and Nonverbal Memories
Working with transgenerational trauma
Somatization, Chronic Pain and illness
Gate Control Theory
Mindfulness, Yoga, and Compassion Based Interventions
Clinical Vignette #3
Fostering Resilience: For Post-Traumatic Growth and Healing
Learn the 6 Pillars of Resilience
Trauma recovery and the bell curve
Resilience as a process and an outcome
Help clients move from learned helplessness to learned optimism
Post-Traumatic Growth: Help clients reach their potential
Vicarious Trauma: Improve Client Outcomes Through Effective Self-Care
Identify resources that improve your clinical skills
In-session self-care to improve focus on the client and therapeutic process
Burnout prevention techniques
Author
ARIELLE SCHWARTZ, PHD
Arielle Schwartz, Ph.D., is a licensed clinical psychologist, Certified Complex Trauma Professional (CCTP-II) and EMDR consultant with a private practice in Boulder, Colorado. She is the co-author of EMDR Therapy and Somatic Psychology: Interventions to Enhance Embodiment in Trauma Treatment (Schwartz & Malberger, 2018, W.W. Norton) and the author of The Complex PTSD Workbook: A Mind-Body Approach to Regaining Emotional Control and Becoming Whole (Schwartz 2016, Althea Press). Dr. Schwartz is an international presenter on EMDR therapy, somatic psychology, complex PTSD, attachment trauma, and the psychological treatment of chronic pain. She is a certified Kripalu yoga instructor offering therapeutic yoga for trauma recovery. Her integrative approach to therapy includes the synthesis of somatic psychology, EMDR therapy, structural integration theory, existential therapy, and Gestalt – all with a strong relational foundation of care.

Speaker Disclosures:

Financial: Arielle Schwartz is in private practice. She is an author for W.W. Norton and receives royalties. Dr. Schwartz receives a speaking honorarium from PESI, Inc.

Non-financial: Arielle Schwartz is a member of American Psychological Association (APA); EMDR International Association (EMDRIA); and Colorado Association of Psychotherapists (CAP).
Continuing Education Credits
CE Credit is not available for this product.
Audience
Counselors
Social Workers
Psychologists
Case Managers
Psychotherapists
Addiction Counselors
Marriage and Family Therapists
Nurses
Other Mental Health Professionals
Satisfaction Guarantee
Your satisfaction is our goal and our guarantee. Concerns should be addressed to PESI, P.O. Box 1000, Eau Claire, WI 54702-1000 or call (800) 844-8260.

ADA Needs
We would be happy to accommodate your ADA needs; please call our Customer Service Department for more information at (800) 844-8260.