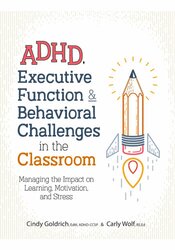 Product Details
Format:

Book - Soft Cover

Length:

210 pages

Dimensions:

8.5" x 11"

Authors:

CINDY GOLDRICH, M.ED., ACAC
CARLY GOLDRICH, BS, ED

Publisher:

PESI Publishing & Media

Copyright:

9/17/2019

CE Available:

No, CE credit is not available

Product Code:

PUB086045

ISBN:

9781683732297
Author
CINDY GOLDRICH, M.ED., ACAC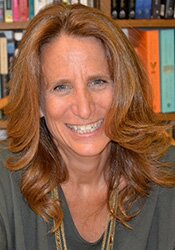 Cindy Goldrich, M.Ed., ACAC,
is a mental health counselor, parent coach, and teacher trainer. She is a nationally-recognized expert for parents and professionals who deal with the complex challenges created by ADHD, executive function challenges, anxiety, and learning disabilities. Cindy is the author of
8 Keys for Parenting Children with ADHD and the creator of the Calm and Connected: Parent the Child You Have® workshop series offered on-demand and via live workshops offered nationwide.
CARLY GOLDRICH, BS, ED
Carly Goldrich, BS, Ed, is a special education teacher. Along with executive function coaching, Carly is working on her Master's degree in special education, and continues to teach in Boulder, Colorado.
Continuing Education Credits
CE Credit is not available for this product.
Reviews
"This book gets to the heart of how to best support teachers in helping even their most challenging students. Combining their knowledge and experience as an ADHD expert and a special education teacher, Cindy and Carly Goldrich provide real, practical, and powerful insights and tools. This book is invaluable for all classroom teachers."
Edward Hallowell, MD, author of Driven to Distraction

"Starting from a strengths-based approach, this book has easy to understand explanations of issues that may arise when working with students who have ADHD and EF challenges. It's full of fantastic activities & worksheets that focus on honing essential skills like time management, taking someone else's perspective, flexible thinking, and developing grit, and is perfect for the classroom teacher short on time who needs ready to go resources."
Janine Halloran, LMHC, author of Coping Skills for Kids Workbook

"Both personally, as a parent, and professionally, as head of our school district's foundation, I have seen how transformative Cindy's work can be! Her tips, tools and strategies for parents and educators consistently prove to help adults understand and support kids with ADHD and related challenges. The outcomes speak for themselves."
Allison Billings, Executive Director, Impact on Education

"Stress and anxiety have reached a crisis point in our school and home environments. Tools are no longer optional, they are now a requirement for every teacher. This exceptional team of experts have put these skills into practice both in the classroom and in the field. Join this mother-daughter team in implementing these excellent hands-on tools and techniques that support students in finding the peace in their challenges and empowering them to thrive in all areas of life."
Elenn Steinberg, Founder and Executive Director, Every Child Reading

"This book is an invaluable guide for educators as well as an essential resource for parents. For many years, I have seen Cindy work with teachers of students with ADHD from Kindergarten through 12th grade, as well as with our Child Study Team members and parents. Today, parents and teachers alike are often overwhelmed. I have witnessed first-hand the appreciation any adult who cares about any child has for her expertise and guidance. Her work is a breath of fresh air for any adult who cares for any child."
Richard Cohen, Assistant Superintendent of Metuchen School District and Principal of Moss School

"Wow! I wish I could put this book in the hands of every teacher. Not only does it make the academic topic of executive function accessible, it translates the best research-backed methods for developing these critical skills into clear, actionable strategies for the classroom. This book is a gift to all educators - and the children they support."
Krista Marks, CEO of Woot Tutor and former Vice President of Disney Online

"ADHD, Executive Function and Behavioral Challenge in the Classroom is a much-needed resource. It provides children with the tools needed to help transform common challenges related to ADHD, and is a resource to educators who struggle with how to breakthrough with their students in the classroom. Cindy and Carly Goldrich provide a clear explanation along with useful and straight forward exercises to help set up the child for success."
Melissa Springstead Cahill, PsyD, MFT, author of ADHD in Teens & Young Adults

"This book is a powerhouse of in-depth and practical information on helping students with executive functioning deficits in the classroom. Its exploration of how to handle each aspect of executive functioning is outstanding. I wish our program had had this resource for our long-term school training programs."
Maureen A. Gill, LCSW, ACC

"This well-written and insightful book helps educators and others by providing new strategies and tools to better understand and reach and teach students with neurobehavioral challenges. It empowers and connects teachers with fresh perspectives to better understand and engage students to promote academic successes. The many user-friendly worksheets are practical and fun, and will help students better know and challenge themselves to stretch and master the skills they need. This book will energize and inspire students and teachers. Highly recommended."
Gene Carroccia, PsyD, Clinical Psychologist, author of Treating ADHD/ADD in Children and Adolescents

"We have the technology, and we know icebergs are much bigger than they appear on the surface. Cindy Goldrich is an ADHD thought leader because she understands there is more to ADHD and executive functioning challenges than how they appear! She also understands the importance and power of connection and collaboration. Her book and training programs emphasize the importance of connection and collaboration to help teachers and professionals understand the invisible drivers that lead to success in helping those impacted by ADHD!"
Jeff Copper, PCC, ADHD coach, host of Attention Talk Radio
Satisfaction Guarantee
Your satisfaction is our goal and our guarantee. Concerns should be addressed to PESI, P.O. Box 1000, Eau Claire, WI 54702-1000 or call (800) 844-8260.

ADA Needs
We would be happy to accommodate your ADA needs; please call our Customer Service Department for more information at (800) 844-8260.