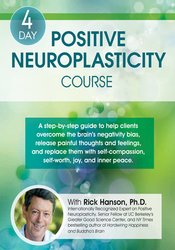 $699.99 USD
$349.99 USD
Now Available For Preorder
This item is expected to ship 4-6 weeks after the event on October 21, 2019.
Product Details
Format:

DVD Video - 8+ hours Instructions

Details:

Multi-disc DVD recording with electronic manual and instructions.

Author:

RICK HANSON, PH.D.

Publisher:

PESI Inc.

Copyright:

10/21/2019 - Available Now for Pre-Order

CE Available:

Yes, See CE credit tab for complete continuing education details

Product Code:

RNV054865
Objectives
Explain how to incorporate the combination of client's challenges, vulnerabilities and resources into clinical assessment for a better understanding of a client.
Describe the importance of the two-stage process of learning as it relates to clinical outcomes.
Demonstrate three fundamental ways to engage the client's mind skillfully for clinical practice.
Define the practice of positive neuroplasticity as relates to clinical practice.
Explain the science of Positive Neuroplasticity and how to teach the methods to clients.
Utilize two psychological resources that can be used to teach clients their personal strengths.
Demonstrate two practices to use clinically for clients to have beneficial experiences.
Incorporate exercises to help clients learn ways to deepen experiences for healing.
Name three ways to encourage clients to internalize beneficial experiences and its importance for growth.
Describe three blocks to the deliberate internalization of beneficial experiences that can slow clinical work.
Explain the research of the three-stage evolution of the human brain and how it relates clinically.
Identify key resource experiences to meet clients' needs.
Discuss case studies of specific psychological resources showed to improve psychological disorders such as anxiety, trauma and depression.
Explain the different levels of client engagement with painful or upsetting thoughts, feelings, memories, or sensations and treatment implications.
Practice skills to help clients holding in awareness for a positive thought or feeling as well as a negative one.
Provide perspective and clinical practices for self-compassion.
Utilize practices to help clients manage threats from calm strength rather than fear, anger or helplessness.
Teach clients skills to enjoy life's pleasures without getting driven or addicted.
Demonstrate ways for clients to internalize experiences of accomplishment and success in everyday life.
Guide clients in the importance of being aware of both a desired behavior and an anticipated reward of it.
Summarize the importance and research of client self-acceptance and self-worth for better treatment outcomes.
Describe how clients can approach relationship issues from compassion and self-respect rather than resentment and inadequacy.
Practice a psychological cue each to evoke a sense of peace, contentment, and love to use in session.
Discuss Rick Hanson's HEAL process and how it can relation to treatment.
Model two ways to incorporate the HEAL process in psychotherapy.
Integrate the HEAL process for the treatment of anxiety, depressed mood, addiction, and trauma.
Outline
THE ESSENCE OF POSITIVE NEUROPLASTICITY: FUNDAMENTALS OF POSITIVE BRAIN CHANGE AND HOW TO MEET YOUR CLIENTS' CHALLENGES BY HELPING THEM GROW DURABLE PSYCHOLOGICAL RESOURCES
The critical role of psychological resources to deal with clients' challenges and vulnerabilities
The stress-diathesis model: Challenges, vulnerabilities, resources
Resources located in world, body and mind
The special opportunity and value of mental resources
Overview of mental resources (i.e., psychological resources) that are clinically relevant
Why most of our mental resources are learned: acquired, not innate
The necessary two stage process of any learning, including acquiring all mental resources: activation and installation
Why experiencing doesn't equal learning
Why most therapeutic experiences do not have lasting value
Activity: Help clients identify significant challenges and vulnerabilities, and then identify relevant psychological resources for these
The Neuropsychology of Learning
The brain's evolved negativity bias
Clinical implications of the low conversion of therapeutic experiences to lasting changes of neural structure and function
Major mechanisms of experience-dependent neuroplasticity
What is positive neuroplasticity
Activity: Discussion about the clinical implications of the negativity bias
Activity: Explain the negativity bias to a client
Clients as Active Learners
Environmental, behavioral and mental factors that increase learning, and thus the acquisition of psychological resources
The special opportunity and value of mental factors of learning
Empower clients to be active agents in their healing and growing
Two kinds of mental factors: Contextual and engagement
The opportunity and value of engagement factors
Clinical benefits of clients actively engaging the experiences they are having to steepen their learning/healing/grown curves
Activity: Experience the two-stage process of learning while using engagement factors
Activity Explain the two-stage process of learning to a client, and then describe engagement-type mental factors of learning
The Three Ways to Engage the Mind Productively
Letting go – observing, accepting, exploring the contents of consciousness
Letting go – preventing, decreasing, or releasing negative or traumatic material
Letting go – creating, sustaining, or increasing positive materials
What is mindfulness; why mindfulness is part of letting go and letting in
How letting be, letting go, and letting in form a natural healing sequence
Activity: Experience the three ways to engage the mind
Activity: Explain the three ways to engage the mind to a client
Activity: Practice the three ways to engage the mind
Teaching Positive Neuroplasticity to Clients
The science of positive neuroplasticity
How to guide clients through experiential practices
Identify and work through key blocks to having and internalizing beneficial experiences, such as distractibility, fear, shame, anxiety, social expectations and trauma
Activity: How to explain positive neuroplasticity to a client
HAVING, ENRICHING, AND ABSORBING EXPERIENCES: HOW TO MAKE THE MOST OF THE POSITIVE EXPERIENCES CLIENTS ARE ALREADY HAVING, TURNING PASSING STATES INTO LASTING TRAITS
Overview of the HEAL Framework of Engagement Factors of Learning
Have a beneficial experience
Enrich it – increasing the neural activity underlying an experience
Absorb it – increasing the sensitivity of the memory-making mechanisms of the brain
Link positive and negative materials
Activity: Experience the HEAL process
Activity: How to explain the HEAL process to a client
Having Beneficial Experiences
Notice beneficial experiences in the foreground and background of awareness
Create beneficial experiences; overview of many ways to do this
The five elements of an experience: Thoughts, perceptions, emotions, desires, actions; why each is an opportunity for acquiring an aspect of a psychological resource
Deal with "yes, but" and other blocks to clients having beneficial experiences
Activity: Experience the five elements present in an experience of playfulness
Activity: Guide a colleague to be aware of the five elements present in an important experience
Enriching Experiences to Increase Their Neural Registration
Five factors of Enriching: Duration, intensity, embodiment, novelty, salience
Activity: These three factors applied to an experience of a psychological resource
Activity: Explain these three factors to a client
Activity Guide a colleague through using these three factors of Absorbing to deepen the internalization of an experience of psychological resource
LINKING POSITIVE AND NEGATIVE MATERIALS: USE POSITIVE MATERIALS TO SOOTHE, CONTEXTUALIZE, AND REPLACE NEGATIVE MATERIALS
Overview of Linking Positive and Negative Material
Implicit and explicit memory
How negative material is consolidated, activated, and reconsolidated in the brain
The window of time during which the reconsolidation of negative material can be disrupted
Three ways to manage negative material: Grow relevant psychological resources, associate positive to negative, disrupt the reconsolidation of the negative
Self-compassion: A key resource for managing negative material, and an example of Linking
Activity: Experience the Link step
Activity: Explain the Link step to a client
Activity: Guide a colleague through the Link step
Discussion and Application of Material Presented
Four ways to use positive neuroplasticity and the HEAL framework with clients
Adapt positive neuroplasticity for children
Activity: Discussion with a colleague about using positive neuroplasticity and the HEAL framework with one or more challenging clients
Activity: How to explain the Link step to a client
Activity: Guide a client through the Link step
KEY PSYCHOLOGICAL RESOURCES: HOW TO IDENTIFY SPECIFIC PSYCHOLOGICAL RESOURCES THAT ARE MATCHED TO CLIENTS' PSYCHOLOCIAL ISSUES
Our Three Needs and Two Ways of Meeting Them
The three fundamental needs of any animal, including humans: Safety, satisfaction, connection
The meeting of these needs through Avoiding harms, Approaching rewards, and Attaching to others
Social brain theory
Why there is more to human life avoiding pain and approaching pleasure
The reptilian, mammalian, and primate/human stages of brain evolution and their relationship to the Avoiding, Approaching, and Attaching systems
Our basic two ways of meeting needs: The Responsive and Reactive modes, without stress and with stress
Explain what it means when clients go to Responsive mode and Reactive mode and the impact of each
Activity: Discussion with a colleague about these three needs and two modes for meeting them
Identifying Key Psychological Resources Matched to Clients' Needs
Demonstration by instructor with a volunteer of identifying key resources
Overview of resources for safety, satisfaction & connection
The value in repeatedly internalizing experiences of needs sufficiently met
The metaphors of repeatedly petting the lizard, feeding the mouse, and hugging the monkey
Activity: Guide a colleague to identify key resources for an issue
Activity: Experience of a basic sense of safety, satisfaction, and connection: peace, contentment, and love
Helping Clients to Identify and Internalize Key Psychological Resources
Demonstrate by instructor with a volunteer of identifying and internalizing one or more key resources, using the HEAL framework
Discussion of what helped this go well
Activity: Guide a colleague to identify and internalize one or more key resources, using the HEAL framework
GROWING STRENGTHS FOR SAFETY: ESTABLISH A FOUNDATION OF CALM AND SAFETY IN WHICH CLIENTS CAN GAIN THE CONFIDENCE THEY NEED TO MEET CHALLENGES
Key Resources for Being and Feeling Safe
Indicators of challenges to safety: fear, anger, helplessness
Why we evolved to overestimate threats and underestimate opportunities and resources
Blocks to reducing anxiety
Activity: Experience of calm strength
Activity: Experience of noticing you are basically alright right now
Activity: Explain to a colleague how to have and internalize more experiences of calm strength and basic alright-ness, and feel less anxiety
Help Clients to Increase Resources for Safety
Additional resources for safety: sense of agency, protection, and refuge
Our vulnerability to acquiring learned helplessness
Discussion of what helped this go well
Special applications to trauma
Activity: Guide a colleague to identify and internalize resources for being and feeling safer, using the HEAL framework
GROWING STRENGTHS FOR SATISFACTION: BUILD HEALTHY MOTIVATION IN CLIENTS AND HELP THEM SET UP AND ACHIEVE GOALS
Key Resources for Being and Feeling More Satisfied
Indicators of challenges to satisfaction: Frustration, loss, ennui, boredom
Ambition without driven-ness, aspiration without attachment
Activity: Experience of gratitude and gladness
Activity: Experience of goal accomplishment and feeling successful
Activity: Explain to a colleague how to have and internalize more experience of gratitude, happiness, and success, and feel less frustration
Help Clients to Increase Resources for Satisfaction
Liking and wanting in the brain; enjoy without craving
How to use associational learning to increase motivation
Special applications to addiction
Activity: Guide a colleague to increase motivation for something, using the HEAL framework
GROWING STRENGTHS FOR CONNECTION: IMPROVE CLIENTS' RELATIONSHIPS AND INCREASE THEIR SENSE OF SELF-WORTH
Key Resources for Being and Feeling More Connected
Indicators of challenges to connection: hurt, rejection, loneliness, hatred, inadequacy, shame
Normal narcissistic needs
Activity: Experience of feeling cared about and caring
Activity: Guide a colleague through internalizing psychological resources for greater self-worth, using the HEAL framework
Help Clients to Increase Resources for Connection
Three neural circuits of empathy
The strong heart: combining kindness and assertiveness, love and power
Activity: Explain the circuits of empathy to a client and exploring how the client could be more emphatic in daily life
Activity: Guide a colleague the psychological resources that support the strong heart, and how to have and internalize experiences of these resources
Managing Challenges From the Responsive Mode
Activity: Experience of peace, contentment, love
Activity: Explore with a colleague how to manage a key challenge from the Responsive mode, including what this would be like and feel like
Activity: Guide a colleague through having and internalizing an experience of a key resource for managing challenging from the Responsive mode, using the HEAL framework
APPLICATIONS AND IMPLICATIONS: LEARN HOW TO ADAPT AND APPLY THESE METHODS TO MEET A VARIETY OF NEEDS AND SITUATIONS
Use Positive Neuroplasticity and the HEAL Process for Particular Clinical Issues and Situations
In mindfulness training
With depression
Specific issues from participants
Activity: Discussion with a colleague about applications to one or more clients
Clinical Consequences of Societal Factors
How economic, cultural, and other environmental factors affect mental health, for better or worse
How internalizing psychological resources and living increasingly from the Responsive mode helps people be less vulnerable to manipulations of fear and anger, possessiveness and greed, and grievance and vengeance toward others
Final discussion
Activity: Experience of peace, contentment and love
LIMITATIONS OF THE RESEARCH AND POTENTIAL RISKS
Author
RICK HANSON, PH.D.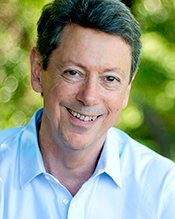 Rick Hanson, Ph.D.,
is a psychologist, a Senior Fellow of the Greater Good Science Center at UC Berkley, and a
New York Times
best-selling author. His books are available in 26 languages and include
Hardwiring Happiness
(Harmony, 2016),
Buddha's Brain
(New Harbinger, 2009),
Just One Thing Card Deck
(PESI, 2018), and
Mother Nurture
(Penguin, 2002). He edits the Wise Brain Bulletin and has numerous audio programs. A
summa cum laude
graduate of UCLA and founder of the Wellspring Institute for Neuroscience and Contemplative Wisdom, he's been an invited speaker at NASA, Oxford, Stanford, Harvard, and other major universities, and taught in meditation centers worldwide.
Dr. Hanson has been a trustee of Saybrook University, served on the board of Spirit Rock Meditation Center, and was President of the Board of FamilyWorks, a community agency. He began meditating in 1974, trained in several traditions, and leads a weekly meditation gathering in San Rafael, California. His work has been featured on the BBC, CBS, and NPR, and he offers the free Just One Thing newsletter with over 114,000 subscribers, plus the online Foundations of Well-Being program in positive neuroplasticity.
He enjoys rock-climbing and taking a break from emails. He and his wife have two adult children.
Speaker Disclosures:
Financial: Rick Hanson is in private practice. He receives a speaking honorarium from PESI, Inc.
Non-financial: Rick Hanson has no relevant non-financial relationship to disclose.
Continuing Education Credits
---
CE Information Coming Soon
Continuing education credit information is coming soon for this non-interactive self-study package.

CEs may be available for select professions, as listed in the target audience. Hours will be dependent on the actual recording time. Please check with your state licensing board or organization for specific requirements.

There may be an additional fee for CE certificates. Please contact our Customer Service at 1-800-844-8260 for more details.

**Materials that are included in this course may include interventions and modalities that are beyond the authorized practice of mental health professionals. As a licensed professional, you are responsible for reviewing the scope of practice, including activities that are defined in law as beyond the boundaries of practice in accordance with and in compliance with your professions standards.


Audience
Counselors
Social Workers
Psychologists
Psychotherapists
Psychiatrists
Therapists
Marriage and Family Therapists
Addiction Counselors
Occupational Therapists
Occupational Therapist Assistants
Nurses
Other Helping Professionals
Satisfaction Guarantee
Your satisfaction is our goal and our guarantee. Concerns should be addressed to PESI, P.O. Box 1000, Eau Claire, WI 54702-1000 or call (800) 844-8260.

ADA Needs
We would be happy to accommodate your ADA needs; please call our Customer Service Department for more information at (800) 844-8260.