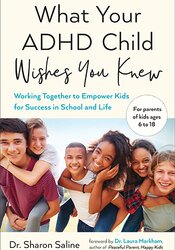 Product Details
Format:

Book - Soft Cover

Length:

272 pages

Authors:

SHARON SALINE, PSY.D.
LAURA MARKHAM, PH.D.

Publisher:

TarcherPerigee

Copyright:

8/7/2018

CE Available:

No, CE credit is not available

Product Code:

SAM086065

ISBN:

9780143132394
Author
SHARON SALINE, PSY.D.
Sharon Saline, PsyD.,
a licensed clinical psychologist in private practice, is a top expert in how ADHD, learning disabilities and mental health issues affect children, teens and families. Dr. Saline has worked extensively with schools on mental health issues in the classroom, interpreting psychological evaluations and improving teacher/parent communication. Dr. Saline funnels this expertise into her forthcoming book,
What Your ADHD Child Wishes You Knew: Working Together to Empower Kids for Success in School and Life.
Heralded as an invaluable resource, she addresses hot topics and offers effective tools designed to improve communication and reduce conflict. She is also a monthly contributor of the Dear Parent Teen Coach column for www.ADDitudemag.com.
As an internationally sought-after lecturer and workshop facilitator known for combining her expertise in psychology with a background in theater, she addresses a variety of topics such as understanding ADHD and executive functioning, making sense of the teen brain and working with different kinds of learners. Dr. Saline is also a part-time lecturer in the Continuing Education Program at the Smith School for Social Work and the founder and co-facilitator of "Got kids? Let's talk!" a monthly parenting series in Western Massachusetts. A graduate of Brown University, she received her master's degree in psychology from New College of California and her doctorate in psychology from the California School of Professional Psychology at Alliant University. Sharon lives with her family in Northampton, MA. More information is available at
www.drsharonsaline.com,
Facebook @DrSharonSaline and Twitter @DrSharonSaline.
LAURA MARKHAM, PH.D.
Dr. Laura Markham is the author of the book Peaceful Parent, Happy Kids: How to Stop Yelling and Start Connecting, which continues to rack up 5 star reviews on Amazon, attesting to the power of her relationship-based approach to parenting. Dr. Laura trained as a Clinical Psychologist, earning her PhD from Columbia University. But she's also a mom, so she translates proven science into the practical solutions you need for the family life you want.

The founding editor of the extensive website AhaParenting.com, Dr. Laura sends a free coaching email three times weekly to over 100,000 parents and contributes to many websites, including Psychology Today, Mothering.com, The Natural Parent Magazine, Pregnancy.org, Girlie Girl Army, and SheKnows.com. She makes frequent TV and radio appearances and has been interviewed for hundreds of articles by publications as diverse as The Wall Street Journal, Real Simple, Newsday, Men's Health, Redbook and Parents Magazine. She is also the author of Peaceful Parent, Happy Siblings: How to Stop the Fighting and Raise Friends for Life.

Dr. Laura's relationship-based parenting model has helped thousands of families across the U.S. and Canada find compassionate, common-sense solutions to everything from separation anxiety and sleep problems to sass talk and cell phones. She lives in Brooklyn, New York, with her husband and has two terrific kids.
Continuing Education Credits
CE Credit is not available for this product.
Reviews
"Dr. Saline helps parents understand the negative and positive thought patterns in their families, expose the components of unhelpful behaviors and, then, using her 5 C's approach, guides them toward workable solutions. I highly recommend this book to assist parents in tuning up their abilities to see and hear their children's signals more accurately, untie the knots of miscommunication, and improve everyone's coping strategies for living with ADHD."
Aaron T. Beck, M. D., Psychiatrist and Professor Emeritus University of Pennsylvania, Perelman School of Medicine

"When I give presentations for parents of children with ADHD and executive skill challenges, my message to them is Most of these kids turn out fine! This book is an excellent blueprint for parents who want to make that happen. Dr. Saline is a skilled therapist who has learned to listen to her clients. This book teaches us to do the same."
Peg Dawson, Ed.D., Psychologist and author of Smart but Scattered

"Dr. Saline provides compassionate, consistent and comprehensive guidance around the broad impact of ADHD on individuals and families. Her 5 C's provide a practical foundation for overcoming the wide-ranging challenges of living with ADHD."
Mark Bertin MD, Developmental Pediatrician and author of How Children Thrive and Mindful Parenting for ADHD

"Sharon Saline is a rare commodity - a psychotherapist who "gets it"! Not only does she understand complex kids, but she speaks to parents in a kind, straightforward, clear way that helps them improve their communication with their kids - in the heat of the moment, when they need it most. Creatively developed, constructive in its advice, and compassionately written, this is the kind of book I'd recommend to the parents in my community."
Elaine Taylor-Klaus, co-founder of ImpactADHD.com and author of Parenting ADHD Now

"Dr. Saline does an excellent job of bringing compassion and insight to address the struggles children with ADHD face. She infuses each of her concepts with quotes from children of all ages as they share the impact ADHD has on them. The book will leave you feeling positive and inspired to face the challenges together with your child."
Cindy Goldrich, Ed.M., ACAC, ADHD Parent Coach and Teacher Trainer, PTS Coaching

"After making a diagnosis of ADHD, parents often ask me 'what do we do now?' Finally, there is a resource I can recommend that gives concrete advice on how to help their children, illustrated with stories, examples, and the science behind the advice."
Jonathan Schwab, MD, Medical Director, Northampton Area Pediatrics

"As a school psychologist, I recognize the struggles of these children and am grateful for the wisdom they share. As a parent, my first reaction to reading this book is 'here we are, in print!' My mom take-home message is that by following Dr. Saline's sage advice, we parents can become the champions our ADHD kids really need."
Kathy Casale, School Psychologist and parent of two kids with ADHD

"I wish I'd had this insightful and compelling book when my children were younger. A must-read for the parent of a child with ADHD."
Ayelet Waldman, author of A Really Good Day

"This book is a treasure trove for any parent of a child diagnosed with ADHD. I will return to it over and over, as a parent, a teacher and a fellow-sufferer of 'bullet brain.'"
Nerissa Nields, singer/songwriter and co-founder of The Nields Band, author of How to Be an Adult

"As a teacher and a parent, I know how often our children's frustrations become our own. Dr. Saline helps children, caregivers and educators feel supported and equipped for success."
Amy Meltzer, Award-Winning teacher and parent of a teen with ADHD

"This book is a treasure in how it simplifies what parents need to do to best support kids with ADHD. Frustrated parents can exhale and learn how to create a positive, collaborative dynamic at home using Sharon Saline's many helpful tips and strategies."
Debbie Steinberg Kuntz, LMFT and Founder of Positive Impact Family

"This book is a gift for ADHD kids and their parents, packed full of wisdom and practical tips from kids and adults alike. The five C's are tools I use and teach in my own practice all the time."
Christopher Willard, PsyD, faculty, part time, Harvard Medical School, author Growing Up Mindful and Raising Resilience

"Essential reading for parents and teachers who want to help ADHD children succeed. Dr. Saline expertly captures the voices of youth describing the multi-faceted challenge of ADHD, while providing practical, and research-tested strategies to support their learning, problem solving and relationships."
Sam M. Intrator, Professor, Education and Child Study, Smith College
Satisfaction Guarantee
Your satisfaction is our goal and our guarantee. Concerns should be addressed to PESI, P.O. Box 1000, Eau Claire, WI 54702-1000 or call (800) 844-8260.

ADA Needs
We would be happy to accommodate your ADA needs; please call our Customer Service Department for more information at (800) 844-8260.