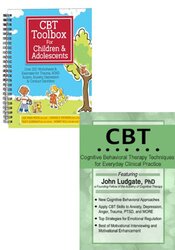 Product Details
Format:

Package - Video & Book

Authors:

LISA WEED PHIFER, DED, NCSP
AMANDA CROWDER, LCSW
TRACY ELSENRAAT, MA, LPC, ATR-BC
ROBERT HULL, EDS, MED, NCSP
JOHN LUDGATE, PHD

Publisher:

PESI Inc.

Copyright:

7/26/2016

CE Available:

Yes, See CE credit tab for complete continuing education details

Product Code:

RVKIT052466
Objectives
[+]
[-]
050665 - CBT: Cognitive Behavioral Therapy Techniques For Everyday Clinical Practice
Apply and integrate evidence-based techniques from cognitive-behavioral therapies
Identify motivational interviewing strategies to build rapport and engage challenging clients
Describe behavioral therapy techniques to modify and change maladaptive behaviors
Utilize more effective goal setting and problem solving strategies with clients
Describe key behavioral activation and exposure strategies used in behavior therapies
Identify 4 key cognitive-behavior therapy questions to use with all clients
Identify, challenge and replace negative self-talk, thoughts, assumptions and core beliefs
Describe cognitive and behavioral interventions for clients who are depressed and anxious
Identify practical exercises and worksheets to help implement CBT into clinical practice
Outline
[+]
[-]
050665 - CBT: Cognitive Behavioral Therapy Techniques For Everyday Clinical Practice
Clinical Applications of CBT Skills
Anxiety Disorders

Depression

Anger Management

Trauma and PTSD

Eating Disorders

Alcohol and Drug Addiction

Cognitive Therapy Strategies and Skills
Challenge Automatic Thoughts

The CBT Thought Record

Guided Discovery and Socratic Questioning

Setting Goals and Monitoring Progress

Label Cognitive Distortions

Thought Stopping Techniques

Feel Better with the ABC Technique

Reduce Worry: Consider the Odds

Increasing Positive Self-Talk

Schedule Worries

Strengthen Positive Core Beliefs

Behavior Therapy Strategies and Skills
Techniques for Behavior Change

Problem Solving Skills

Increase Positive Coping Skills

Behavioral Activation

Act More Assertive

Social Skills Training

Small Step Success Therapy

Relaxation and Breathing Training

Gradual Exposure to Feared Situations

Anger Management Strategies

Increase Self-Esteem

Mindfulness

Motivational Interviewing Strategies and Skills
4 Guiding Principles

Personal Strengths and Supports

Stages of Change

Decisional Balance Worksheets

Discussing the Pros & Cons

Preparing a Change Plan

Identify Personal Values

Providing Personalized Feedback

Emotional Regulation Strategies and Skills
Identify and Label Feelings

Identify Situations that Trigger Feelings

Feeling Better Strategies Worksheet

Grounding & Self-Soothing Strategies

Coping with Frustration

Emotional Regulation Skills
Author
LISA WEED PHIFER, DED, NCSP
Dr. Lisa Weed Phifer, DED, NCSP, is a nationally certified school psychologist, mother, wife and educational consultant. She is the lead author of the CBT Toolbox for Children and Adolescents (PESI, 2017) and the Parenting Toolbox (PESI, 2018). Her work has also been published in the School Mental Health Journal and the book Supporting and Educating Traumatized Students (Oxford University Press, 2012). Dr. Phifer has expertise in developing the social emotional capacities of children and empowering service providers to reframe challenging issues with a trauma informed approach. She has created and facilitated virtual professional training programs to increase educator's awareness of trauma on social, emotional and educational growth. Dr. Phifer uses engaging techniques to meet the interests of her audience, providing practical information that can easily transfer into participant's professional practice.
AMANDA CROWDER, LCSW
Amanda Crowder, LCSW, is co-author of the best-selling book CBT Toolbox for Children and Adolescents: Over 200 Worksheets & Exercises for Trauma, ADHD, Autism, Anxiety, Depression & Conduct Disorders. Amanda is an expert at moving evidence-based interventions into practical methods for application and moving research into action. She has created and adapted evidence-based interventions to work with the most challenging children, adolescents, and families in the most difficult situations. By helping to establish the Trauma Informed Care initiative within Carolinas Medical Center, Amanda has proven her leadership in moving clinical concepts into practice. Amanda runs a private practice in Charlotte, NC, and continues to work for Carolinas Medical Center within a crisis center and virtual mental health emergency room. Her specialties include depression, anxiety, trauma, behavioral issues, and family issues. Amanda uses realness, humor, and passion to build rapport with clients and audiences.

Speaker Disclosures:

Financial: Amanda Crowder is in private practice. She receives a speaking honorarium from PESI, Inc.

Nonfinancial: Amanda Crowder has no relevant nonfinancial relationship to disclose.
TRACY ELSENRAAT, MA, LPC, ATR-BC
Tracy Elsenraat, MA, LPC, ATR-BC, is a Licensed Professional Counselor and a Registered and Board Certified Art Therapist. She has been working to bring creativity and healing into the lives of those she meets.
ROBERT HULL, EDS, MED, NCSP
Robert Hull, MA, ED, EDS, MHS, award winning school psychologist, career educator, special education administrator and professor, is an expert in implementing evidence-based practice into practical, easy to implement strategies that lead to desired outcomes.

Robert's hands-on assistance has helped and inspired thousands of educators who work in the most challenging schools in our nation. His 25 years of experience working with youth and teachers in areas ranging from urban inner cities to impoverished rural counties has led to his recognition by local school systems, state governments, and state legislatures. Robert Hull has a reputation for taking on the biggest challenges in the most difficult school systems. As an administrator at both the system/district and state levels, he implemented reforms in the areas of disproportionality, implementing evidence based practices, and educating traumatized children.

Robert Hull graduated cum laude from Arizona State University with a degree in Psychology, and obtained graduate degrees in education and public health from Arizona State University, Memphis State University, and Johns Hopkins School of Public Health. He is also the co-author of CBT Toolbox for Children and Adolescents (PESI, 2017).

Robert's style uses humor to instill hope and motivation in order to release the anger and disillusionment that educators working with challenged youth face. A passionate presenter, he creates optimism while making compelling points. Robert's "get the job done" approach focuses on creating a culture of success where everyone is responsible for leadership and everyone gains from success.
Speaker Disclosures:
Financial: Robert Hull is an author for Oxford University Press and receives royalties. He receives a speaking honorarium for PESI, Inc.
Non-financial: Robert Hull has no relevant non-financial relationship to disclose.
JOHN LUDGATE, PHD

John Ludgate, Ph.D.,
is a licensed clinical psychologist who has worked as a psychotherapist for almost 30 years. He is a Founding Fellow of the Academy of Cognitive Therapy. His practice, which involves work in both a private practice and in an outpatient psychiatric center, consists largely of treating clients referred with mood problems and/or anxiety conditions. He is currently working at the Cognitive-Behavioral Therapy Center of Western North Carolina in Asheville, North Carolina.
John is a native of southern Ireland and obtained a Master Degree in Clinical Psychology from the University of Edinburgh in Scotland, and a Ph.D. from Trinity College, Dublin, Ireland in 1990. He trained at the Center for Cognitive Therapy in Philadelphia under Dr. Aaron Beck, the founder of Cognitive Therapy, obtaining a Post-Doctoral Fellowship in Cognitive Therapy from the University of Pennsylvania in 1986. He subsequently became assistant director of training at Dr. Beck's Center.
In the early 1990's, Dr. Ludgate was a research clinical psychologist at the University of Oxford in England and served as cognitive therapist in several outcome studies of panic disorder, agoraphobia, social phobia and hypochondriasis. He authored
Cognitive Behavioral Therapy and Relapse Prevention for Depression and Anxiety
(Professional Resources Press, 2009) and was co-editor with Wright, Thase and Beck of
Cognitive Therapy with Inpatients: Developing a Cognitive Milieu
(Guilford Press, 1993). His other books include
Overcoming Compassion Fatigue
(PESI, 2014 co-authored with Martha Teater and
The CBT Couples Toolbox
(PESI, 2018). He has written numerous journal articles and book chapters in the field of Cognitive Behavior Therapy for Anxiety and Depression. He has presented many seminars and workshops on cognitive behavioral approaches, both nationally and internationally.
Speaker Disclosures:
Speaker Disclosures: Financial: John Ludgate has an employment relationship with Cognitive Behavioral Therapy Center of WNC. He receives a speaking honorarium from PESI, Inc.
Non-financial: John Ludgate has no relevant non-financial relationship to disclose.
Continuing Education Credits Awarded for Completion of Entire Package
[+]
[-]
Combined Continuing Education Credit From All Components
Breakdown of Continuing Education Credits by Components
[+]
[-]
050665 - CBT: Cognitive Behavioral Therapy Techniques For Everyday Clinical Practice
[+]
[-]
085120 - CBT Toolbox for Children and Adolescents
Audience
Psychologists, Counselors, Social Workers, Psychotherapists, Case Managers, Marriage & Family Therapists, Nurses, Addiction Counselors, Mental Health Professionals
Reviews
[+]
[-]
085120 - CBT Toolbox for Children and Adolescents
"The CBT Toolbox for Children and Adolescents has CBT activities all in one place. It offers a breadth of CBT exercises that will guide your practice with children who need support to change patterns of thinking or behavior. In addition, the authors have created a comprehensive table of contents to keep you organized and guide your selection of tools for the most common mental health disorders seen in schools and practice today. This is a must-have resource for clinicians who want effective, evidence-based tools at their fingertips."
-- Kristie Reed, LICSW, BCBA, Director, Baird School & INCLUSION Program

"The CBT Toolbox for Children and Adolescents is an excellent resource for any clinician working with children and families. The book covers common challenges seen in children including issues with childhood trauma, ADHD, Autism Spectrum Disorder, Conduct Disorder, Anxiety, and Depression. The structure of the book allows clinicians to easily choose activities that will target particular skill sets and participants (child only, caregiver involvement, and/or therapist involvement). The book provides a comprehensive introduction to each disorder covered and explains how the activities and worksheets will address the respective symptoms or behaviors. The activities and worksheets themselves are very easy to understand and implement, include helpful diagrams/visuals, and can be adapted to each particular child or situation. There is a wide array of activity types to appeal to children with differing strengths and interests. The authors demonstrate a clear expertise in using CBT to address these common challenges seen in children. This is an invaluable tool for clinicians to use with a range of children!"
-- Dr. Sarah Swenson, PsyD, Sheppard Pratt Health System
Satisfaction Guarantee
Your satisfaction is our goal and our guarantee. Concerns should be addressed to PESI, P.O. Box 1000, Eau Claire, WI 54702-1000 or call (800) 844-8260.

ADA Needs
We would be happy to accommodate your ADA needs; please call our Customer Service Department for more information at (800) 844-8260.