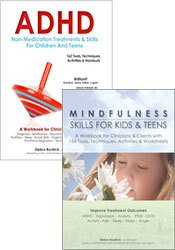 Product Details
Format:

Package

Author:

DEBRA BURDICK, LCSW, BCN

Publisher:

PESI Publishing & Media

Copyright:

11/16/2015

CE Available:

No, CE credit is not available

Product Code:

KIT049420

ISBN:

9781937661571
Author
DEBRA BURDICK, LCSW, BCN
Debra Burdick, LCSW, BCN, also known as 'The Brain Lady', is a Licensed Clinical Social Worker and a board-certified neurofeedback practitioner. Debra is an international speaker and author of the best-selling books, Mindfulness Skills Workbook for Clinicians and Clients: 111 Tools, Techniques, Activities & Worksheets, (PESI, 2013), Mindfulness Skills for Kids & Teens: A Workbook for Clinicians and Clients with 154 Tools, Techniques, Activities and Worksheets (PESI, 2014), ADHD: Non-Medication Treatments and Skills for Children and Teens (PESI, 2015) and Mindfulness Skills for Kids: Card Deck and 3 Card Games (PESI, 2017). She has taught mindfulness skills to her clients for over 25 years.

She recently retired from her private practice, and previously worked at the Child Guidance Clinic, Family Services, Child and Family Agency, and Lawrence and Memorial Hospital.

Debra incorporates mindfulness skills in all areas of her practice. She initially became interested in mindfulness to deal with a chronic illness (now thankfully healed). She found it so helpful in her own life that she started teaching her clients the skills she was using. She went on to develop clinical material on mindfulness skills and created a four-step process for working with clients using mindfulness that she perfected in her private practice and in an intensive outpatient program. Her clients have shown her that mindfulness skills improve the rate and quality of treatment outcomes.

Debra has presented numerous presentations, workshops, and teleseminars. She is often interviewed on Internet radio and telesummits and her work has been featured in The Day newspaper, Self-Improvement Magazine, and "Parenting Powers" television show.

Speaker Disclosures:

Financial: Debra Burdick maintains a private practice. She is an author for Vervante publishers and receives royalties. She receives a speaking honorarium from PESI, Inc.

Non-financial: Debra Burdick contributes to SelfGrowth.com and receives no compensation.
Continuing Education Credits Awarded for Completion of Entire Package
[+]
[-]
Combined Continuing Education Credit From All Components
Breakdown of Continuing Education Credits by Components
[+]
[-]
083175 - Mindfulness Skills for Kids & Teens
[+]
[-]
084015 - ADHD: Non-Medication Treatments and Skills for Children and Teens
Reviews
[+]
[-]
083175 - Mindfulness Skills for Kids & Teens
"This is an amazing, practical addition to the growing resources to help children and adolescents with a range of neurodevelopmental and emotional difficulties develop specific skills to manage stress, tolerate frustration, and gain more awareness of blocks to obtaining what they want in life."
-Laurie C. Dietzel, Ph.D. , Co-Author, Late, Lost, & Unprepared
"She takes you through all ages and stages of development with specific directions on how to use and implement her mindfulness techniques. This coupled with the explanation of neuroscience adds to the richness and beauty of this amazing book."
-Susan P. Epstein, LCSW, Parent Coach . Author of 55 Creative Approaches for Challenging & Resistant Children & Adolescents: Techniques, Activities, Worksheets, Over 60 Techniques, Activities & Worksheets for Challenging Children & Adolescents
"With our fast paced world, Mindfulness has been left out of the equation in our homes and in our schools. Debra is taking it back to basics in her brilliantly written book that makes neurobiology fun and easy to understand!"
-Julie Kleinhans, Confidence and Youth Empowerment Expert
"Burdick breaks down the more than 150 tools and techniques she offers into categories based on age making it easier to choose the appropriate ones whether you are working with a 5 year old or a 15 year old."
-Lawrence Edwards, PhD, LMHC, BCN Senior Fellow
"This "user-friendly" book offers clinicians a wealth of "hands on," practical step-by-step exercises and strategies, supported by numerous handouts to use with clients."
-Judith Belmont, MS , Author of The Tips and Tools for the Therapeutic Toolbox Series
"The skills in this book can be used in session or as "homework assignments" for younger clients and their families. They will insure that the skills acquired in the psychotherapy or neurofeedback session are integrated, assimilated and utilized!"
- Stephen Larsen, Ph.D. , Author of The Neurofeedback Solution
"Debra Burdick provides invaluable tools that every clinician, teacher, and parent can use in caring for children with mental health issues as well as in helping kids and teens through normal developmental challenges. Thoughtful, clear, and concise, she shares practical techniques for teaching children awareness of their bodies, thoughts, and feelings as the stepping stones to improve attention, emotion regulation, self-esteem, and the ability to relate to others with kindness and compassion. A much needed guide for our children, our times, and ourselves."
-Patricia L. Gerbarg, MD , Assistant Clinical Professor in Psychiatry, New York Medical College, Co-author of The Healing Power of the Breath and Non-Drug Treatments for ADHD
"Outstanding, thoughtful, and well-researched guide for working with children. These methods are applicable to the treatment of children under stress who may be struggling with anxiety, depression, ADHD, post-traumatic stress disorder, medical illness, or other conditions. Excellent integration of neuroscience, child development, and mindfulness, with attention to the nitty-gritty of sound clinical work. Highly recommended for parents, educators, and healthcare professionals."
-Richard P. Brown, MD , Associate Clinical Professor in Psychiatry, Columbia University Medical College, Co-author of The Healing Power of the Breath and Non-Drug Treatments for ADHD
[+]
[-]
084015 - ADHD: Non-Medication Treatments and Skills for Children and Teens
"A brilliant, practical compendium of tools, resources, ideas and techniques to help children who have ADHD without using medication. Well-researched and clearly written, this book is a gem!"
Edward Hallowell, MD, author, psychiatrist and international expert on ADHD

"Medication which should be a last resort for kids with ADHD, has become the first and often the only offered treatment. This speaks to the crucial importance of Debra Burdick's latest book, ADHD: Non-Medication Treatments and Skills for Children and Teens. The book offers 162 techniques, tips, activities and resources that can be used instead of medication to manage and moderate the worst ADHD symptoms. I highly recommend this book for parents, either dealing with a new ADHD diagnosis in a child or for those who wish to try another option other than medication."
Dale Archer, MD, psychiatrist and NY Times bestselling author of Better Than Normal and The ADHD Advantage

"Debra Burdick did it again! Following the success of her mindfulness book for kids and teens, she offers an array of non-medication treatment skills for ADHD. Anyone working with children and teens will find this a treasure chest of practical, hands-on, effective and engaging tools and activities that are easy for the clinician to use. Tips for identifying and diagnosing ADHD, treatment options, nutrition suggestions, valuable tools for social, organizational and mindfulness skills, along with tips for parents makes this book a one-stop shop for the practitioner's ADHD toolbox. An invaluable go-to resource and a true gold mine!"
Judith Belmont, MS, author of the T.I.P.S. and Tools for the Therapeutic Toolbox Series

"Burdick provides a very accessible reading style and countless well thought-out strategies. This book covers a wide range of approaches to help these children, their teachers and parents, become more successful in managing ADHD. This is a great reference for anyone working with children or teens with ADHD."
Roger deBeus, PhD, Clinical Trial Principal Investigator, Neurofeedback for ADHD

"An amazingly comprehensive book geared to mental health professionals, parents, teachers and children of ADHD from a holistic approach. Readers who are seeking a non-medication approach to ADHD have come to the best source! With over 162 tools, techniques, tips, activities, resources and worksheets, it is a perfect 'one-stop' book.

As a parent of a child with ADD, now an adult, I wish this book was available years ago! But as a professional working with children and teens, it is invaluable now. ADHD: Non-Medication Treatments & Skills for Children and Teens is definitely a must-have book for one's professional or personal library."
Athena A Drewes, PsyD, RPT-S, Director of Clinical Training, Astor Services for Children and Families, Editor of 9 books on play therapy
Other Associated Products:

Satisfaction Guarantee
Your satisfaction is our goal and our guarantee. Concerns should be addressed to PESI, P.O. Box 1000, Eau Claire, WI 54702-1000 or call (800) 844-8260.

ADA Needs
We would be happy to accommodate your ADA needs; please call our Customer Service Department for more information at (800) 844-8260.