Dialectical Behavior Therapy (DBT) 4-Day Conference featuring Lane Pederson, Psy.D., LP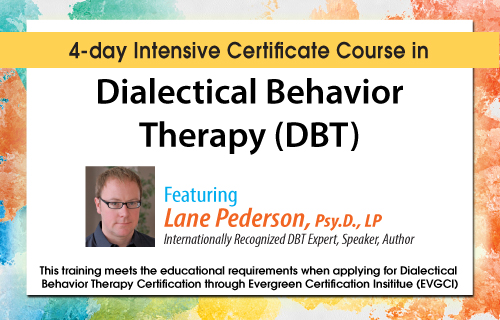 ---
Milwaukee, WI
Tuesday, December 12, 2017 – Friday, December 15, 2017 at 8:00 AM – 4:00 PM
---
King of Prussia, PA
Monday, January 22, 2018 – Thursday, January 25, 2018 at 8:00 AM – 4:00 PM
---
Denver, CO
Tuesday, February 13, 2018 – Friday, February 16, 2018 at 8:00 AM – 4:00 PM
---
Ellicott City, MD
Tuesday, March 6, 2018 – Friday, March 9, 2018 at 8:00 AM – 4:00 PM
Discriminate DBT from the contextual model of therapy.
Evaluate DBT research in light of the contextual model and the Evidence-Based Practice of Psychology (EBPP).
Correlate DBT philosophies and interventions to the therapeutic factors that most improve treatment outcomes.
Explore dialectic philosophies and their application in therapy
Determine how the core assumptions of DBT are put into action in therapy
Assess how DBT theory drives therapeutic interventions.
Communicate how to balance validation and change strategies in clinical situations
Integrate mindfulness techniques into therapy.
Implement an effective therapy structure that includes identifying clear treatment goals
Practice how to effectively teach the four standard DBT skills modules - mindfulness, emotion regulation, distress tolerance and interpersonal effectiveness.
Design teaching strategies for skills training sessions.
Plan and teach supplemental DBT skills and modules.
Practice DBT skills training techniques in small groups.
Recommend how to seamlessly integrate DBT skills into individual therapy.
Discriminate the DBT model from cognitive-behavioral, client-centered, and other treatment modalities.
Practice a multi-layered approach to validation of clients' thoughts and feelings.
Establish balance validation with the most effective (and practical) methods of behavior change.
Practice reciprocal and irreverent communication styles, to be utilized within the therapy session.
Comment on the key differences between traditional cognitive interventions and DBT-style cognitive interventions.
Practice therapy techniques with effective pacing, balance, and flow.
Articulate when to use (and not to use) exposure techniques.
Employ DBT diary cards and chain (change) analysis.
Propose how to operate with consultative groups and treatment teams.
Assess and manage self-injurious and suicidal behaviors with clear protocols and safety plans.
Establish clear plans for crisis management, including psychiatric hospitalizations.