31st Annual International Trauma Conference: Psychological Trauma: Neuroscience, Embodiment, and the Restoration of the Self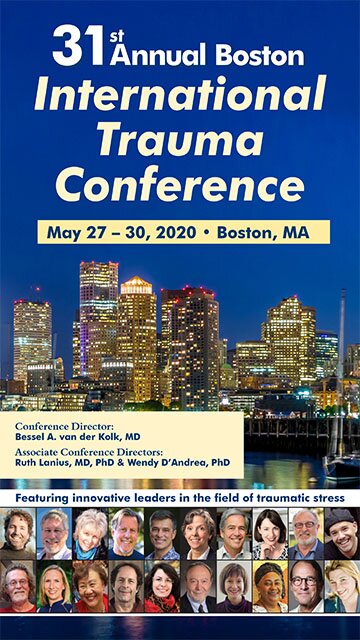 Where:

BOSTON, MA
When:

Wednesday, May 27, 2020 - Saturday, May 30, 2020
Due to concerns with coronavirus (COVID-19) the 31st Annual International Trauma Conference scheduled for May 27-30 in Boston, MA has been cancelled.
If you are registered for this conference, you do not need to call or email us. All registrations will be automatically refunded in full.
Course Description:

The study of trauma has probably been the single most fertile area in helping to develop a deeper understanding of the relationship among the emotional, cognitive, social and biological forces that shape human development. Starting with post-traumatic stress disorder (PTSD) in adults and expanding into early attachment and overwhelming attachment and social experiences in childhood ("Developmental Trauma"), this endeavor has elucidated how certain experiences can "set" psychological expectations, bodily experiences and biological selectivity.

When addressing the problems of traumatized people who, in a myriad of ways, continue to react to current experience as a replay of the past, there is a need for therapeutic methods that do not depend exclusively on drugs, talk or understanding. We have learned that most experience is automatically processed on a subcortical level of the brain; i.e., by "unconscious" interpretations that take place outside of conscious awareness. Insight and good intentions have only a limited influence on the operation of these subcortical processes, but synchrony, movement and reparative experiences do. This conference will present both basic research about the impact of trauma over the life cycle, and a range of effective interventions that are being practiced in communities, clinics, schools, prisons, and families around the world.
Conference Director:
Bessel A. van der Kolk, MD
Keynote Speakers:
Christine Heim, MD, PhD
Martin Teicher, MD, PhD
Annita P. Sawyer, PhD
Tania Singer, PhD
Richard C. Schwartz, PhD
Stephen Porges, PhD
Ruth Lanius, MD, PhD
Ed Tronick, PhD
Matthew Sanford
Cathy Malchiodi, PhD, REAT
Barbara Love, PhD
Hailan X.X. Guo, MD, PhD
Curt L. Tofteland
Steve Gross, MSW



Conference Objectives

The objective of this course is to present current understanding of how people's minds, brains, bodies and social organizations respond to traumatic experiences, and what currently appear to be the optimal clinical interventions, including the role of relationships, movement, synchrony, justice and processing to protect and restore safety and regulation.

Central is the role of affect regulation and the resolution of misinterpretation of innocuous stimuli as threats, which require interventions that can restore a sense of active mastery and the capacity to mindfully focus on the demands of the present.

We will also explore how different populations, ethnic groups and cultures may deal differently with traumatic experiences, and address how the legacy of trauma, systematic discrimination, isolation, blame, and social inequality can have profound effects on the capacity to cope and recover from trauma.
Target Audience
Social Workers
Counselors
Psychologists
Physicians
Psychiatrists
Addiction Counselors
Marriage & Family Therapists
Occupational Therapists and Occupation Therapy Assistants
Nurses
Other Mental Health Professionals
Breakdown for Continuing Education Credits by Event
[+]
[-]
Mapping Out the Transformative Effects of Mind-Altering Substances MDMA, Ketamine, and Psilocybin for Treating PTSD and Other Mental Distress
[+]
[-]
Trauma and Expressive Arts: Innovative "Bottom-Up" Approaches to Attunement, Self-Regulation, and Safety
[+]
[-]
A Comprehensive Approach to Neurofeedback for Trauma Related Dysregulation: Integration with Therapeutic Attunement, Biofeedback, and Other Body/Mind Approaches
[+]
[-]
Integrating Emotional Health into Medical Practice - CE NOT AVAILABLE
[+]
[-]
Making the Invisible Visible: Addressing Power, Privilege, and Oppression in Trauma-Informed Practice
[+]
[-]
Child Trauma Treatment: Weaving Embodied and Symbolic: Integration of SMART with EMDR, Art Therapy, and Sandtray
[+]
[-]
Treatment at the Interface of Addiction and Trauma
[+]
[-]
Designing Trauma-Informed Interventions for Youth at the Grassroots Level: A Practical Toolkit for Bringing Research to Practice - CE NOT AVAILABLE
[+]
[-]
Inpatient Treatment of Traumatized Individuals - the Meadows Model: Using a Multi-Disciplinary Approach to Support the Emergence of an Embodied Self
[+]
[-]
A Peer Counseling Model (ReEvaluation Counseling) for Healing the Trauma of Identity Based Social Inequalities: Creating Social Justice in Access to Healing - CE NOT AVAILABLE
[+]
[-]
Freeing the Prisoner Inside: Prison Yoga Project (PYP) and Shakespeare Behind Bars - CE NOT AVAILABLE
[+]
[-]
Therapeutic Applications of Hip Hop: Implications for Engagement, Regulation, and Integration in the Treatment of Complex Trauma
[+]
[-]
Trauma and the Restoration of the Self: Integrating Fundamental Discoveries in Neuroscience with Embodied Self-Awareness and Mindfulness
[+]
[-]
Main Conference - Friday
[+]
[-]
Healing Relational Trauma with Internal Family Systems Therapy
[+]
[-]
Mindfulness Training in High-Stress and Trauma-Sensitive Contexts: Using MMFT to "Widen the Window" and Heal Trauma - CE NOT AVAILABLE
[+]
[-]
Clinical Applications of the Polyvagal Theory
[+]
[-]
Consultation About Neurodevelopmental Underpinnings of Developmental Trauma
[+]
[-]
Consultation and Elaboration
[+]
[-]
Clinical Applications of Mindfulness Research
[+]
[-]
Main Conference - Saturday
Satisfaction Guarantee
Your satisfaction is our goal and our guarantee. Concerns should be addressed to PESI, P.O. Box 1000, Eau Claire, WI 54702-1000 or call (800) 844-8260.

ADA Needs
We would be happy to accommodate your ADA needs; please call our Customer Service Department for more information at (800) 844-8260.
Credit Card
Required
for online registration |
Contact us
to redeem Gift Certificates