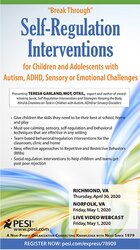 "Break Through" Self-Regulation Interventions for Children and Adolescents with Autism, ADHD, Sensory or Emotional Challenges
Where:
NORFOLK, VA
When:
Friday, May 1, 2020 at 8:00 AM - 4:00 PM
Credit Card
Required
for online registration |
Contact us
to redeem Gift Certificates
Other ways to Register: Call (800) 844-8260 Monday-Friday, 6:30am-10:00pm CST |
Printable Form (fax or mail)
Details
$249.99
Single Registration
$219.99
Single Registration: Advance Price (ends 4/11/2020)
$219.99
2+ Group Rate: per person
*** All prices are shown in US Dollars ***
Brochure and CE details available soon!
Location
SHERATON NORFOLK WATERSIDE HOTEL
777 WATERSIDE DRIVE
NORFOLK, VA 23510
Phone: 757-622-6664
View Map
Alternate Locations
Course Description:
Message from Your Presenter Teresa Garland, MOT, OTR/L …
No one ever said that working with children with autism, ADHD or sensory disorders is easy. Theo will only eat white foods, tends to be buried in his own world and melts when he is transitioned too quickly. Steven, in 6th grade, has ADHD, poor organization skills and an attitude that is hard to break through. But, how do we help a child break through the self-regulation issues that limit their achievements?
That was the question I posed to myself fifteen years ago. I set out to learn as much as I could about theories, techniques, and research that could help make the lives of these young people much more manageable and promising. I received certification in sensory integration therapy, and additional training in DIR (play therapy), ADHD interventions, oral motor therapy, auditory therapies, timing therapies, mindfulness, exercise therapies, sensory diets and more. I adapted techniques to make them usable in the clinic and at school, working close with my team to get things right.
Join me as I guide you through a broad set of self-regulation interventions culled from my years of research and practice along with strategies for adapting them to your setting. You will leave my program with the essential skills, interventions and strategies to help children find harmony with themselves, their families and the world around them!
You will learn:
The most effective calming, sensory, motor or behavioral techniques for a given type of behavior
Peer-to-peer video feedback as a social intervention for children and teens with ASD
Sleep interventions for children with erratic sleep schedules
Interventions for Repetitive and Restrictive Behaviors for a child with stereotypy
Organization strategies for home and school for teenagers with ADHD
And more!
I look forward to seeing you there! Register today!
Teresa Garland, MOT, OTR/L
Objectives:
Utilize effective calming, sensory, motor or behavioral techniques and activities for a given type of behavior in the classroom, clinic and home.
Demonstrate early predictors of ASD, ADHD and sensory challenges in infants and toddlers to design appropriate interventions.
Implement interventions for repetitive and restrictive behaviors for a child with stereotypy.
Integrate peer-to-peer video feedback into social interventions for children and teens with ASD to increase social ease.
Utilize the "Bedtime Fading with Response Cost" sleep intervention for children with erratic sleep schedules.
Design innovative grounding activities and organizational strategies effective for teens with ADHD for at home and school.
Integrate "team-based" self-regulation interventions for the classroom, clinic and home.
OUTLINE
The Many Challenges of Self-Regulation
Balancing the needs of the body, brain, senses, emotions and the social self
Emotional regulation and sensory regulation
Neurotypical children v. atypical children
Differences with ASD, ADHD, and other challenges
How well are we doing the research?
A Little Bit of Neuroanatomy
Cerebellum: The prediction machine
The ASD, ADHD, sensory connection
Mapping emotions
The vagal nerve's job in all this
Let's Talk about Infants and Toddlers
Early predictors of ASD, ADHD and sensory challenges
Infants, temperament, crying and social attention
Facial expressions and emotions in ASD
Parent video feedback with infants makes a difference!
Self-Regulation for All Age-Groups and Behavior Types
Calming and gradual exposure and desensitization
Rethinking the classroom, office, and/or home environment
Strategies for pre-school and the kindergarten classroom
Play, play, play! Inside/outside the classroom
Classroom aerobics and other activities
Heavy work, exercise, deep pressure and play
Eating and Sleeping Can Co-opt Good Effort
Effect of poor sleep on repetitive behaviors and negative affect in ASD
Effects of sensory processing on sleep
Bedtime Fading with Response Cost (BFRC) Intervention
Melatonin, elimination diets and supplements for ASD and ADHD
Sensory intervention at mealtime
Autism Spectrum Disorder: Techniques You Should Absolutely be Using
Engaging lists, stories and transitions (Make them fun!)
J. Shauls's Conversation Train (and more!)
Making consistency as your modus operandi
Play engagement, DIR, ABA, Discrete Trials and more
Restrictive, Repetitive Behaviors (RRBs) Interventions

High order v. low order
Exercise and aquatic movement
Ayer's Sensory Therapy®
Mixed method interventions

Help kids with ASD handle peer rejection
Video feedback for social scenarios: Do's and don'ts
ADHD: Effectively Intervene with This "Moving Target"
How imaging studies have challenged our ideas of ADHD
A new look at combined ADHD and Concentration Deficit Disorder
Innovative organization techniques
Creating simple habits and keeping it simple
Grounding activities: Mindfulness, karate, HIIT
Self-management intervention and "getting to center"
Check impulsivity meta-cognitive group games
Revisiting feedback and timing in the cerebellum
Special Interventions for Teens and Tweens
Video feedback: Create appropriate expressions, reactions and interactions
Social skills programs to develop real-life empathy
Regulation techniques for social situations and avoiding peer rejection
Sensorimotor Therapy to cut through trauma
It's a Team – Going for the Championship
Partnership of teachers, therapists and specialists
Interlace the team's self-regulation goals to make them effective
How to include parents: Highly effective at-home interventions
Target Audience
Occupational Therapists
Occupational Therapy Assistants
Speech-Language Pathologists
Teachers/School-Based Personnel
School Administrators
School Social Workers
School Counselors
School Psychologists
School Guidance Counselors
Psychologists
Social Workers
Licensed Professional Counselors
Physical Therapists
Physical Therapist Assistants
TERESA GARLAND, MOT, OTR/L
Teresa Garland, MOT, OTR/L, is an occupational therapist and author specializing in sensory and modulation issues. She has worked in schools, sensory clinics and medical settings with children and adults, treating sensory disorders, ADHD and autism. Ms. Garland works closely with other health professionals, teachers and doctors to understand and treat underlying sensory, timing, and coordination/motor planning issues as well as overlying socio/emotional behaviors in the symptoms of autism. She is trained/certified in the SIPT, Interactive Metronome®, Integrated Listening Systems (iLs), Therapeutic Listening, Wilbarger's Sensory Defensiveness, the Natural Heart Approach, Mindfulness Training, and Food Chaining. Her bestselling books are titled Self-Regulation Interventions and Strategies: Keeping the Body, Mind and Emotions on Task in Children with Autism, ADHD or Sensory Disorders (PESI, 2014) and Hands-on Activities for Children with Autism & Sensory Disorders (PESI, 2016).



Speaker Disclosures:
Financial: Teresa Garland is an author for PESI Publishing & Media and receives royalties. She receives a speaking honorarium from PESI, Inc.

Non-financial: Teresa Garland has written case studies for Interactive Metronome®. She writes a blog on self-regulation (otselfregulation.blogspot.com).
Satisfaction Guarantee
Your satisfaction is our goal and our guarantee. Concerns should be addressed to PESI, P.O. Box 1000, Eau Claire, WI 54702-1000 or call (800) 844-8260.

ADA Needs
We would be happy to accommodate your ADA needs; please call our Customer Service Department for more information at (800) 844-8260.
Credit Card
Required
for online registration |
Contact us
to redeem Gift Certificates