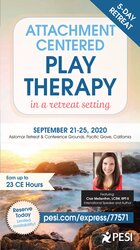 5-Day Retreat: Attachment-Centered Play Therapy in a Retreat Setting
Where:
PACIFIC GROVE, CA
When:
Monday, September 21, 2020 - Friday, September 25, 2020
Credit Card
Required
for online registration |
Contact us
to redeem Gift Certificates
Other ways to Register: Call (800) 844-8260 Monday-Friday, 7:00am-10:00pm CST |
Printable Form (fax or mail)
Details
$899.00
Single Registration
$799.00
Single Registration: Advance Price (ends 8/22/2020)
*** All prices are shown in US Dollars ***
Brochure and CE details available soon!
Location
ASILOMAR
800 ASILOMAR AVE
PACIFIC GROVE, CA 93950
Phone: 831-642-4222
View Map
Course Description:

Come join me in this 5-day intensive retreat, to explore our clients through the lens of attachment theory, gaining a new understanding of how children and families interact and bond to one another in healthy vs maladaptive ways. We will explore how trauma, abuse, and neglect impact the bonds of attachment within the family system and how the power of Attachment Centered Play Therapy can help to heal these wounds.

Throughout this intensive retreat, we will implement an integrative therapeutic approach to include the parents into the therapy process when addressing attachment wounds, trauma, grief and loss.

There will be plenty of time to explore difficult cases you are working with, ask questions, develop new assessment skills and explore styles of attachment and how this plays out in therapeutic relationships with our clients.

You will spend five days learning new and innovative play therapy techniques including hands on experiential activities, guided imagery, sand tray interventions, and expressive arts in a gorgeous setting with plenty of time for rest and rejuvenation built into the program outside of training hours. Did I mention that we will be spending ONE FULL DAY on the BEACH utilizing the world's biggest sand tray practicing sand tray therapy techniques assessing family relationships, bonds of attachment, and family dynamics? We will provide the basics but would love to extend an invitation for you to bring few of your favorite miniatures for use throughout the week.

Leave this integrative retreat experience with a creative toolbox of attachment centered play therapy tips, techniques, and a clear knowledge of how attachment styles impact relationships.

In September, the sun will be shining, the beaches sparkling, and the water is warm and inviting. I am looking forward to seeing all of you in California. Remember your flipflops!

Warmly,
Clair
RETREAT SCHEDULE (Tentative) –September 21-25, 2020

Monday, September 21, 2020
4:00 pm – Arrive/Check-in/Orientation
5:00 – 6:15 pm – Program Introduction
6:30 pm - Dinner 7:45 – 9:00 pm – Evening Lecture/Experiential Activity

Tuesday & Wednesday, September 22-23, 2020
8:00 am - Breakfast
9:30 am – 12:30 pm - Lecture
12:30 pm – Lunch & Individual Activity
2:30 – 5:00 pm - Lecture
5:00 – 6:00 pm – Individual Activity/Leisure Time
6:00 pm - Dinner
8:00 – 9:00 pm – Evening Lecture/Experiential Activity

Thursday, September 24, 2020
8:00 am - Breakfast
9:30 am – 12:30 pm – Experiential learning on the beach
12:30 pm – Lunch & Individual Activity
2:30 – 5:00 pm Program & Experiential Learning on the beach
5:00 – 6:00 pm – Individual Activity/Leisure Time
6:00 pm - Dinner
8:00 – 9:00 pm – Evening Lecture

Friday, September 25, 2020
8:00 am - Breakfast
9:30 -11:00 am - Lecture
12:00 pm – Closing Lunch
1:00 pm – Departure
Cancellation Policy: Prior to 45 days before the event start date, you will be charged a $100 cancel fee. For cancellations received after that, you will receive a gift certificate for your purchase amount to attend any future live PESI sponsored seminar.

Please contact PESI customer service for information on non-CE seeking to register as a guest for pricing and other details.
Learning Objectives:
Analyze attachment theory as it applies to play therapy to provide integrated therapeutic treatment.
Evaluate the four key concepts of attachment theory and how these concepts apply to attachment centered play therapy.
Analyze various family systems through the lens of attachment theory to strengthen clinical assessment skills.
Conceptualize attachment patterns that impact parent-child relationships to further advance your clinical practice.
Implement play therapy interventions to foster engagement with parents in family play therapy in order to repair, and enhance the parent-child relationship.
Analyze the neuroscience of attachment and play therapy as it relates to treatment.
Determine the developmental stages of attachment needs and behaviors to identify maladaptive responses in children and families.
Compare various attachment play centered interventions for use with insecurely attached families.
Analyze the neuroscience of the impact of trauma on brain development.
Apply mindfulness skills and practice in play therapy treatment to promote self-soothing and affect regulation.
Explore various components of self-compassion and discuss its clinical applications and importance in working traumatized clients.
Ascertain the clinical implications in addressing shame and rejection in trauma treatment.
Evaluate how shame impacts the ability to form a secure attachment.
Articulate the psychological impact and long-term effects of emotional trauma on a client's mental health.
Implement two clinical techniques for grounding and centering traumatized clients.
Evaluate the clinical presentation of the following attachment styles as it relates to your clinical assessment: secure vs insecure; insecure; organized vs insecure disorganized.
Implement two different treatment strategies, once attachment style has been ascertained, based on your client's attachment style.
Utilize mindfulness practices to address negative self-talk and move clients towards a positive sense of self.
Employ mindfulness practices to address self-regulation and co-regulation between parent and child to repair and build emotional safety.
Create guided imagery exercises to foster self-esteem and self-worth for increased self and co-regulation.
Ascertain the clinical implications of traumatic stress symptomology, including hyperarousal, affect dysregulation, dissociation, body memories, and flashbacks.
Employ effective somatic techniques to reduce/eliminate client's body memories, "flashbacks" and dissociation.
Incorporate mindfulness and compassion techniques to help regulate stress.
Practice Sandtray interventions to assess for attachment injuries.
Differentiate between verbal and nonverbal processing in attachment and trauma-based play therapy.
RETREAT CONTENT
Attachment Centered Play Therapy
Introduction to Attachment Theory
Introduction to Play Therapy
Inviting the parents into the play therapy process
Attachment across the lifespan
Identify various styles of attachment
Specific play therapy intervention to address each style of attachment
Play therapy for all ages and stages
Hands on, experiential activities to promote healthy relationships
Guided Imagery exercises
Attachment wounds and injuries
Sand tray interventions
Group play therapy interventions
Interpersonal processing
Case consultation and case studies
Trauma's Impact on Brain Development, Behavior and Families
Trauma's impact on behaviors, concentration, and relationships
Identify parts of the brain affected by trauma
Create a safe place in the play therapy room
Maximizing the role of the attachment figure to create safety
Rage and aggression
Guided imagery exercises
Full body relaxation techniques
Interventions for shame and sexual abuse
Developmentally appropriate trauma narratives
Recognize somatic and physiological responses in the body
Reclaim the body after trauma
Understand the post-traumatic self
The World's Largest Sand Tray
Personal reflection
Group and individual sand trays
Case consultation and processing
Directive and non-directive sand tray interventions
Address transference and counter-transference in play therapy
Specific supervision questions and processing
Play Therapy Across Ages, Stages and Special Populations
Play Therapy for children, adolescents and adults
Adoption
Grief, loss and bereavement
Engaging teens and tweens in family play therapy
Parenting strategies to promote healthy attachment styles
Interpersonal processing
Play Therapy Toolbox with 30+ interventions to take home and put into practice!
Limitations of the Approach and Potential Risks
No controlled studies have been conducted using these interventions
Play Therapy is an evidenced-based treatment
Attachment-Centered Play Therapy has not been included in the list of approved play therapy interventions from APT
Without the necessary training, use these interventions with clients may pose a risk of potential harm
CLAIR MELLENTHIN, LCSW, RPT-S
Clair Mellenthin, LCSW, RPT-S, is a Registered Play Therapist Supervisor and is the past president of the Utah Association for Play Therapy. Throughout her career, she has focused on providing therapy to children, teens, and their families. Clair is the director of Child and Adolescent Services at Wasatch Family Therapy. She is a sought-after supervisor, training graduate students and interns in play therapy, and an adjunct faculty member at the University of Southern California MSW program. Clair is the author of Play Therapy: Engaging & Powerful Techniques for the Treatment of Childhood Disorders (PESI, 2018) and My Many Colors of Me Workbook. (Self-Published, 2013). In addition to being an experienced play therapist and professor, she frequently presents professional play therapy and family therapy trainings and appears on local and national TV and radio as an expert on children and family issues.




Speaker Disclosures:

Financial: Clair Mellenthin is the clinical director at Wasatch Family Therapy. She is the author of My Many Colors of Me Workbook; she maintains intellectual property rights and receives royalties. Ms. Mellenthin receives a speaking honorarium from PESI, Inc.

Nonfinancial: Clair Mellenthin is the president of the Utah Association for Play Therapy.
Satisfaction Guarantee
Your satisfaction is our goal and our guarantee. Concerns should be addressed to PESI, P.O. Box 1000, Eau Claire, WI 54702-1000 or call (800) 844-8260.

ADA Needs
We would be happy to accommodate your ADA needs; please call our Customer Service Department for more information at (800) 844-8260.
Credit Card
Required
for online registration |
Contact us
to redeem Gift Certificates