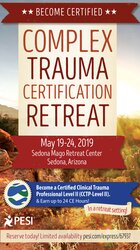 Complex Trauma Certification Retreat
Where:
SEDONA, AZ
When:
Sunday, May 19, 2019 - Friday, May 24, 2019
EARLY BIRD REGISTRATIONS AVAILABLE THROUGH APRIL 15, 2019



Single Occupancy

$2,399.00 By April 15, 2019
$2,599.00 After April 15, 2019

Double Occupancy

$2,199.00 By April 15, 2019
$2,399.00 After April 15, 2019


*** All prices are shown in US Dollars ***
View brochure for CE details
Location
SEDONA MAGO RETREAT CENTER
3500 E BILL GRAY ROAD
SEDONA, AZ 86336
Phone: 800-875-2256
View Map
Course Description:

Breakthroughs in trauma treatment can be difficult to achieve. The work can be exhausting – burning out your client and yourself.

This training opportunity is a MUST if you work with traumatized clients – and an opportunity to safely do personal work in a serene setting.

In 6 days at the beautiful Sedona Mago Retreat near Sedona, Arizona, you'll not only build the skills and confidence you need to improve outcomes for your clients but leave feeling restored, revitalized and ready to return to your deeply meaningful work.

Through didactic illustration and explanation; live demonstrations; and a host of experiential exercises this retreat will provide you with the principles of trauma theory, diagnosis, and best practices for effective treatment. You will be guided through the newly updated traumatic stress disorders-those included in-and those excluded from-the new DSM-5®: Simple PTSD, Complex PTSD, Developmental Trauma Disorder and Borderline Personality Disorder. For all but single incident trauma, the tri-phasic model remains today's state-of-the-art treatment approach. Once familiar with the phase model of treatment (including each phase's goals, along with the clinical tools to reach those goals), clinicians will begin to practice using these new tools.

Best of all, completion of this 6-Day training meets the core educational requirement when applying to become a Certified Clinical Trauma Professional – Level II (CCTP-II) allowing you to set yourself apart from other practitioners and let clients and colleagues know you've invested the extra time and effort necessary to provide treatment at the highest level!
Sleeping Accommodations:

If you would like to be paired up with another potential, unknown attendee to take advantage of the double occupancy rate, please call and let us know. We will aim to pair you up if somebody else registers who also would like to share.

In the meantime, please register at the single occupancy rate. If we are able to pair people, the $200 will be credited.


Retreat Schedule: May 19-24, 2019

Sunday, May 19, 2019
1-3 pm – Check-in 3-4 pm – Property Tour (you won't want to miss) 4-5 pm – Program Introduction & Overview* 5:30 – 7 pm - Dinner
7:15 pm – Evening Session* 8:15 pm – Break for Night

Monday-Thursday, May 20-23, 2019
6:30 – 7:15 am – Yoga Experiential (optional)
7:30 – 8:30 am – Breakfast
9 am – Morning Session*
11 am – 1 pm – Lunch/Free Time 1:30 pm – Afternoon Session*
3:30 pm – Break/Free Time
5:30 pm – Dinner
7 pm – Closing Lecture*
8 pm – Break for Night

Friday, May 24, 2019
6:30 – 7:15 am – Yoga Experiential (optional)
7-8:15 am – Breakfast
9 am – Morning Session*
11 am – 1 pm – Lunch & Check-out

*CE is awarded during these specified times
PLEASE USE THESE LINKS FOR MORE INFORMATION ABOUT SEDONA MAGO RETREAT CENTER:
Frequently Asked Questions
Accommodations
Map and Driving Directions
Sedona Mago Retreat is located 40 miles southwest of downtown Sedona and 2.5 hours north of Phoenix. If this is your first trip driving to Sedona Mago Retreat, arrange your driving schedule so you can arrive during daylight hours because it goes through the National Forest and road signs and lighting are limited.
Shuttle Service
AZ Shuttle provides shuttle service from Phoenix Sky Harbor Airport directly to Sedona Mago Retreat Center.
Sedona Mago Retreat Center's Policies and Conditions
Highlights of the Center
Healthful (And Tasty) Pesco-Vegetarian Cuisine
Stylish Accommodations
Yoga Mat For Your Use During Your Stay
Healing Garden And Lake
Vortexes
Covered Patios And Meditation Areas
Lounge (With WiFi Access)
Incredible Landscapes
Cancellation Policy: Prior to 45 days before the event start date, you will be charged a $100 cancel fee. For cancellations received after that, you will receive a gift certificate for your purchase amount to attend any future live PESI sponsored seminar.

Please contact PESI customer service for information on non-CE seeking to register as a guest for pricing and other details.
Objectives:
Examine the nature of traumatic stress, grief, loss and their sequelae.
Analyze the clinical application of various theoretical treatment models for traumatic stress, grief and loss.
Evaluate traumatic stress, grief and loss from biochemical, psychosocial, social and spiritual perspectives to improve treatment outcomes.
Examine clinical research that supports the imperative factors that influence the efficacy of trauma treatment.
Assess the comorbidity of traumatic stress in other diagnoses and identify appropriate treatment interventions.
Characterize how psychoeducation and cognitive restructuring techniques can be used to maximize client engagement in early stages of treatment.
Determine the efficacy of self-regulation skills as a preliminary treatment intervention for trauma.
Articulate the 10 core competencies of treating traumatic stress, grief and loss.
Specify potential clinical limitations and benefits of completing a needs assessment.
Establish which clinical skills can support recovery from complicated bereavement in clients.
Characterize the limitations of many accepted models of trauma treatment.
Assess how CBT skills can be used to promote the development of stability, self-efficacy, anxiety management, and relational capacities in traumatized clients.
Articulate the differences between simple and complex PTSD (C-PTSD).
Identify the distinct challenges for diagnosis, treatment planning, stabilization and treatment of C-PTSD.
Understand the neurobiology of C-PTSD and how chronic exposure to threatening environments can produce the spectrum of symptoms of C-PTSD.
Communicate the role that attachment trauma and Aversive Childhood Experiences play in risk for and creation of C-PTSD.
Establish how clinicians can successfully address attachment issues with clients to accelerate treatment for C-PTSD.
Characterize the causes and sequelae of attachment trauma and how these adaptations are easily misunderstood as personality disorders.
Articulate the clinical relevance of neuroplasticity/pruning and understanding neuronal sequencing in treating C-PTSD and all posttraumatic conditions.
Understand the important role that conditioned threat response and subsequent ANS dysregulation play in generating and sustaining the symptoms of all posttraumatic conditions including C-PTSD.
Employ psychoeducational skills to help C-PTSD clients discern the differences between real vs. perceived threats.
Communicate the applicability of Porges' Polyvagal Theory to treatment of C-PTSD.
Articulate how dissociation symptoms are adaptations to recurring trauma.
Assess evidence-based pharmacological interventions for stabilization and treatment for clients with C-PTSD.
Apply Herman's Tri-Phasic Model to conceptualization, titration and delivery of treatment for C-PTSD.
Identify specific assessment and treatment tasks for each of the three phases of the Tri-Phasic Model.
Understand symptoms of C-PTSD as adaptations to ongoing developmental trauma that can include extreme symptoms including self-injury; suicide; dissociation, numbing; process and substance addiction; eating disordered behavior; chronic & intractable depression; hyper/hypo sexuality; and rage.
Articulate the role of crucial non-specific factors of positive expectancy and therapeutic relationship using Feedback Informed Therapy (FIT) as central focus of treatment with C-PTSD.
Learn and appreciate the pivotal role of psychoeducation in treating C-PTSD to help survivors to begin to honor their survival, ameliorate shame and move towards self-compassion.
Learn and implement the four "common factors/active ingredients" shared by all effective trauma therapies for clients with C-PTSD.
Appreciate the ubiquitous role of reciprocal inhibition embedded in all evidence-based trauma therapies.
Establish how cognitive restructuring skills can be utilized in session to help reframe symptoms stemming from shame.
Establish how Forward-facing Trauma Therapy can be used as a self-employed method to facilitate posttraumatic growth and resilience for clients into your clinical practice.
Develop CBT skills for helping trauma survivors to rapidly develop stability; self-efficacy, anxiety management and relational capacities.
Communicate how Exposure Therapy techniques can be used with clients with Criterion B symptoms.
RETREAT CONTENT
Day 1: May 19, 2019
Factors that Produce Trauma and Anxiety
Coping Behaviors
The Impacts of Traumatic Stress on the Brain and Body
Day 2: May 20, 2019
Assessment of Traumatic Stress Disorders
Review of Effective Treatments and Interventions
Foundational Knowledge of Complex PTSD
Day 3: May 21, 2019
Causes of and Adaptations to C-PTSD
Self-Regulation and Other Pre-Treatment Skills for Clinicians
Assessment Scales and Checklists
Day 4: May 22, 2019
The Tri-Phasic Model to Treatment
Stage One – Safety & Stabilization
Stage Two – Remembrance & Mourning/Trauma Resolution
Stage Three – Reconnection/Post-Traumatic Growth and Resilience
Day 5: May 23, 2019
Trauma-Focused CBT
Avoidance Symptom (Criterion C)
Shame/Dysphoria/Anhedonia/Distorted Thinking (Criterion D)

Cognitive Restructuring
Imaginal Exposure

Arousal & Reactivity (Criterion E)

Self-Regulation
DTE
Forward-Facing Trauma Therapy
Day 6: May 24, 2019
Demonstrations
Interactive Exercises
Application
Target Audience
Psychologists
Counselors
Social Workers
Psychotherapists
Marriage & Family Therapists
Nurses
Addiction Counselors
Mental Health Professionals
ERIC GENTRY, PHD, LMHC
Eric Gentry, Ph.D., LMHC, is an internationally recognized leader in the field of disaster and clinical traumatology, having trained thousands of professionals and paraprofessionals worldwide in the treatment of traumatic stress. His doctorate is from Florida State University where he studied with Professor Charles Figley, one of the pioneers of traumatic stress. Dr. Gentry was one of the original faculty members of the Traumatology Institute and later became the co-director of the International Traumatology Institute at the University of Southern Florida. Dr. Gentry, along with Dr. Anna Baranowsky, is the co-author and co-owner of the Traumatology Institute Training Curriculum – 17 courses in field and clinical traumatology leading to seven separate certifications.

Dr. Gentry has been a clinical member of several CISM teams and has provided assistance in many different disaster and critical incidents including Oklahoma City, New York City, and hurricanes in Florida. He was the developer of the Community Crisis Support Team, which began in Tampa, Florida, and has become a model for communities to integrate mental health services into their disaster response network.

Dr. Gentry is the co-author of the critically acclaimed Trauma Practice: Tools for Stabilization and Recovery (Third Edition) (Hogrefe Publishing, 2014). His other books include Forward Facing Trauma Therapy (Compassion Unlimited, 2016) and co-authored Trauma, PTSD, Grief & Loss: The 10 Core Competencies for Evidence-Based Treatment (PESI, 2017). Additionally, Dr. Gentry has published many research articles, book chapters, and periodicals in this maturing area of study. He has a private clinical and consulting practice and is adjunct faculty at many universities. Dr. Gentry draws equally from his scientific study and from his rich history of 30+ years of clinical experience with trauma survivors to balance this training with current, empirically grounded information and experienced-based compassionate intervention skills. You will be challenged, inspired, and uplifted by Dr. Gentry and this unique training.



Speaker Disclosures:

Speaker Disclosures: Financial: J. Eric Gentry receives compensation as Owner of Compassion Unlimited. He receives royalties as an author for Hogrefo & Huber Publishing. Dr. Gentry receives a speaking honorarium from PESI, Inc.

Non-financial: J. Eric Gentry has no relevant non-financial relationship to disclose.
Credits listed below are for full attendance at the live event only. After attendance has been verified, pre-registered attendees will receive an email from PESI Customer Service with the subject line, "Evaluation and Certificate" within one week. This email will contain a link to complete the seminar evaluation and allow attendees to print, email or download a certificate of completion if in full attendance. For those in partial attendance (arrived late or left early), a letter of attendance is available through that link and an adjusted certificate of completion reflecting partial credit will be issued within 30 days (if your board allows). Please see "live seminar schedule" for full attendance start and end times. NOTE: Boards do not allow credit for breaks or lunch.
If your profession is not listed, please contact your licensing board to determine your continuing education requirements and check for reciprocal approval. For other credit inquiries not specified below, or questions on home study credit availability, please contact cepesi@pesi.com or 800-844-8260 before the event.
Materials that are included in this course may include interventions and modalities that are beyond the authorized practice of mental health professionals. As a licensed professional, you are responsible for reviewing the scope of practice, including activities that are defined in law as beyond the boundaries of practice in accordance with and in compliance with your professions standards.
PESI, Inc. offers continuing education programs and products under the brand names PESI, PESI Healthcare, PESI Rehab and Psychotherapy Networker.
---
ADDICTION COUNSELORS
This course has been approved by PESI, Inc., as a NAADAC Approved Education Provider, for 24.0 CE in the Counseling Services skill group. NAADAC Provider #77553. PESI, Inc. is responsible for all aspects of their programming. Full attendance is required; no partial credit will be awarded for partial attendance.
---
COUNSELORS
This intermediate activity consists of 24.0 clock hours of continuing education instruction. Credit requirements and approvals vary per state board regulations. Please save the course outline, the certificate of completion you receive from the activity and contact your state board or organization to determine specific filing requirements.
---
MARRIAGE & FAMILY THERAPISTS
This activity consists of 1440 minutes of continuing education instruction. Credit requirements and approvals vary per state board regulations. You should save this course outline, the certificate of completion you receive from the activity and contact your state board or organization to determine specific filing requirements.
---
NURSES/NURSE PRACTITIONER/CLINICAL NURSE SPECIALISTS
PESI, Inc. is accredited as a provider of continuing nursing education by the American Nurses Credentialing Center's Commission on Accreditation.
Nurses in full attendance will earn 24.0 contact hours. Partial contact hours will be awarded for partial attendance.
---
PSYCHOLOGISTS
This activity consists of 24.0 clock hours of continuing education instruction. The following state psychologist boards recognize activities sponsored by PESI, Inc. as an approved ACCME provider: Alaska, Arkansas, California, Colorado, Georgia, Illinois, Indiana, Kentucky, Maine, Maryland, Missouri, Nebraska, Nevada, New Hampshire, New Jersey, New Mexico, Oklahoma, Pennsylvania, South Carolina and Wisconsin. Certificates of attendance will be issued for you to submit to your state licensing board to recognize for continuing education credit. Full attendance is required; no partial credits will be offered for partial attendance.
PESI, Inc. is accredited by the Accreditation Council for Continuing Medical Education to provide continuing medical education. PESI, Inc. designates this live activity for a maximum of 24.0 AMA PRA Category 1 Credit(s)™. Physicians should only claim credit commensurate with the extent of their participation in the activity.
---
OTHER PROFESSIONS
This activity qualifies for 1440 minutes of instructional content as required by many national, state and local licensing boards and professional organizations. Save your course outline and certificate of completion, and contact your own board or organization for specific requirements.
Satisfaction Guarantee
Your satisfaction is our goal and our guarantee. Concerns should be addressed to PESI, P.O. Box 1000, Eau Claire, WI 54702-1000 or call (800) 844-8260.

ADA Needs
We would be happy to accommodate your ADA needs; please call our Customer Service Department for more information at (800) 844-8260.
Credit Card
Required
for online registration |
Contact us
to redeem Gift Certificates