A mindful way to build resilience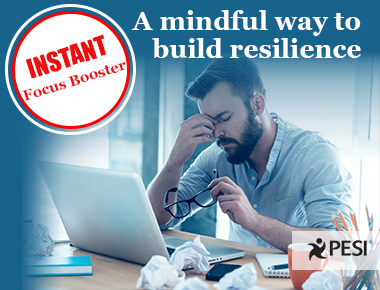 This blog is based on the writing of
Donald Altman, M.A., LPC
. You can read more in Donald's book,
101 Mindful Ways to Build Resilience
.
---
There are going to be times during the day when you feel sluggish and lack energy or concentration. Because coffee works best in moderation, you may need another way to shake, rattle, and roll those brain cells awake. Here is an all-natural way to boost your energy and mental focus through breathing. By using this focus boosting practice, you will improve your concentration abilities and feel more awake in just one minute's time.
— How —
With your fingers clasped together, place your hands firmly under your chin. Coordinating with your breath, you will slowly "flap" your arms up and down like butterfly wings.


Inhale deeply on the count of four as you raise your elbows (butterfly wings) upward. Let your chin and head tilt back and upwards as the wings reach their apex. If you feel lightheaded you may be taking too deep a breath. Remember, you don't need to fill up your lungs all the way.


Hold your breath for the count of four.


Exhale slowly for a count of six as you gradually lower your butterfly wings all the way down. Make sure you let out all the air.


Take an additional three or four more focus-boosting butterfly breaths to build up energy.
— When —
Use this focus boosting practice anytime during the day when you feel low in energy, sluggish, or are having a hard time focusing and concentrating on a task.
---
12 Hours of Videos • 12+ CE Hours • Mindfulness Toolbox Workbook (PDF Download)
---
Donald Altman
is a psychotherapist, award-winning writer, former Buddhist monk, teacher and adjunct faculty at Portland State University. He is also a faculty member of the Interpersonal Neurobiology program at Portland State University and teaches various classes blending mindfulness and Interpersonal Neurobiology.
---
Topic: Mindfulness