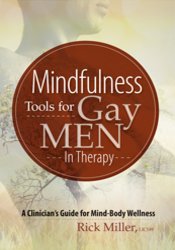 Product Details
Format:

Book - Soft Cover

Details:

150 pages

Author:

RICK MILLER, LICSW

Publisher:

PESI Publishing & Media

Copyright:

2016

CE Available:

No, CE credit is not available

Product Code:

PUB084585

ISBN:

9781683730224
Author
RICK MILLER, LICSW
Rick Miller, LICSW, is a clinical social worker in private practice in Boston and on Cape Cod, Massachusetts with over 30 years of experience. His first book, Unwrapped: Integrative Therapy with Gay Men, was published in 2014, and he was a contributing author to the book For Couples: Ten Commandments for Every Aspect of Your Relationship Journey (2011). Mr. Miller's popular blog, Unwrapped: Mind-Body Wisdom and the Modern Gay Man, is featured on PsychologyToday.com, and his work has appeared in Psychotherapy Networker as well as Somatic Psychotherapy Today.
Continuing Education Credits
CE Credit is not available for this product.
Reviews
"Rick Miller's Mindfulness Tools for Gay Men is not just a book on mindfulness. It is also a highly intelligent compassionate guide to understanding the psychotherapy needs of gay men. Tackling all the most challenging topics with which gay men struggle, from self-esteem to sex to HIV status, relationships, and spirituality, he uses mindfulness to make the journey affirming and compassionate. Using guided meditations, he invites his clients to 'befriend' their fears and shame, heal the wounded places inside, and access their authentic selves. This excellent book not only teaches skills but heals the heart."
Janina Fisher, PhD

"Helping gay clients come to self-acceptance and self-knowledge can be a powerful pathway to healing and positive change. Rick Miller has combined mindfulness and therapy for gay clients in this practical and comprehensive workbook. It has scripts and all you need to be more effective and confident in working with gay clients. A unique offering by a skilled and kind-hearted writer and clinician."
Bill O'Hanlon, MS, Author of Pathways to Spirituality and Do One Thing Different

"Rick Miller's Mindfulness Tools for Gay Men in Therapy is a must-have guide for clinicians wanting to grow as they bring a deeper level of understanding, awareness, and sensitivity into their work with gay men. Mindfulness challenges us to embrace an open hearted, truth-seeking, and, compassionate approach to life-and this book gives you the mindfulness tools necessary to take your client on a journey to authenticity and transformational wellness. I highly recommend this for clinicians using mindfulness."
Donald Altman, MA, LPC, Author of The Mindfulness Toolbox, 101 Mindful Ways to Build Resilience, and Clearing Emotional Clutter

"This workbook offers fellow therapists guidance, information, and answers, just as I know Rick Miller offers support and compassion to his clients. How refreshing for therapists to have a book that provides the vocabulary and the permission to connect with gay clients in a direct, empathic, and more-informed way."
Lynn Lyons, LICSW, Author of Anxious Kids, Anxious Parents and Using Hypnosis with Children: Creating and Delivering Effective Interventions

"This is the only book written that incorporates mindfulness specifically for gay men. Rick Miller provides exercises that therapists can use to remind clients that their pain doesn't need to define who they are. With the help of this workbook, instead of relying on external sources for reducing shame, gay male clients can learn how to access authenticity stemming from a position of internal mastery, perhaps for the very first time."
Joe Kort, PhD, LMSW, Author of 10 Things Gay Men Can Do To Improve Their Lives and Is My Husband Is Gay, Straight, or Bi? A Guide for Women Concerned About Their Men

"Rick Miller does an excellent job of educating therapists about gender and the subculture that gay men live in. The book delves into the complexities of being gay, defining day-to-day struggles but also those that have been hidden due to growing up gay. Central to these struggles are definitions of masculinity, including conflicts between mainstream concepts of maleness and those that emerge from different gay male subcultures. I love the fact that the book provides scripts and a 'how to' approach to healing and mental health."
Anne Fausto-Sterling, PhD, Brown University, Author of Myths of Gender: Biological Theories about Women and Men

As a couple therapist who works with clients representing a range of gender orientations, I welcome Rick Miller's new book of tools for therapists working with gay men. Skills to work with LGBT clients have not historically been part of standard training for therapists or couple therapists, so unfortunately many resort to making things up as they go. Rick offers awareness, insight, and sensitivity, as well as a wealth of examples and exercises. I especially like how his book weaves together awareness and growth for the client as well as for the therapist. This book should be a part of every therapist's arsenal.
Stan Tatkin, PsyD, MFT, Author, Wired for Love
Other Associated Products:

Satisfaction Guarantee
Your satisfaction is our goal and our guarantee. Concerns should be addressed to PESI, P.O. Box 1000, Eau Claire, WI 54702-1000 or call (800) 844-8260.

ADA Needs
We would be happy to accommodate your ADA needs; please call our Customer Service Department for more information at (800) 844-8260,