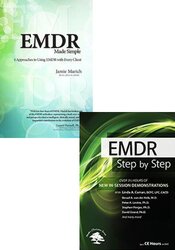 Product Details
Format:

Package - Video & Book

Authors:

JAMIE MARICH, PHD, LPCC-S, LICDC-CS, REAT
LINDA CURRAN, BCPC, LPC, CAADC, CCDP

Publisher:

PESI Inc.

Copyright:

4/19/2016

CE Available:

Yes, See CE credit tab for complete continuing education details

Product Code:

RVKIT052473
Objectives
[+]
[-]
051150 - EMDR: Step by Step
Establish the prerequisites of EMDR as it relates to clinical practice.
Communicate the theory behind resource development and installation in a clinical setting.
Communicate the theory behind resource development and installation (RDI) and (client-driven) imaginal resources.
Utilize clinical strategies for grounding and centering traumatized clients.
Summarize how EMDR is used for processing traumatic memories as it relates to clinical practice.
Determine the eight phases of EMDR's standard protocol in relation to assessment and treatment planning.
Analyze the efficacy of EMDR to process past trauma as it related to treatment outcomes.
Outline
[+]
[-]
051150 - EMDR: Step by Step
EMDR: A Tool for Trauma
Introduction & Course Outline
EMDR Readiness Checklist (Part 1)
Stage Model of Therapy
EMDR Readiness Checklist (Part 2)
Informed Consent Summary
A Word on Crisis Plans
Client Demonstrations

EMDR Readiness Checklist
The Theratapper

"Tapping In" Imaginal Resources
Client Demonstrations - "Tapping In" Imaginal Resources

Comfortable Place
Nurturing Figure
Protector Figure
Container

Cited and Recommended Readings
Ideas for Imaginal Resources
Client Demonstration - "Tapping In" Imaginal Resources

Container & Comfortable Place

EMDR Research-Based Standard Protocol
Client Demonstration

Research-Based Standard Protocol

EMDR Clinically-Based Modified Protocol
Client Demonstrations - Modified Protocol

Dave's First EMDR Session, Processing His Worst Traumatic Memory
Live Demonstration with Sandy
Dave's Second EMDR Session, Processing His First Traumatic Memory
Jamie's First EMDR Session - Future Template

Thank You & Additional Resources
Limitations of Research and Potential Risk

Contraindications and precautions for reprocessing trauma
Differences in theory and in the associated neurophysiological models are a matter of ongoing discussion
Author
JAMIE MARICH, PHD, LPCC-S, LICDC-CS, REAT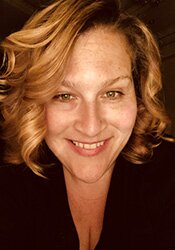 Jamie Marich, PhD, LPCC-S, LICDC-CS, REAT,
describes herself as a facilitator of transformative experiences. A clinical trauma specialist, expressive artist, writer, yogini, performer, short filmmaker, Reiki master, TEDx speaker, and recovery advocate, she unites all of these elements in her mission to inspire healing in others. She began her career as a humanitarian aid worker in Bosnia-Hercegovina from 2000-2003, primarily teaching English and music. Jamie travels internationally teaching on topics related to trauma, EMDR therapy, expressive arts, mindfulness, and yoga, while maintaining a private practice in her home base of Warren, OH. Marich is the founder of the Institute for Creative Mindfulness and the developer of the
Dancing Mindfulness
practice to expressive arts therapy. She is also the co-creator of the Yoga Unchained approach to trauma-informed yoga, and the developer of
Yoga for Clinicians
.
Marich is the author of
EMDR Made Simple: 4 Approaches for Using EMDR with Every Client
(2011),
Trauma and the Twelve Steps: A Complete Guide for Recovery Enhancement
(2012),
Creative Mindfulness
(2013),
Trauma Made Simple: Competencies in Assessment, Treatment, and Working with Survivors
, and
Dancing Mindfulness: A Creative Path to Healing and Transformation
(2015). Marich co-authored
EMDR Therapy & Mindfulness for Trauma-Focused Care
along with colleague Dr. Stephen Dansiger, which was released with Springer Publishing in 2017.
Process Not Perfection: Expressive Arts Solutions for Trauma Recovery
, released in April 2019. North Atlantic Books published a revised and expanded edition of
Trauma and the 12 Steps
, in the Summer of 2020. The New York Times featured Marich's writing and work on
Dancing Mindfulness
in 2017. NALGAP: The Association of Gay, Lesbian, Bisexual, Transgender Addiction Professionals and Their Allies awarded Jamie with their esteemed President's Award in 2015 for her work as an LGBT advocate. The EMDR International Association (EMDRIA) granted Jamie the 2019 Advocacy in EMDR Award for her using her public platform in media and in the addiction field to advance awareness about EMDR therapy and to reduce stigma around mental health.
Speaker Disclosures:
Speaker Disclosures: Financial: Jamie Marich is the Founder/Director of Mindful Ohio and The Institute for Creative Mindfulness. She receives royalties as an author for PESI Publishing and Media. Dr. Marich receives a speaking honorarium from PESI, Inc.
Non-financial: Jamie Marich has no relevant non-financial relationship to disclose.
LINDA CURRAN, BCPC, LPC, CAADC, CCDP
Linda A. Curran, BCPC, LPC, CAADC, CCDP
, Sought after national trainer, best-selling author and film producer, Linda has trained thousands of mental health clinicians across the country on trauma treatment. She is President of Integrative Trauma Treatment, LLC, in Havertown, PA. With advanced degrees in both clinical psychology and public health, Linda is a Board Certified, Licensed Professional Counselor; Certified Addiction Counselor Diplomate; Certified Co-Occurring Professional Diplomate; Certified Gestalt Therapist; Certified Neurofeedback Practitioner; Certified Hypnotherapist; and Level II EMDR Practitioner.
International speaker on the treatment of trauma, author of both
Trauma Competency: A Clinicians Guide
and
101 Trauma-Informed Interventions
, Linda has developed, produced, and presents multi-media workshops on all aspects of psychological trauma. Her latest projects include the completion of
www.trauma101.com
(an extensive trauma resource for clinicians and clients alike), along with nine completed video projects for
The Master Clinician Series.
Linda continues to advocate for accessible, coherent, integrative trauma treatment for all those affected by trauma.
Speaker Disclosures:
Financial: Linda Curran maintains a private practice. She receives a speaking honorarium from PESI, Inc.
Nonfinancial: Linda Curran is an advisory board member for International Association of Trauma Professionals. She is a member of the American Counseling Association; and the Association for Advancement of Gestalt Therapy.
Continuing Education Credits Awarded for Completion of Entire Package
[+]
[-]
Combined Continuing Education Credit From All Components
Breakdown of Continuing Education Credits by Components
[+]
[-]
043890 - EMDR Made Simple
[+]
[-]
051150 - EMDR: Step by Step
Audience
Addiction Counselors, Case Managers, Marriage and Family Therapists, Psychologists, Social Workers and other Mental Health Professionals
Reviews
[+]
[-]
043890 - EMDR Made Simple: 4 Approaches to Using EMDR with Every Client
"Kudos to Dr. Marich for cutting through the dogma and ideology that so often surrounds new approaches and creating a practical, how-to volume on EMDR."
- Scott Miller, Ph.D.
Author of The Heart and Soul of Change: Delivering What Works in Therapy

"With her four faces of EMDR, Marich has broken out of the EMDR orthodoxy representing a fresh new voice and perspective that is intelligent, clinically sound and an important contribution to the evolution of EMDR."
- Laurell Parnell, Ph.D., EMDR expert, trainer Private Practice, Las Vegas, NV
Author of the bestselling A Therapist's Guide to EMDR

"After completing both Part I and II EMDR training I felt somewhat lost in how to tailor my personal approach with clients while maintaining the integrity of the EMDR method. Dr. Marich's book not only illuminated the way for me but gave me the confidence I needed to expand my private practice using EMDR. Her vast clinical experience, directed resources and practical hands on examples demonstrated to me the usefulness of EMDR for a range of clients. EMDR Made Simple is an easy to read guide to EMDR greatly influenced by Dr. Marich's friendly and very personable style. Her 4 approaches to EMDR allow the reader to find a mode that works for them while not compromising the best practices efficacy of the EMDR protocol."
- Karen Anderson, M.S., LMFT
Private Practice, Las Vegas, NV

"I am convinces that eye-movement desensitization and reprocessing (EMDR) is the most important psychological discovery since Freud. The only problem seems to be the early EMDR researchers, who were very successful in terms of demonstrating that clinical efficacy of EMDR, may have prematurely 'locked into' a rather strict protocol that could have benefited from some improvements along the way. Dr. Marich provides a very thoughtful analysis of this issue. Her work will do much to help us evaluate both the future of EMDR, and many of its various derivatives."
- Allan Botkin, Psy.D.
Author of Induced After Death Communication: A New Therapy for Healing Grief and Trauma

"Unlike many authors and EMDR practitioners who have attempted to -and for decades have succeeded in- shrouding this efficient, effective trauma modality in secrecy and mystique- imbuing fear and doubt in many trauma-competent clinicians, Marich clarifies, simplifies and sheds much needed light on this heretofore esoteric process. Thank you for a well-written, common sense, hands-on elucidation of EMDR. If EMDR Made Simple was the first book on this subject a clinician were to read, it is close to a guarantee that it will be the first of many."
- Linda Curran, BCPC, LPC, CACD, CCPD
Author of Trauma competency: A Clinician's Guide

"As a self-identified Protocol-Oriented EMDR Therapist, I applaud Dr. Marich for expanding the accessibility of the EMDR Approach even further. EMDR Made Simple…provides an inclusive scope sending a clear message of mutual respect while supporting an understanding of the EMDR Approach uniting the therapeutic community. A must read for all clinicians!"
- Earl Grey, Ph. D.
Author of Unify Your Mind: Connecting the Feelers, Thinkers, and Doers of Your Brain

"Dr. Marich has shown her years of wisdom and professional experience to write a captivating book on EMDR. Her touching stories about her own recovery from trauma will inspire the reader to empathize with the struggles of their patients. Dr. Marich uses her struggles as metaphors to help the reader understand complex treatment protocols while encouraging readers to adapt theory and protocol to their own personal style of therapy. This is a must read book for both beginning and experienced therapists."
- Douglas Darnall, Ph.D.
Author of Divorce Casualties and Beyond Divorce Casualties
Satisfaction Guarantee
Your satisfaction is our goal and our guarantee. Concerns should be addressed to PESI, P.O. Box 1000, Eau Claire, WI 54702-1000 or call (800) 844-8260.

ADA Needs
We would be happy to accommodate your ADA needs; please call our Customer Service Department for more information at (800) 844-8260.