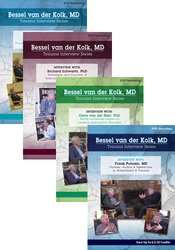 Product Details
Format:

Package - Video

Authors:

BESSEL A VAN DER KOLK, M.D.
FRANK PUTNAM, MD
ONNO VAN DER HART, PH.D.
PAT OGDEN, PHD
RICHARD C. SCHWARTZ, PHD

Publisher:

PESI Inc.

Copyright:

9/4/2017

CE Available:

Yes, See CE credit tab for complete continuing education details

Product Code:

RVKIT052461
Objectives
[+]
[-]
053040 - Bessel van der Kolk Trauma Interview Series:
Discuss the clinical implementations of the longitudinal study on childhood abuse as designed and conducted by Dr. Frank Putnam.
Summarize the trans-generational aspects of trauma and abuse as it informs the therapeutic approach.
Specify treatment methods that induce a state of change in the trauma client.
Provide psychoeducation on Dissociative Identity Disorder to improve client understanding of the disorder and the rationale of treatment methods used.
Articulate clinical strategies to assist the client out of their dissociative state and return their awareness back to the present.
Summarize the various results of the ACE study as discussed between Dr.'s van der Kolk and Putnam.
[+]
[-]
053175 - Bessel van der Kolk Interview Series:
Critique the DSM's categorization of PTSD as an anxiety disorder versus Dissociative Identity Order.
Explore how the work of Pierre Janet is relevant for current therapy models in evaluating trauma
Critique the nature of evidence-based treatments relative to trauma and the possibility of retraumatizing the client.
[+]
[-]
053360 - Bessel van der Kolk Trauma Interview Series:
Explore healing trauma through body movement therapies
Communicate important foundational aspects of Sensorimotor Psychotherapy
[+]
[-]
053545 - Bessel van der Kolk Trauma Interview Series:
Present the IFS Model and design ways to integrate IFS into your clinical practice.
Model how to work with clinician's own parts.
Outline
[+]
[-]
053040 - Bessel van der Kolk Trauma Interview Series:
Attachment and States of Change: Trauma Clients from Childhood to Adulthood
Bessel van der Kolk, MD introduces Frank Putnam, MD author of The Way We Are: How States of Mind Influence our Identities, Personality and Potential for Change
Dr. Putnam's early work and studies in rapid-cycling Bipolar and Dissociative Identity Disorder.
Physiology of DID
State Changes - the transitioning point between the state changes we make as children and adolescents
Attachment and attunement as children
4-generation longitudinal study conclusions of abused and normal children
Early Disrupted Attachments
Disorganized Attachment "Type D" as a pre-cursor of adulthood physiological and psychological illness
The mother's critical role: early patterns and intervening with a mother's first child
Childhood Abuse: The Adolescent Female
Cortisol levels
FSH levels
Biological versus behavioral aspects of trauma
Attachment as generational and reverberational qualities
The "Strange Man" study
Development and States of Change
Multiple layering of states
Moving in and out and transitions
Stuck states or slippery states
Meta-Cognitive Function & Executive Function
Functions of healthy attachment
Validation: the critical need to "be seen"
Genetics versus Trauma as effecting behavior
Implications for Treatment
The Ohio Home Visit Program Study: Working with Children and Mothers
2,000+ families in the study
Maternal depression
Substance Abuse
Domestic violence
Help mothers with state change
Games, mirroring
Role for therapist
Effectiveness of the study and public health
PCIT: Parent/Child Interaction Therapy
Neuroplasticity
Brain changes
Hyper-arousal states "burn out" leaving shutting down
Inducing A State of Change
Hypnosis - viable treatment that has fallen off the radar but still successful with trauma processing
The stages of stabilization
Intrusive states: not seen in PTSD alone
ACE Study, addiction and maladaptive temporary solutions
Basic training in the military: the classic state change success story
Self-compassion: a required element of Mindfulness
Latest Research and Evidence for Drug-Induced State Change
MDMA: PTSD and combat trauma, initial study results
Psilocybin - Frank's personal experience in a study
Language, Meaning and Context
Creating a coherent narrative
DSM III to DSM-5
Developing the Dissociative Experience Scale (DES)
Dissociative Identity Disorder: Story of the Scientist and the Study
The cyclical nature of studying trauma and dissociation of time
Lack of literature
Developing the longitudinal robust study
The DES
Discussion on the Brain Functions
Pre-frontal area
Anterior cingulate
Intrusive states
How do you help the client get out of the dissociated state?
Decrease triggers
Create safety
Substitute other behaviors
Self-monitoring: how to build that in the treatment
How to build stronger meta-cognitive functioning
Sensory integration: drumming, rhythm
Trans-generational Aspects of Trauma & Abuse
The predatory personality
Results of the longitudinal study over generations
Bethany Brand's (Towson University) online longitudinal study for client and clinician
The importance of "telling the truth"
Value of the histories the professional asks
How far to dig into the specifics of the trauma
[+]
[-]
053175 - Bessel van der Kolk Interview Series:
DSM and defining PTSD

The work of Pierre Janet: current contexts
PTSD as a Dissociative Identity Disorder vs. an Anxiety Disorder
Implications of seeing trauma as DID
Understanding people with "parts" - how to become a different therapist.
"Befriending self, allowing yourself to know what you know" - Bessel van der Kolk

Dis-association: a non-connection of parts

The confusion of nomenclature
Clinical implications involved in the assessment and treating "shutting down" of personality from dealing with DID

Traumatic memories

The recommencements of actions that happened at the time of the trauma - actions that require completion - Janet
What does this signify for contemporary therapy.
Dealing with "knowing when it's over" in practice
Facilitating completion of the action: Somatic and Sensorimotor therapy
Evidence based treatment methods and their limitation for trauma
Retraumatizing the client

Psychological tension: high and low mental energy & efficiency

The need to incorporate psychological tension in evaluation process
Helping the client explore enhancing this tension
[+]
[-]
053360 - Bessel van der Kolk Trauma Interview Series:
Background into Trauma

Lack of Improvement in Patients
Change Approach to Improve Therapeutic Outcomes

Body Focus versus Emotions Focus
Movement to Release Trauma
Sensations Awareness & Presence and Trauma
Attunement to Client
"The Missing Experience"
Movement Reluctance
The Body Tells the Story
Sensorimotor Psychotherapy

Addressing Movement and Psychological Beliefs
Clients Realizing Effects of their Actions

Foundations
[+]
[-]
053545 - Bessel van der Kolk Trauma Interview Series:
Internal Family Systems Therapy

The roles in IFS
The Self

How the Therapist Shows Their Parts
Working with Passive Clients
IFS Role-Play
The IFS Roles

Managers
Firefighters
Protectors
Exiles
Author
BESSEL A VAN DER KOLK, M.D.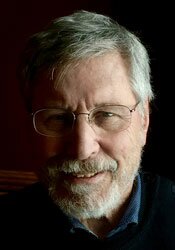 Bessel A. Van der Kolk, M.D.,
is a clinician, researcher and teacher in the area of post-traumatic stress. His work integrates developmental, neurobiological, psychodynamic and interpersonal aspects of the impact of trauma and its treatment.
Dr. van der Kolk and his various collaborators have published extensively on the impact of trauma on development, such as dissociative problems, borderline personality and self-mutilation, cognitive development, memory, and the psychobiology of trauma. He has published over 150 peer reviewed scientific articles on such diverse topics as neuroimaging, self-injury, memory, neurofeedback, Developmental Trauma, yoga, theater and EMDR.
He is founder of the Trauma Center in Brookline, Massachusetts and president of the Trauma Research Foundation, which promotes clinical, scientific and educational projects.
His 2014 #1
New York Times
best seller,
The Body Keeps the Score: Brain, Mind, and Body in the Treatment of Trauma
, transforms our understanding of traumatic stress, revealing how it literally rearranges the brain's wiring – specifically areas dedicated to pleasure, engagement, control, and trust. He shows how these areas can be reactivated through innovative treatments including neurofeedback, somatically based therapies, EMDR, psychodrama, play, yoga, and other therapies.
Dr. van der Kolk is the past president of the International Society for Traumatic Stress Studies, and professor of psychiatry at Boston University Medical School. He regularly teaches at conferences, universities, and hospitals around the world.
Speaker Disclosures:
Financial: Bessel van der Kolk is a professor of psychiatry at the Boston University School of Medicine. He receives a speaking honorarium from PESI, Inc.
Non-financial: Bessel van der Kolk has no relevant nonfinancial relationship to disclose.
FRANK PUTNAM, MD
Frank W. Putnam, M.D., is the Professor of Psychiatry at the University of North Carolina, Emeritus Professor of Pediatrics at Cincinnati Children's Hospital and author of The Way We Are: How States of Mind Influence our Identities, Personality and Potential for Change. Beginning with landmark studies of dissociative identity disorder (multiple personality) he has traced a developmental process across generations linking early childhood trauma with serious psychological, biological, and life course consequences.

Speaker Disclosures:

Financial: Frank Putnam is an author and receives royalties from Guilford Press and Ipbooks.

Nonfinancial: Frank Putnam has no relevant nonfinancial relationship to disclose.
ONNO VAN DER HART, PH.D.
Onno van der Hart, Ph.D., offers, nationally and internationally, training and consultation on trauma-related dissociation, complex trauma-related disorders including the dissociative disorders. A psychologist, adult psychotherapist, trained family therapist and researcher, he is Emeritus Professor of Psychopathology of Chronic Traumatization at the Department of Clinical and Health Psychology at Utrecht University, the Netherlands, and, until January 1, 2013, a psychologist/ psychotherapist at the Sinai Center for Mental Health, Amstelveen. He is clinical consultant of the Center for Post-Trauma Therapy and Trauma Education, Helsinki and Oulu, Finland. He was Chief of Research at the Cats-Polm Institute—a research institute in the area of childhood abuse and neglect—in Zeist and a lead psychotherapist, specialized in the treatment of clients with complex trauma-related disorders, at the Mental Health Center Buitenamstel in Amsterdam.

He has been on the Editorial Board of a number of scientific journals, and he has published several books in the area of trauma and dissociation, loss, and bereavement, and over 100 articles in peer-reviewed scientific journals. Onno van der Hart is a Past-President of the International Society for Traumatic Stress Studies (ISTSS), a former Vice-President and Fellow of the International Society for the Study of Dissociation and Fellow of the American Society of Clinical Hypnosis (ASCH). He is a scholar in Pierre Janet studies.

Prof. Van der Hart has worked with colleagues Ellert Nijenhuis, PhD, and Kathy Steele, MN, CS, on a theoretical approach on trauma-related dissociation of the personality and treatment model which unifies psychiatric disorders with a traumatic stress origin. Their combined efforts resulted, among other things, in the publication of their book, The Haunted Self: Structural Dissociation and the Treatment of Chronic Traumatization (New YorkLondon: W.W. Norton & Cie, 2006), for which they received the Media Award of the International Society for the Study of Trauma and Dissociation. A more recent, related publication is the book Coping with Trauma-related Dissociation: Skills Training for and Therapists, by Suzette Boon, Kathy Steele and Onno van der Hart (New YorkLondon: W. W. Norton & Co), for which the authors received the 2011 Pierre Janet Writing Award of the International Society for the Study of Trauma and Dissociation.

Speaker Disclosures:

Financial: Onno van der Hart is an author for W.W. Norton & Company, Inc. and received royalties.

Non-financial: Onno van der Hart has no relevant non-financial relationship to disclose.
PAT OGDEN, PHD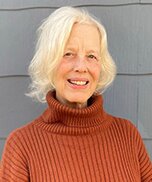 Pat Ogden, PhD,
is a pioneer in somatic psychology and both founder and education director of Sensorimotor Psychotherapy Institute®, an internationally recognized school specializing in somatic-cognitive approaches for the treatment of post-traumatic stress disorder and attachment disturbances. She is co-founder of the Hakomi Institute, past faculty of Naropa University, a clinician, consultant, international lecturer and trainer, and first author of
Trauma and the Body: Sensorimotor Approach to Psychotherapy.
Her second book,
Sensorimotor Psychotherapy: Interventions for Trauma and Attachment
(2015), is a practical guide to integrate Sensorimotor Psychotherapy® into the treatment of trauma and attachment issues. Dr. Ogden, with colleagues, is currently developing Sensorimotor Psychotherapy® for children, couples and families.
Speaker Disclosures:
Financial: Pat Ogden is in private practice. She receives a speaking honorarium from PESI, Inc.
Non-financial: Pat Ogden is a member of the American Psychological Association.
RICHARD C. SCHWARTZ, PHD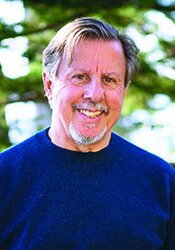 Richard Schwartz, Ph.D.,
earned his Ph.D. in marriage and family therapy from Purdue University, after which he began a long association with the Institute for Juvenile Research at the University of Illinois at Chicago, and more recently at The Family Institute at Northwestern University, attaining the status of associate professor at both institutions. He is co-author, with Michael Nichols, of
Family Therapy: Concepts and Methods,
the most widely used family therapy text in the United States.
Dr. Schwartz developed Internal Family Systems in response to clients' descriptions of experiencing various parts – many extreme – within themselves. He noticed that when these parts felt safe and had their concerns addressed, they were less disruptive and would accede to the wise leadership of what Dr. Schwartz came to call the "Self." In developing IFS, he recognized that, as in systemic family theory, parts take on characteristic roles that help define the inner world of the clients. The coordinating Self, which embodies qualities of confidence, openness, and compassion, acts as a center around which the various parts constellate. Because IFS locates the source of healing within the client, the therapist is freed to focus on guiding the client's access to his or her true Self and supporting the client in harnessing its wisdom. This approach makes IFS a non-pathologizing, hopeful framework within which to practice psychotherapy. It provides an alternative understanding of psychic functioning and healing that allows for innovative techniques in relieving clients symptoms and suffering.
In 2000, Richard Schwartz founded The Center for Self Leadership in Oak Park, Illinois. Dr. Schwartz is a featured speaker for many national psychotherapy organizations and a fellow of the American Association for Marriage and Family Therapy, and he serves on the editorial boards of four professional journals. He has published four books and over 50 articles about IFS. His books include
Internal Family Systems Skills Training Manual
(with Frank Anderson, M.D. and Martha Sweezy, Ph.D.) (PESI, 2017),
Internal Family Systems Therapy
(Guilford Press, 1997),
Introduction to the Internal Family Systems Model
(Tarcher, 2001), and
The Mosaic Mind
(with Regina Goulding) (Trailheads, 2003), as well as
Metaframeworks
(with Doug Breunlin and Betty Karrer) (Jossey-Bass, 1997). Dr. Schwartz lives and practices in Brookline, MA and is on the faculty of the Department of Psychiatry, Harvard School of Medicine.
Speaker Disclosures:
Speaker Disclosures: Speaker Disclosure Financial: Richard Schwartz is the Founder of The Center for Self Leadership. He receives a speaking honorarium from PESI, Inc.
Non-financial: Richard Schwartz is a Fellow and member of the American Association for Marital and Family Therapy.
Continuing Education Credits Awarded for Completion of Entire Package
[+]
[-]
Combined Continuing Education Credit From All Components
Breakdown of Continuing Education Credits by Components
[+]
[-]
053040 - Bessel van der Kolk Trauma Interview Series:
[+]
[-]
053175 - Bessel van der Kolk Interview Series:
[+]
[-]
053360 - Bessel van der Kolk Trauma Interview Series:
[+]
[-]
053545 - Bessel van der Kolk Trauma Interview Series:
Audience
Psychologists, Social Workers, Counselors, Addictions Counselors, Marriage & Family Therapists, and Other Mental Health Professionals, Psychotherapists, Addiction Counselors, Case Managers, Nurses
Satisfaction Guarantee
Your satisfaction is our goal and our guarantee. Concerns should be addressed to PESI, P.O. Box 1000, Eau Claire, WI 54702-1000 or call (800) 844-8260.

ADA Needs
We would be happy to accommodate your ADA needs; please call our Customer Service Department for more information at (800) 844-8260.