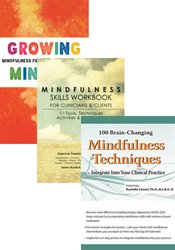 Product Details
Format:

Package - Video & Book

Authors:

MITCH R ABBLETT, PH.D.
CHRISTOPHER WILLARD, PSY.D.
DEBRA BURDICK, LCSW, BCN

Publisher:

PESI Publishing & Media

Copyright:

7/15/2016

CE Available:

Yes, See CE credit tab for complete continuing education details

Product Code:

RVKIT049860

ISBN:

9781559570398
Objectives
[+]
[-]
047070 - 100 Brain-Changing Mindfulness Techniques to Integrate Into Your Clinical Practice
Motivate clients to engage in treatment with understandable psychoeducational explanations regarding the research and practices associated with mindfulness.
Formulate treatment plans for anxiety that include mindfulness techniques that can be used to regulate the client's arousal state.
Integrate mindfulness interventions into therapy that can help depressed clients manage negative thoughts and reduce the risk of relapse.
Articulate how mindfulness training can be used as an adjunctive therapy with evidence-based treatment to enhance attention in clients with attention deficit hyperactivity disorder (ADHD).
Communicate how mindfulness-based approaches can help clients observe internal reactions and establish how this information can be used in the treatment of posttraumatic stress symptoms.
Instruct clients with obsessive-compulsive disorder (OCD) on the utilization of mindfulness skills that can facilitate disengagement from repetitive thoughts.
Outline
[+]
[-]
047070 - 100 Brain-Changing Mindfulness Techniques to Integrate Into Your Clinical Practice
From Mindfulness
What is Neuroplasticity and why do we care?
Cutting edge research that proves
Mindfulness changes the brain for specific disorders
Clinical Application of Mindfulness Strategies to Specific Disorders
Anxiety

Calm the arousal state and relax mind and body
Reduce anxious thoughts
Focus on the present

Depression

Notice and decrease negative thoughts
Shift and improve mood state
Increase pleasure

PTSD

Notice and calm the arousal state
Improve ability to stay grounded in the present
Reduce traumatic thoughts

Panic

Abort and prevent panic attacks
Reduce frequency and intensity of panic attacks

Bipolar Disorder

Increase awareness of mood state
Stabilize mood over time

OCD

Increase awareness of obsessive thoughts and compulsive behaviors
Decrease obsessional thinking and compulsions

ADHD

Improve concentration
Increase task completion
Reduce hyperactivity

Stress

Calm the arousal state
Lower the stress response

Anger

Increase awareness of thoughts, emotions and physical body
Manage anger
Reduce intensity and frequency of anger

Pain

Accept and embrace the pain
Relax around the pain
Distract from pain
Remember wellness

Sleep

Calm busy thoughts
Relax the mind and body
Fall asleep and stay asleep
How to Integrate Mindfulness into Clinical Practice
Introduce Mindfulness to Clients
How to do the exercises with your client
Techniques to increase client use of
Mindfulness at home
Strategies for processing what happens with your client
Strategies to identify and overcome obstacles and resistance
Author
MITCH R ABBLETT, PH.D.
Mitch Abblett, Ph.D., is a licensed clinical psychologist, clinical administrator, supervisor and trainer. He has appeared on local and regional television programs in New England, and has written in professional periodicals regarding children's mental health needs. Dr. Abblett also serves as the Clinical Director of Judge Baker Children's Center's Manville School, a well-established therapeutic day school for special education children with significant learning, emotional and behavior challenges. In addition to his work with emotionally-behaviorally disordered children, Dr. Abblett has also worked with a variety of populations presenting difficult behavior patterns (aggression, trauma reactivity, combat veterans, sexual perpetration, and addiction). Dr. Abblett has conducted numerous trainings regarding clinical work with difficult populations, and is a dynamic, engaging speaker.


Speaker Disclosures:

Financial: Dr. Mitch Abblett is the Clinical Director of the Manville School/Judge Baker Children's Center. He is an adjunct faculty member at the Massachusetts School for Professional Psychology. He maintains a private practice. Dr. Abblett receives a speaking honorarium from PESI, Inc.

Non-financial: Dr. Mitch Abblett is a member of the American Psychological Association.
CHRISTOPHER WILLARD, PSY.D.
Christopher Willard, Psy. D.,
is one of the world's leading experts on mindfulness with young people, having trained thousands of professionals and young people on the practice and benefits of mindfulness. He is a psychologist and consultant based in Boston, working individually as well as consulting to schools, hospitals and other organizations. Additionally, he is the author of multiple books on psychology, child development, contemplative practice and more. Dr. Willard is the president of the Mindfulness in Education Network and serves on the board of directors at the Institute for Meditation and Psychotherapy. In addition to serving on the faculty of Harvard Medical School, Dr. Willard leads courses and workshops around the world and online. You can find his website at
drchristopherwillard.com,
where you can watch his TEDx talks and learn more about his books and work. Dr. Willard is the author of
Child's Mind
(2010),
Growing Up Mindful
(2016) and three other books. He is the co-author of the bestselling
Growing Mindful
and
Growing Happy
card decks.
When not working, he enjoys time with his family, traveling, cooking, eating, hiking, writing and any combination of these he can manage.
Speaker Disclosures:
Financial: Christopher Willard maintains a private practice. He receives royalties as an author for New Harbinger Publishing, Guilford Press, and Parallax Press. Dr. Willard is the president of the Mindfulness in Education Network. He is on the board of directors at the Institute for Meditation and Psychotherapy and is faculty of Harvard Medical School. Dr. Willard receives a speaking honorarium from PESI, Inc.
Non-financial: Christopher Willard has no relevant non-financial relationship to disclose.
DEBRA BURDICK, LCSW, BCN
Debra Burdick, LCSW, BCN,
also known as 'The Brain Lady', is a Licensed Clinical Social Worker and a board certified neurofeedback practitioner. Deb is an international speaker and author of the best-selling books,
Mindfulness Skills Workbook for Clinicians and Clients: 111 Tools, Techniques, Activities & Worksheets,
and
Mindfulness Skills for Kids & Teens, A Workbook for Clinicians and Clients with 154 Tools, Techniques, Activities and Worksheets
and has taught mindfulness skills to her clients for over 25 years.
She recently retired from her private practice, and previously worked at the Child Guidance Clinic, Family Services, Child and Family Agency, and Lawrence and Memorial Hospital.
Debra incorporates mindfulness skills in all areas of her practice. She initially became interested in mindfulness to deal with a chronic illness (now thankfully healed). She found it so helpful in her own life that she started teaching her clients the skills she was using. She went on to develop clinical material on mindfulness skills and created a four-step process for working with clients using mindfulness that she perfected in her private practice and in an intensive outpatient program. Her clients have shown her that mindfulness skills improve the rate and quality of treatment outcomes.
Debra has presented numerous presentations, workshops, and teleseminars. She is often interviewed on Internet radio and telesummits and her work has been featured in
The Day
newspaper,
Self-Improvement Magazine,
and "Parenting Powers" television shows. She is an expert author on
SelfGrowth.com
.
Speaker Disclosures:
Financial: Debra Burdick maintains a private practice. She is an author for Vervante publishers and receives royalties. She receives a speaking honorarium from PESI, Inc.
Non-financial: Debra Burdick contributes to SelfGrowth.com and receives no compensation.
Continuing Education Credits Awarded for Completion of Entire Package
[+]
[-]
Combined Continuing Education Credit From All Components
Breakdown of Continuing Education Credits by Components
[+]
[-]
045840 - Mindfulness Skills Workbook for Clinicians and Clients: 111 Tools, Techniques, Activities & Worksheets
[+]
[-]
047070 - 100 Brain-Changing Mindfulness Techniques to Integrate Into Your Clinical Practice
[+]
[-]
084070 - Growing Mindful Card Deck
Audience
Psychologists, Counselors, Social Workers, Case Managers, Addiction Counselors, Marriage & Family Therapists, Nurses, Occupational Therapists & Occupational Therapy Assistants, and other Mental Health Professionals
Reviews
[+]
[-]
045840 - Mindfulness Skills Workbook for Clinicians and Clients: 111 Tools, Techniques, Activities & Worksheets
"Debra Burdick has written a gem of a book on mindfulness. As a guide for clinicians, the book has everything: no-nonsense, clear style; plenty of background info; tie-ins with research; excellent illustrations; and plenty of original experiential tools for introducing mindfulness and leveraging motivation and compliance. This is the kind of resource on mindfulness that you are not just going to skim through: you are going to copy and dog-ear and share this book with your colleagues and your clients. This just might be the last guide to teaching mindfulness that you buy."
-Pavel Somov, Ph.D., author of Present Perfect, Reinventing the Meal and Anger Management Jumpstart
Satisfaction Guarantee
Your satisfaction is our goal and our guarantee. Concerns should be addressed to PESI, P.O. Box 1000, Eau Claire, WI 54702-1000 or call (800) 844-8260.

ADA Needs
We would be happy to accommodate your ADA needs; please call our Customer Service Department for more information at (800) 844-8260,