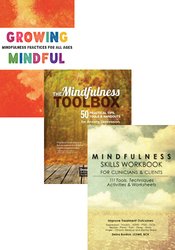 Product Details
Format:

Package

Authors:

MITCH R ABBLETT, PH.D.
CHRISTOPHER WILLARD, PSY.D.
DONALD ALTMAN, M.A., LPC
DEBRA BURDICK, LCSW, BCN

Publisher:

PESI Publishing & Media

Copyright:

10/1/2015

CE Available:

No, CE credit is not available

Product Code:

KIT049850

ISBN:

9781559570398
Author
MITCH R ABBLETT, PH.D.
Mitch Abblett, Ph.D., is a licensed clinical psychologist, clinical administrator, supervisor and trainer. He has appeared on local and regional television programs in New England, and has written in professional periodicals regarding children's mental health needs. Dr. Abblett also serves as the Clinical Director of Judge Baker Children's Center's Manville School, a well-established therapeutic day school for special education children with significant learning, emotional and behavior challenges. In addition to his work with emotionally-behaviorally disordered children, Dr. Abblett has also worked with a variety of populations presenting difficult behavior patterns (aggression, trauma reactivity, combat veterans, sexual perpetration, and addiction). Dr. Abblett has conducted numerous trainings regarding clinical work with difficult populations, and is a dynamic, engaging speaker.


Speaker Disclosures:

Financial: Dr. Mitch Abblett is the Clinical Director of the Manville School/Judge Baker Children's Center. He is an adjunct faculty member at the Massachusetts School for Professional Psychology. He maintains a private practice. Dr. Abblett receives a speaking honorarium from PESI, Inc.

Non-financial: Dr. Mitch Abblett is a member of the American Psychological Association.
CHRISTOPHER WILLARD, PSY.D.
Christopher Willard, Psy. D.,
is one of the world's leading experts on mindfulness with young people, having trained thousands of professionals and young people on the practice and benefits of mindfulness. He is a psychologist and consultant based in Boston, working individually as well as consulting to schools, hospitals and other organizations. Additionally, he is the author of multiple books on psychology, child development, contemplative practice and more. Dr. Willard is the president of the Mindfulness in Education Network and serves on the board of directors at the Institute for Meditation and Psychotherapy. In addition to serving on the faculty of Harvard Medical School, Dr. Willard leads courses and workshops around the world and online. You can find his website at
drchristopherwillard.com,
where you can watch his TEDx talks and learn more about his books and work. Dr. Willard is the author of
Child's Mind
(2010),
Growing Up Mindful
(2016) and three other books. He is the co-author of the bestselling
Growing Mindful
and
Growing Happy
card decks.
When not working, he enjoys time with his family, traveling, cooking, eating, hiking, writing and any combination of these he can manage.
Speaker Disclosures:
Financial: Christopher Willard maintains a private practice. He receives royalties as an author for New Harbinger Publishing, Guilford Press, and Parallax Press. Dr. Willard is the president of the Mindfulness in Education Network. He is on the board of directors at the Institute for Meditation and Psychotherapy and is faculty of Harvard Medical School. Dr. Willard receives a speaking honorarium from PESI, Inc.
Non-financial: Christopher Willard has no relevant non-financial relationship to disclose.
DONALD ALTMAN, M.A., LPC
Donald Altman, M.A., LPC, is a psychotherapist, award-winning writer, former Buddhist monk, teacher and an adjunct professor at Lewis and Clark Graduate School of Education and Counseling. He is also a faculty member of the Interpersonal Neurobiology program at Portland State University and teaches various classes blending mindfulness and Interpersonal Neurobiology.

A prolific writer whose career spans more than 25 years, Donald has authored several pioneering books on mindfulness, beginning with his 1998 Art of the Inner Meal. His book, The Mindfulness Code was named as "One of the Best Spiritual Books of 2010." He has also authored Meal By Meal, Living Kindness, One Minute Mindfulness, The Joy Compass, The Mindfulness Toolbox: 50 Practical Tips, Tools & Handouts for Anxiety, Depression, Stress & Pain and his newest book, 101 Mindful Ways to Build Resilience: Cultivate Calm, Clarity, Optimism & Happiness Each Day.

In addition to his books, Donald was a staff writer for an EMMY-Award winning children's television show ("The Magic Door", CBS Chicago), won an American Medical Writer's Association award, co-created the first interactive comic strip on America Online, and has had articles appear in New Age Journal, the Los Angeles Times, and Independent Business Magazine, among others.

Donald reaches out to the professional community by serving as the vice president of The Center for Mindful Eating. Donald works extensively with mindful meditation in his own life, as well as offering these tools to others through his books and classes. He teaches mindfulness and spiritual values around the country. He is dedicated to bringing these ancient practices in tune with modern living and to invite wellness into our stress-filled lives. Donald is also a member of the Burma Buddhist Association. An avid motorcyclist, he enjoys riding his motorcycle along the beautiful Oregon coast.

Speaker Disclosures:

Speaker Disclosures: Financial: Donald Altman is in private practice. He is an Adjunct Faculty member of the Interpersonal Neurobiology Program at Portland State University. Mr. Altman receives a speaking honorarium from PESI, Inc.

Non-financial: Donald Altman has no relevant non-financial relationship to disclose.
DEBRA BURDICK, LCSW, BCN
Debra Burdick, LCSW, BCN,
also known as 'The Brain Lady', is a Licensed Clinical Social Worker and a board certified neurofeedback practitioner. Deb is an international speaker and author of the best-selling books,
Mindfulness Skills Workbook for Clinicians and Clients: 111 Tools, Techniques, Activities & Worksheets,
and
Mindfulness Skills for Kids & Teens, A Workbook for Clinicians and Clients with 154 Tools, Techniques, Activities and Worksheets
and has taught mindfulness skills to her clients for over 25 years.
She recently retired from her private practice, and previously worked at the Child Guidance Clinic, Family Services, Child and Family Agency, and Lawrence and Memorial Hospital.
Debra incorporates mindfulness skills in all areas of her practice. She initially became interested in mindfulness to deal with a chronic illness (now thankfully healed). She found it so helpful in her own life that she started teaching her clients the skills she was using. She went on to develop clinical material on mindfulness skills and created a four-step process for working with clients using mindfulness that she perfected in her private practice and in an intensive outpatient program. Her clients have shown her that mindfulness skills improve the rate and quality of treatment outcomes.
Debra has presented numerous presentations, workshops, and teleseminars. She is often interviewed on Internet radio and telesummits and her work has been featured in
The Day
newspaper,
Self-Improvement Magazine,
and "Parenting Powers" television shows. She is an expert author on
SelfGrowth.com
.
Speaker Disclosures:
Financial: Debra Burdick maintains a private practice. She is an author for Vervante publishers and receives royalties. She receives a speaking honorarium from PESI, Inc.
Non-financial: Debra Burdick contributes to SelfGrowth.com and receives no compensation.
Continuing Education Credits Awarded for Completion of Entire Package
[+]
[-]
Combined Continuing Education Credit From All Components
Breakdown of Continuing Education Credits by Components
[+]
[-]
045840 - Mindfulness Skills Workbook for Clinicians and Clients
[+]
[-]
082210 - The Mindfulness Toolbox
[+]
[-]
084070 - Growing Mindful Card Deck
Reviews
[+]
[-]
045840 - Mindfulness Skills Workbook for Clinicians and Clients: 111 Tools, Techniques, Activities & Worksheets
"Debra Burdick has written a gem of a book on mindfulness. As a guide for clinicians, the book has everything: no-nonsense, clear style; plenty of background info; tie-ins with research; excellent illustrations; and plenty of original experiential tools for introducing mindfulness and leveraging motivation and compliance. This is the kind of resource on mindfulness that you are not just going to skim through: you are going to copy and dog-ear and share this book with your colleagues and your clients. This just might be the last guide to teaching mindfulness that you buy."
-Pavel Somov, Ph.D., author of Present Perfect, Reinventing the Meal and Anger Management Jumpstart
[+]
[-]
082210 - The Mindfulness Toolbox


PRAISE FOR THE MINDFULNESS TOOLBOX:

"The ceaselessly creative Donald Altman, in his never-ending quest to make mindfulness practice accessible to anyone motivated to learn it, has once again broached new ground in elaborating simple, useful techniques for applying mindfulness in everyday life. The Mindfulness Toolbox is a veritable wonderland of user-friendly implements of mindfulness practice, all laid out to maximize a new (and maybe not-so-new) practitioner's ability to effectively use applied mindfulness. The Mindfulness Toolbox will be a tremendous aid and benefit to all people who practice and teach mindfulness."

~ Jeffrey M. Schwartz, M.D., author of Brain Lock and You Are Not Your Brain


"There is an old Russian fable about a swan, a pike and a crawfish pulling a horse cart in three different directions, with a predictable result: the cart is hopelessly stuck. Sometimes I think of the field of psychotherapy as too being pulled in all kinds of different directions. Each school of thought, each wave of thinking, each clinical breakthrough not only moves the field along some relative continuum of evolution, but also asunder. The novelty junkies that we all are, we don't miss a beat: we rush to update and to upgrade our clinical software with each CEU we earn. Clinician-authors such Donald Altman pull the field back together. They hold it grounded and unified around such ancient centers of therapeutic gravity as awareness and mindfulness. Altman's collection of tips and tools on how to introduce clients to the know-how of mindfulness has a powerfully anchoring force of field-tested clinical wisdom. Each of Altman's 50 mindfulness tips is a spoke on a wheel of wellbeing. Roll with it, clinician, if you feel professionally stuck."

~ Pavel Somov, Ph.D., author of Anger Management Jumpstart, Present Perfect and Eating the Moment


"Much like any healing prescription, The Mindfulness Toolbox skillfully reduces pain and fosters balance by getting to the root cause of the symptoms. If you want to expand your mindfulness repertoire, you won't find a more complete and practical set of key techniques, handouts, and ideas. You'll even be guided as to which tools fit together, such as tools for sensing the body, tools for meditation, and tools for getting into the present moment. With a large dose of awareness, clarity, precision, simplicity, and insight, Donald Altman has given us a potent and worthwhile medicine for inviting well-being, acceptance, and inner peace."

~ Paul Harrison, creator and producer of The Mindfulness Movie, and author of Where's My Zen? and The Ten Paradoxes: The Science of Where's My Zen?


"Mindfulness has swept through the mental health profession in the past several decades and plays a major role in important modalities such as DBT, ACT, Mindfulness-Based Cognitive Therapy for Depression, Mindfulness-Based Relapse Prevention and others. Whether or not you are trained in any of these modalities, The Mindfulness Toolbox by Donald Altman is the resource you need to strengthen your use of mindfulness with a wide variety of clients. Altman is an experienced and loving guide to lead you through the mindfulness landscape. His new book presents a comprehensive set of highly practical, effective techniques, tools and handouts that will enable you to skillfully utilize mindfulness in your clinical work. The easy-to-use interventions for anxiety, depression, stress and pain are described in clear language that reflects the kindness and beauty of mindfulness. The Mindfulness Toolbox will not only improve your effectiveness with clients, it will also enable you to more fully integrate into your personal life the emotional, psychological and spiritual wealth offered by mindfulness practice. If you have any interest in mindfulness, you should have The Mindfulness Toolbox as a resource."

~ Terry Fralich, LPC, JD, author of The Five Core Skills of Mindfulness and Cultivating Lasting Happiness


"Donald Altman's newest book, The Mindfulness Toolbox, is an important work for how it will reduce emotional and physical suffering in the world. Highly practical and well-organized, the book tackles the key areas of stress, anxiety, depression, and pain. The evident care and attention given to the guided scripts and handouts will help build the therapeutic relationship with patients—all the while guiding them gently and persistently toward a more expansive awareness and a deepened sense of self-compassion and self-acceptance. I highly recommend it."

~ Christopher Kennedy Lawford, best-selling author, Symptoms of Withdrawal, Recover to Live, and What Addicts Know


"In an era of high popularity for anything labeled with the word "Mindfulness", Altman has written a user-friendly and practical book that is as fun to read as it is helpful. He provides great handouts and suggestions for how to describe mindfulness to clients so that they can gain peace of mind when feeling anxious and optimism in the face of depression. Highly recommended."

~ John B. Arden, Ph.D., author of the Brain Bible


"This is a must-have book for every therapist using mindfulness approaches with clients. From the 10 'Tips' thru the 40 'Tools', Donald Altman shares his considerable wisdom, along with the sense of respect for both the client -- and the therapist. At the same time, the material is presented in a light and very usable style, from the clear outlines to the many client handouts."

~ Jean L. Kristeller, Ph.D., research and clinical psychologist, and developer of Mindfulness-Based Eating Awareness Training (MB-EAT)
Other Associated Products:

Satisfaction Guarantee
Your satisfaction is our goal and our guarantee. Concerns should be addressed to PESI, P.O. Box 1000, Eau Claire, WI 54702-1000 or call (800) 844-8260.

ADA Needs
We would be happy to accommodate your ADA needs; please call our Customer Service Department for more information at (800) 844-8260.