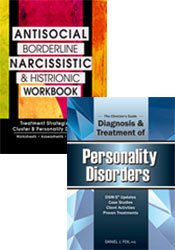 Product Details
Format:

Package

Author:

DANIEL J. FOX, PH.D.

Publisher:

PESI Inc.

Copyright:

10/1/2013

CE Available:

No, CE credit is not available

Product Code:

KIT049215
Author
DANIEL J. FOX, PH.D.
Daniel J. Fox, Ph.D., has been treating and specializing in the treatment and assessment of individuals with personality disorders for the last 14 years in the state and federal prison system, universities, and in private practice. He is a licensed psychologist in the state of Texas and has published several articles on personality, ethics, and neurofeedback. He is the author of The Clinician's Guide to Diagnosis and Treatment of Personality Disorders (PESI, 2013), Antisocial, Borderline, Narcissistic and Histrionic Workbook (PESI, 2015) and Narcissistic Personality Disorder Toolbox (PESI, 2018). His specialty areas include personality disorders, ethics, and emotional intelligence. Dr. Fox has been teaching and supervising students for the last 13 years at various universities across the country, some of which include West Virginia University, Texas A&M University, University of Houston, Sam Houston State University, and Florida State University. He is a staff psychologist at the Federal Detention Center in Houston, Texas, adjunct assistant professor at University of Houston, as well as maintaining a private practice that specializes in working with difficult clients. Dr. Fox has given numerous workshops and seminars on ethics and personality disorders, personality disorders and crime, emotional intelligence, managing mental health within the prison system, and others.

Speaker Disclosures:

Financial: Daniel Fox is in private practice. He receives royalties as an author for PESI Publishing & Media. Dr. Fox receives a speaking honorarium from PESI, Inc.

Non-financial: Daniel Fox has no relevant non-financial relationship to disclose.
Continuing Education Credits Awarded for Completion of Entire Package
[+]
[-]
Combined Continuing Education Credit From All Components
Breakdown of Continuing Education Credits by Components
[+]
[-]
045615 - The Clinician's Guide to the Diagnosis and Treatment of Personality Disorders
[+]
[-]
083610 - Antisocial, Borderline, Narcissistic and Histrionic Workbook
Reviews
[+]
[-]
045615 - The Clinician's Guide to the Diagnosis and Treatment of Personality Disorders
"Dr. Fox has effectively pulled together modern thinking, current research and historical perspective into an efficient approach for addressing personality disorders. He does this in a way that is straightforward and presents this distinctive collection of material in a manner that is a pleasure to read. One of the great features of this work is that it attends to therapist's ethical challenges and self-care needs specific to working with this often difficult population. Dr. Fox's Clinician's Guide to the Diagnosis and Treatment of Personality Disorders appears to be setting a standard for applied clinical reference in the age of DSM-5TM."
-Russell Wood, Ph.D.

"Dr. Fox has given clinicians a strong, straightforward grasp of personality disorders in his book The Clinician's Guide to the Diagnosis and Treatment of Personality Disorders. He also gathered all of the treatment modalities currently available that promotes movement for the client from their inflexible and pervasive patterns to develop skills that generate success. Whether you are a professional or supervisor looking for ways to support your practice or a general reader on a path of self-help, you can benefit from this clear, informative guide to understanding personality disorders."
-Lillian Solis-Smith, Ph.D., LPC, LMFT

"Daniel Fox has compiled, integrated, and analyzed a vast amount of information regarding the developing conceptualization of personality disorders. More than a targeted workbook, this text allows the practitioner to gain an in-depth understanding regarding the history of personality disorders, as well as the state of current research, diagnosis, and treatment for personality disorders as a whole and individually. In addition, the diagnosis and treatment recommendations are clear, well-founded in the literature, and provide an excellent framework for working with this difficult population. Moreover, this text provides information and tools which will prove useful in transitioning from the DSM-IV-TR to the DSM-5. It is well-written, practical, and useful for practitioners across the career spectrum.
-Ashley Christiansen, Ph.D.

"An exceptionally well thought-out and artful conceptualization of working with personality disordered clients. A great source material for the novice and seasoned clinician who is seeking practical knowledge and tools in treating personality disorders."
-Kevin Jacques Siffert, Ph.D.

"Daniel Fox has written an essential, masterful therapist manual on Personality Disordered individuals. This manual provides the therapist a well-organized resource for conceptualizing the client, and explaining personality disorders to family members in an open, authoritative and helpful way."
-Sharon M. Freeman Clevenger, MSN, MA, PMHCNS-BC

"I enjoyed reading your book. I found it very practical and helpful. Your writing style is great. I really appreciated the examples from film and literature, as well as your case examples. I found the checklists to be of extraordinary use. Thanks for what you do."
-Rev Daniel Good, JCL, ME, MDiv


[+]
[-]
083610 - Antisocial, Borderline, Narcissistic and Histrionic Workbook
"Full of concrete tools to make successful progress in treatment! The research provides a great foundation for the use of the materials and Dr. Fox has pulled from multiple resources to create tools clinicians and clients can both use to promote wellness and growth. I have found that the use of the workbook can be applicable in nearly every session I have with someone battling with a Cluster B personality disorder. After applying the concepts in this workbook I have found that Cluster B clients are not the same beasts in treatment that they were in the past."
Susan Barris, PhD

"Insightful for the therapist and easy-to-use with clients. The worksheets are very effective in assisting with a more accurate diagnosis of Cluster B personality types and, even more importantly, understanding the therapists own responses to the client (recognizing countertransference/treatment issues). This workbook is also helpful when needing to incorporate more tangible and structured treatment approaches into therapy. The DBT worksheets are easy to follow and use "client friendly" language and concepts."
Meagan N. Houston, PhD, SAP

"The collection of exercises for the clinician and the client are practical, useful, and empirically driven. This is a well written, easy to read, and thorough guide providing a framework and a level of confidence for the clinician facing the challenges of treating severe personality disorders."
Kristy Dromgoole, PhD

"This rich resource assists the clinician in avoiding errors in diagnosis that can often occur when working with clients with complex symptom presentations. Dr. Fox presents the material in a straightforward, easy-to-digest, manner that can be appreciated and utilized by all practitioners. Clinicians, regardless of their training background or theoretical orientation, will find this to be an invaluable resource in the diagnosis and treatment of Cluster B personality disorders."
Mary Madison Eagle, PhD

"Dr. Fox's passion for this subject shines through in the workbook format. This workbook can serve as both a reference and a helpful tool for gathering information. Dr. Fox's style of writing is clear and concise. I was able to take in the information quickly and see how useful the worksheets could be."
Kristin A. Lue King, MSW

"Personality disorders are common in clinical practice, but helpful resources are not. Dr. Fox answers the call with a workbook that will deepen your understanding of the assessment and treatment of Cluster B personalities, with a dedicated emphasis on handouts and worksheets that guide therapy and provide a catalyst for change. Enthusiastically recommended!"
Lane Pederson, PsyD, LP, DBTC, author of The Expanded Dialectical Behavior Therapy Skills Training Manual


Satisfaction Guarantee
Your satisfaction is our goal and our guarantee. Concerns should be addressed to PESI, P.O. Box 1000, Eau Claire, WI 54702-1000 or call (800) 844-8260.

ADA Needs
We would be happy to accommodate your ADA needs; please call our Customer Service Department for more information at (800) 844-8260.