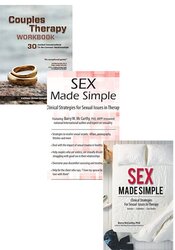 Product Details
Format:

Package - Video & Book Instructions

Details:

Multi-disc DVD recording (6 hours, 21 minutes) with electronic manual and instructions | Softcover Book 224 Pages. Softcover Work Book 136 Pages.

Authors:

BARRY W MCCARTHY, PHD, ABPP
KATHLEEN MATES-YOUNGMAN, M.A., LMFT

Publisher:

PESI Publishing & Media

Copyright:

2/27/2018

CE Available:

Yes, See CE credit tab for complete continuing education details

Product Code:

RVKIT049020
Objectives
[+]
[-]
030085 - Sex Made Simple: Clinical Strategies for Sexual Issues in Therapy
Analyze healthy and variant sexual desire comparisons and differences as it relates to clinical treatment.
Utilize a sexuality history assessment with your client to inform clinical treatment interventions
Develop a treatment plan using client's sexual strengths, vulnerabilities and problems assessment tool.
Explore anxiety, depression, PTSD and other mental health factors that may be impacting client's sexuality.
Incorporate strategies to aid with client's sexual and emotional recovery from affairs.
Suggest psychosexual skill exercises for clients to promote desire, pleasure, eroticism and satisfaction in affair recovery.
Outline
[+]
[-]
030085 - Sex Made Simple: Clinical Strategies for Sexual Issues in Therapy
Confidently Broach All Things Sex with Your Clients
Confront sex myths
Desire, pleasure, eroticism and satisfaction
Address issues of the role and meaning of sexual desire
Embrace the positive functions of sexuality in individual and couple therapy
Assess Sexual Issues with Individuals and Couples
Conduct a sexual history with your client (with confidence and effectiveness!)
Implement a comprehensive four session assessment model
Develop a treatment plan and identify goals through a sexual strengths, vulnerabilities and problem assessment
Sexual Challenges for Individual and Couple Therapy
Assist clients to take personal responsibility for sexual initiation and rejection
Issues of desire, sexual frequency and sexual power struggles
Confront sexual avoidance
Shame and vulnerability
Deal with Sexual Secrets
Sexual and emotional recovery from affairs
Pornography, prostitution, cross dressing, cybersex and other variant arousal issues
The problem and place for fetish-based desire
Issues of sexual orientation
Address Complex Emotional and Sexual Issues
Sexual issues with gay couples
Sexual dissatisfaction in relationships
Second marriages
Anxiety, depression, PTSD and other mental health issues that impact sexuality
Move toward healthy sex with clients who have a history of sexual trauma
Help Clients Maintain Satisfying, Secure, Sexual Lives
Psychosexual skill exercises to enhance comfort, attraction and trust
Sex past 60: Address issues of sexuality as we age
Sexual strategies with medical and medication issues
Cope with Infertility
Make the right referral: Urologist, gynecologist or therapist
Author
BARRY W MCCARTHY, PHD, ABPP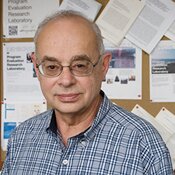 Barry W. McCarthy, PhD, ABPP,
is a board-certified clinical psychologist (ABPP), certified marital and sex therapist, and a tenured professor of psychology at American University. His clinical expertise focused on integrating sex therapy strategies and techniques into individual and couples therapy, assessment and treatment of the most common male and female sexual problems, and a special expertise in the treatment of sexual desire disorders.
Dr. McCarthy earned his BA from Loyola University and his MA and PhD from Southern Illinois University. His professional memberships include the American Psychological Association, American Association of Marriage and Family Therapy, Society for Sex Therapy and Research, and the Association for Behavioral and Cognitive Therapies. He is a Diplomate in sex therapy, earning this from the American Association of Sex Educators, Counselors, and Therapists.
As a leading expert in this field, Dr. McCarthy has presented over 350 workshops around the world, and his extensive list of publications includes over 100 professional articles, 26 book chapters, and co-authorship of 14 books, including
Sex Made Simple
(PESI, 2015),
Enduring Desire
(Routledge, 2010),
Discovering Your Couple Sexual Style
(Routledge, 2009),
Men's Sexual Health
(Routledge, 2007),
Coping with Erectile Dysfunction
(New Harbinger, 2004),
Getting It Right the First Time
(Routledge, 2004), and
Coping with Premature Ejaculation
(New Harbinger, 2004).
Speaker Disclosures:
Speaker Disclosures: Financial: Barry W. McCarthy receives royalties as an author for Taylor and Francis publishers and New Harbinger Publishers. He receives a speaking honorarium from PESI, Inc.
Non-financial: Barry W. McCarthy has no relevant non-financial relationship to disclose.
KATHLEEN MATES-YOUNGMAN, M.A., LMFT
Kathleen Mates-Youngman, M.A., LMFT is an author and speaker. She has a private practice in Southern California specializing in couples therapy as well as treating individuals with anxiety, depression, grief, chronic illness and life transition issues. She is the author of Couples Therapy Workbook: 30 Guided Conversations to Re-Connect Relationships, (PESI, 2014) and the card deck, Love & Connection Cards (PESI, 2015).

She is completing a second book for couples therapists based on this seminar and is also a regular contributor to a local lifestyle magazine in Orange County, California. Along with her work as a national speaker for PESI, Kathleen does workshops for couples and individuals, as well as graduate students.

Continuing Education Credits Awarded for Completion of Entire Package
[+]
[-]
Combined Continuing Education Credit From All Components
Breakdown of Continuing Education Credits by Components
[+]
[-]
030085 - Sex Made Simple: Clinical Strategies for Sexual Issues in Therapy
[+]
[-]
083085 - Couples Therapy Workbook
[+]
[-]
083835 - Sex Made Simple
Audience
Psychologists, Counselors, Social Workers, Case Managers, Addiction Counselors, Marriage & Family Therapists, Nurses, Chaplains/Clergy, and other Mental Health Professionals
Reviews
[+]
[-]
083085 - Couples Therapy Workbook: 30 Guided Conversations to Re-Connect Relationships
"What a unique resource! A treasure-trove of guided conversations to increase intimacy and friendship.
Therapists often ask me for good homework assignments. This book does the thinking for you. Keep it on hand and whether its values, sex, conflict or other challenging issues, you'll have a ready-made way to help your clients make immediate progress."
-- Ellyn Bader, Ph.D, Founder/Director The Couples Institute

"This is a valuable resource for anyone working with couples. Any couple can profit greatly if they are willing to take Kathleen Youngman's challenge to explore these important topics and discuss these wonderful questions."
-- Milan and Kay Yerkovich, Authors of best-selling How We Love series
"Instead of offering analysis, advice or theory, The Couples Therapy Workbook offers just that, a set of questions to stimulate conversations that help couples deepen their engagement with each other and reconnect. All couples will find this an exceptional guide, and all therapists will find it an effective instrument to supplement the therapeutic process. I highly recommend it and complement the author on her creativity and attention to the core details of a connected relationship."
- -Harville Hendrix, Ph. D. and Helen LaKelly Hunt, Ph. D.; Authors of Making Marriage Simple and Getting the Love You Want.
[+]
[-]
083835 - Sex Made Simple
"In the world of sex therapists, a few are writers. Of those, fewer still are succinct and wise. Barry McCarthy's recent book is very much in keeping with his other works. He gives up-to-date, practical, and scientifically informed advice. 'Sex Made Simple' is indeed an honest, direct, clearly stated book about couples and their sexual health. The effortlessness of the writing--so easy to understand--belies what all sex therapists know about Barry McCarthy. He is at the top of the field and has written a series of books that have helped thousands of couples (and hundreds of sex therapists helping thousands of couples). This book is at the top of my recommendation list. Bravo to Barry McCarthy for writing such an accessible and wonderful book."-- Sallie Foley, LMSW, ASSECT certified sexuality educator, supervisor, and diplomate of sex therapy

"Barry McCarthy has written a thorough, state-of-the-art, and, above all, a practical guide for any therapist who ever encounters a sexual problem in clients. It can be used as a reference by topic or gulped down in one piece. Sex Made Simple should be on the bookshelf of every working couples therapist."
Terry Real, LICSW Author of The New Rules of Marriage & I Don't Want to Talk About It

"Dr. McCarthy has, once again, demonstrated why he is considered a master sex therapist. In this book, he has taken what are often considered extremely complex sexual difficulties, and made them "simple." Through the effective use of text, case studies and very user-friendly exercises, Dr. McCarthy has created an invaluable guide for clinicians and couples alike."
Daniel N. Watter, EdD President, Society for Sex Therapy and Research

"Sex Made Simple is valuable in that it is specifically written for the general psychotherapist, is brimming with practical information, and case illustrations. Dr. McCarthy shares his years of clinical experience in this text which should be part of every therapist's library. Both beginning and experienced therapists will find this book to be easy to read and informative."
Robert Taylor Segraves, MD Editor, Journal of Sex and Marital Therapy

"Once again Barry McCarthy offers us a thoughtful and profound book on sexuality, one that takes the angst out of sexuality and offers a clear straightforward path to sexual fulfillment."
Sue Johnson, EdD Founder of the International Center for Excellence in Emotionally Focused Therapy and author of Hold Me Tight: Seven Conversations for a Lifetime of Love and Love Sense: The Revolutionary New Science of Romantic Relationships

"The time has come for therapists to become sex positive and up-to-date with the latest sex therapy information and Barry McCarthy is the therapist to provide it. With his pro-sexuality stance, he corrects the myths by citing current research and transforming it into good, solid clinical work. This book provides therapists with step-by-step treatment planning and goals for all clients and is inclusive of gender, sexual orientations and diverse sexual expressions. After finishing this book, therapists will be armed with the right tools and information they need to provide sex therapy."
Joe Kort, PhD, LMSW Author of Gay Affirmative Therapy for the Straight Clinician

"An excellent resource! As therapists we often focus on helping couples improve sexual functioning, yet Barry McCarthy explains that the real struggle is inhibited sexual desire. Focusing on desire as the core component of healthy sexuality, McCarthy delivers brilliant guidelines and exercises to help couples integrate intimacy and eroticism into their sexual style."
Kathleen Mates-Youngman, M.A. LMFT author of Couples Therapy Workbook: 30 Guided Conversations To Re-Connect Relationships

"Illustrated with thoughtful case studies Sex Made Simple offers deceptively sophisticated guidance for the experienced or novice individual and couple therapists alike. McCarthy teaches clinicians the needed concepts and interventions to expand their therapeutic repertoire, enabling them to facilitate improvement in their client's sex lives. Highly readable and informative, it is already an excellent addition to our library."
Michael A. Perelman, Ph.D., NY Weill Cornell Medical Center
Other Associated Products:

Satisfaction Guarantee
Your satisfaction is our goal and our guarantee. Concerns should be addressed to PESI, P.O. Box 1000, Eau Claire, WI 54702-1000 or call (800) 844-8260.

ADA Needs
We would be happy to accommodate your ADA needs; please call our Customer Service Department for more information at (800) 844-8260.