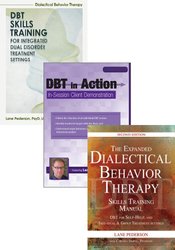 Product Details
Format:

Package - Video & Book Instructions

Details:

Multi-disc DVD recording (1 hour, 3 minutes) with instructions | The Expanded Dialectical Behavior Therapy Skills Training Manual (224 pages) | Dialectical Behavior Therapy Skills Training (254 pages)

Authors:

LANE PEDERSON, PSY.D, LP
CORTNEY PEDERSON, MSW, LICSW

Publisher:

PESI Publishing & Media

Copyright:

1/1/2015

CE Available:

Yes, See CE credit tab for complete continuing education details

Product Code:

RVKIT048590
Objectives
[+]
[-]
048305 - DBT in Action: In-Session Client Demonstration
Determine the structure of an individual DBT session
Identify treatment targets with the diary card
Analyze target behaviors and apply skills with behavioral analysis
Outline
[+]
[-]
048305 - DBT in Action: In-Session Client Demonstration
Treatment Structure
Incorporating Mindfulness
The Diary Card
Awareness and Skill-Building

Applying Skills Outside of Treatment
Please Note: Lane Pederson, PsyD, LP is not affiliated or associated with Marsha M. Linehan, PhD, ABPP, or her organizations.
Author
LANE PEDERSON, PSY.D, LP

Lane Pederson, Psy.D, LP
, has provided Dialectical Behavior Therapy (DBT) training and consultation to over 10,000 professionals in the United States, Australia, South Africa, Dubai, Canada, and Mexico through his training and consultation company, Lane Pederson and Associates, LLC
(www.DrLanePederson.com
). A real-world practitioner, Dr. Pederson co-owns Mental Health Systems, PC (MHS), one of the largest DBT-specialized practices in the United States with four clinic locations in Minnesota
(www.mhs-dbt.com
). At MHS Dr. Pederson has developed DBT programs for adolescents, adults, people with dual disorders, and people with developmental disabilities. He has served as clinical and training directors, has directed practice-based clinical outcome studies, and has overseen the care of thousands of clients in need of intensive outpatient services.
Dr. Pederson's DBT publications include
The Expanded Dialectical Behavior Therapy Skills Training Manual, 2nd Edition: DBT for Self-Help and Individual & Group Treatment Settings
(PESI, 2017);
Dialectical Behavior Therapy: A Contemporary Guide for Practitioners
(Wiley, 2015); and
Dialectical Behavior Therapy Skills Training for Integrated Dual Disorder Treatment Settings
(PESI, 2013) and
The DBT Deck for Clients and Therapists: 101 Mindful Practices to Manage Distress, Regulate Emotions & Build Better Relationships
(PESI, 2019).
Notable organizations he has trained for include Walter Reed National Military Hospital, the Federal Bureau of Prisons, the Ontario Psychological Association, the Omid Foundation, and Psychotherapy Networker. He has provided DBT training for community mental health agencies, chemical dependency treatment centers, hospital and residential care settings, and to therapists in forensic settings. Dr. Pederson also co-owns Acacia Therapy and Health Training
(www.AcaciaTraining.co.za)
in South Africa. Dr. Pederson currently serves on the advisory board for the doctorial counseling program at Saint Mary's University of Minnesota and is a peer reviewer for Forensic Scholars Today.
Lane Pederson is not affiliated or associated with Marsha M. Linehan, PhD, ABPP, or her organization.
Speaker Disclosures:
Financial: Lane Pederson maintains a private practice. He is an author for PESI Publishing & Media and receives royalties. Dr. Pederson receives a speaking honorarium from PESI, Inc.
Non-financial: Lane Pederson has no relevant non-financial relationship to disclose.
CORTNEY PEDERSON, MSW, LICSW
Author bio will be available soon...
Continuing Education Credits Awarded for Completion of Entire Package
[+]
[-]
Combined Continuing Education Credit From All Components
Breakdown of Continuing Education Credits by Components
[+]
[-]
045300 - Dialectical Behavior Therapy Skills Training for Integrated Dual Disorder Treatment Settings
[+]
[-]
048305 - DBT in Action: In-Session Client Demonstration
[+]
[-]
084840 - The Expanded Dialectical Behavior Therapy Skills Training Manual, 2nd Edition
Audience
Counselors, Psychologists, Psychotherapists, Social Workers, Marriage & Family Therapists, Addiction Counselors, Case Managers, Mental Health Professionals, Nurses
Reviews
[+]
[-]
045300 - Dialectical Behavior Therapy Skills Training for Integrated Dual Disorder Treatment Settings
For years, the treatment of dually diagnosed clients has posed a conundrum for mental health professionals. Both psychiatric and substance treatment clinicians frequently advocate for treating psychiatric disorders and substance use disorders either separately or sequentially. Having worked in both psychiatric and substance treatment settings, I've seen the unfortunate outcomes of holding this belief. Clients feel invalidated by the people who want to help them, spend years in treatment and are often unable to build a life worth living.

In DBT Skills Training for Integrated Dual Disorder Treatment Settings, Lane Pedersen, Psy.D., DBTC provides a practical model for simultaneous treatment of psychiatric and substance use disorders. Clinicians working with dually diagnosed clients will appreciate the thoughtful integration of the most effective contemporary treatment models used in both psychiatric and substance treatment; clients will appreciate the integration of these approaches in the development of easy-to-follow worksheets that reinforce key concepts of recovery.
~ Bari Platter, author of Integrating Dialectical Behavior Therapy with the Twelve Steps

I want to commend Lane Pederson for the fresh and unique methodology and skills training approach described in his latest manual, DBT Skills Training for Integrated Dual Disorder Treatment Settings. He has taken what has been used in previous models for DBT and expanded it in such an insightful way that I found myself identifying with his methods in the way I approach many of my own recovery challenges. I have been in continuous 12-Step recovery since October 1971 and have worked with dual diagnosed members using the 12-Steps to maintain abstinence with substance abuse. This manual is so resourceful that I would recommend each therapist apply these principles within their own lives in order to enhance their own ability to touch the suffering of their clients with a compassionate awareness. This manual is a unique contribution to the treatment of the dual diagnosis population, and will pave the way for a great leap forward in successful treatment modalities.
~ Tom Catton, author of The Mindful Addict: A Memoir of the Awakening of a Spirit

As a clinician practicing Dialectical Behavior Therapy for over a decade I felt that DBT was a perfect modality for treating patients with co-occurring disorders. Reading Dr. Pederson's DBT Skills Training for Integrated Dual Disorder Treatment Settings not only confirmed my beliefs, but the Manual provided the structure I needed to put this theory into practice. Dr. Pederson's Manual blends DBT with traditional chemical dependency treatment in a respectful and cogent manner and does so in a way that makes it easy to apply this treatment in real world settings. It truly is a resource that practitioners will use daily in their treatment of patients with co-occurring mental illness and substance use disorders.
~ Wade Kuehl, MSW, LISW, Clinical Director, Siouxland Mental Health Center

Many of the clients that present for mental health or substance use problems often have the other problem as well. Clinicians are often asking how to treat both mental health and substance use problems together? This book is the answer. It provides well proven strategies to deal with substance use problems head on by utilizing one of the best evidence based strategies for this -- DBT. As a clinician, supervisor and clinical director serving clients with co-occurring disorders, I would highly recommend this book. It has improved my clinical skills, fostered the development of clinicians and most importantly lead to improved client outcomes and satisfaction.
~ Cathy Moonshine, PhD, MSCP, MAC, CADC III, and author of Acquiring Competency and Achieving Proficiency with Dialectical Behavior Therapy (Volumes I & II)


[+]
[-]
084840 - The Expanded Dialectical Behavior Therapy Skills Training Manual, 2nd Edition: DBT for Self-Help and Individual & Group Treatment Settings
"How do you make the best book about DBT by its most gifted trainers even better? You find ways to include more great ideas and pragmatic skills while making it even more accessible and immediately applicable"
Barry Duncan, PsyD, Author of On Becoming a Better Therapist and developer of the Partners for Change Outcome Management System

"The second edition is easy to understand, practical, and a welcome addition to anyone's library -- therapist or layperson. The manual presents the skills in a way that is self-explanatory, rather than requiring a trained professional to wade through pages of clinical jargon. Once again, Lane irreverently refusing to tiptoe through proprietary minefields in order to make DBT more accessible to everyone."
Stephanie Vaughn, PsyD, Clinical psychologist and DBT-Linehan Board of Certification, Certified Clinician

"Marsha Linehan developed DBT. And Lane Pederson has expanded it! Many practitioners have knowledge of evidence-based practice, but few have the ability to translate that knowledge into practical, real-world tools that can truly help give struggling individuals a life worth living. Unlike the many books that go unused on your shelf, this companion is a daily 'go-to' resource for any practice treating emotionally dysregulated clients. Dr. Pederson is a true leader in the field and his second edition has outdone his first!"
Jeff Riggenbach, PhD, LPC, Author, The CBT Toolbox: A Guide for Clients & Clinicians and The BPD Toolbox: An Evidence-Based Guide for Regulating Emotions

"This manual is the most thorough, up-to-date, and valuable resource for clinicians who use DBT. Now spiral-bound, it's easy and convenient to make copies for both individuals and groups. And the inclusion of strategies for using social media is brilliant,especially for those working with adolescents and young adults. It's becoming more and more evident that DBT skills are life skills, and this manual provides all the necessary tools. A most beneficial book."
Linda A. Curran, BCPC, LPC, CACD, CCPD Author of bestselling 101 Trauma-Informed Intervention

"Dr. Pederson has provided therapists and clients with a very thorough, expansive and easy to understand explanation of the skills clients need to learn to regulate their emotions and live a full and satisfying life. Pederson is able to explain concepts in new ways that bring additional clarity even to seasoned DBT therapists and trainers. The addition of modules on addiction and social media, as well as skills to learn behaviors that enhance anyone's life (such as problem solving, making friends or developing routines) make this book unique and indispensable for any therapist, for all clients and even for family members. I wholeheartedly recommend it and look forward to using its concepts and skills in my own work with clients."
Pat Harvey, ACSW, LCSW-C, DBT trainer and therapist, co-author of Parenting a Child Who Has Intense Emotions, Dialectical Behavior Therapy for At-Risk Adolescents and Parenting a Teen Who Has Intense Emotions

"An abundance of fresh, practical and reproducible tools for healthier emotions and stronger resilience. The second edition updates and expands the knowledge, research and skills so greatly needed by mental health professionals and those who depend upon us to deliver the most accessible, effective and well-proven treatments possible."
Henry Emmons, MD Author of The Chemistry of Joy and The Chemistry of Calm

"There are many books and resources about DBT, but Pederson's second edition rises above as an essential. His strategies have been proven in more than a decade of successful clinical practice, and this new book makes his important work accessible to all."
Cathy Moonshine, PhD, MSCP, MAC, CADC III, Author of Acquiring Competency and Achieving Proficiency with DBT, Volume I & II

"Dr. Pederson's second edition is a must-have book for both clinicians and clients. As a leader in 'Second-wave DBT,' Dr. Pederson continues to generate amazing and accessible content. This book provides new perspectives on the classic skill modules by expanding explanations and introducing new examples and handouts. One of the most exciting aspects of this book is the expansion of six other skill modules: Dialectics, Cognitive Modification, Problem-Solving, Addictions, Building a Satisfying Life, and Social Media. The new modules help clinicians and clients address their real world struggles by providing meaningful content and fresh ideas. I strongly encourage you to add this book to your desktop collection of works. I have been working with DBT theory, skills, and concepts since the 1990s with thousands of clients and this work will be immediately integrated into my training and practice."
Mark Carlson, PsyD, LP Founder & CEO of Mental Health Systems, specializing in DBT treatment
Satisfaction Guarantee
Your satisfaction is our goal and our guarantee. Concerns should be addressed to PESI, P.O. Box 1000, Eau Claire, WI 54702-1000 or call (800) 844-8260.

ADA Needs
We would be happy to accommodate your ADA needs; please call our Customer Service Department for more information at (800) 844-8260.